October 13, 2014 by David Herd
Soi 33 Bangkok
Hot babes Bangkok Pattaya
Hot babes Bangkok Pattaya 2005 starting at Christies in Soi 33, I'm with Daryl Evans from Airlie Beach another Aussie who has decided to live in Thailand.
This is not part of my travel blog, it's a photographic record of the people I mixed with in Thailand in 2005.
Hot babe at Nana Plaza in February
Her name is Oiy & she is a hot babe & the girlfriend of Ziggy, a German running a bar in Sihanoukville.
Lets check out her tattoo
What tattoo? I don't see a tattoo.
John Sinclair & David Herd
John is another Aussie who decided life in Thailand held more appeal than Australia. In my opinion it gets down to three major reasons, in Australia you reach an age where you are too old to attract the younger females, no problems though in Thailand. Secondly you can live in Thailand for about 1/3 of the cost compared to Australia. Finally there really isn't any stress or endless rules & regulations in Thailand compared to Australia.
New years eve & the bar is jumping, the Atlantic is opposite Big C in 2nd Rd North Pattaya.
All the girls are dressed in white tonight.
Hot babe at the Atlantic bar.
Ken lives on the Gold Coast and loves holidaying in Pattaya where he spends his time chasing the hot babes.
The next beach north of Pattaya, much quieter & cleaner than Pattaya.
Hot babes Bangkok Pattaya
Could be trouble brewing. 🙂
Melbourne boys visit Pattaya
Joergen Ulitza & Ian Fraser-Smith visit Pattaya and after this trip became addicted to the place, particularly Joerg, he is totally hooked.
Be careful Joergen
Mate that's a LadyBoy, Pothole aka John Matin specializes in that team.
Brian Rawnsley & John Sinclair at the Cherry Bar
Brian is from Brisbane & John from Adelaide, both are now living in Thailand and are well know for being 1st class stirrers. They love planting bullshit about people they know then sitting back & watching the fallout. Luckily after years of this most people are now wise to their antics. 🙂
Tipsy Prawn in Phuket.
I caught up with my brother Warren & some of his family in Phuket.
Phung aka Cleopatra is certainly one of the hot babes Bangkok that I have been lucky enough to meet. I have know her since 2001 and try to catch up with her every time I'm in Bangkok.
Here is a great photo of Cleo with John Sinclair
What a fabulous smile she has.
My local drinking hole for many years, finally sold on August 31 2016 and is being renovated.
A great place to watch the passing parade.
Loy Krathong at the Cherry Bar
According to the Royal Institute Dictionary 1999, loi means 'to float', while krathong has various meanings, one of which is "a basket to be floated on water in the Loi Krathong festival". Several translations of krathongare found, such as floating crown, floating boat, floating decoration. The traditional krathong are made from a slice of the trunk of a banana tree or a spider lily plant. Modern krathongs are more often made of bread or styrofoam. A bread krathong will disintegrate after a few days and can be eaten by fish. Banana stalk krathong are also biodegradable, but styrofoam krathongs are sometimes banned, as they pollute the rivers and may take years to decompose. A krathong is decorated with elaborately-folded banana leaves, incense sticks, and a candle. A small coin is sometimes included as an offering to the river spirits. On the night of the full moon, Thais launch their krathong on a river, canal or a pond, making a wish as they do so. The festival may originate from an ancient ritual paying respect to the water spirits.
Hot babes Bangkok Pattaya Loy Krathong
Sending up the lanterns on the beach.
Lots of lovely smiles here.
Future Atlantic bar girls
Another few years & they will be working in the bars.
Greg Clee at Heaven Above in Walking St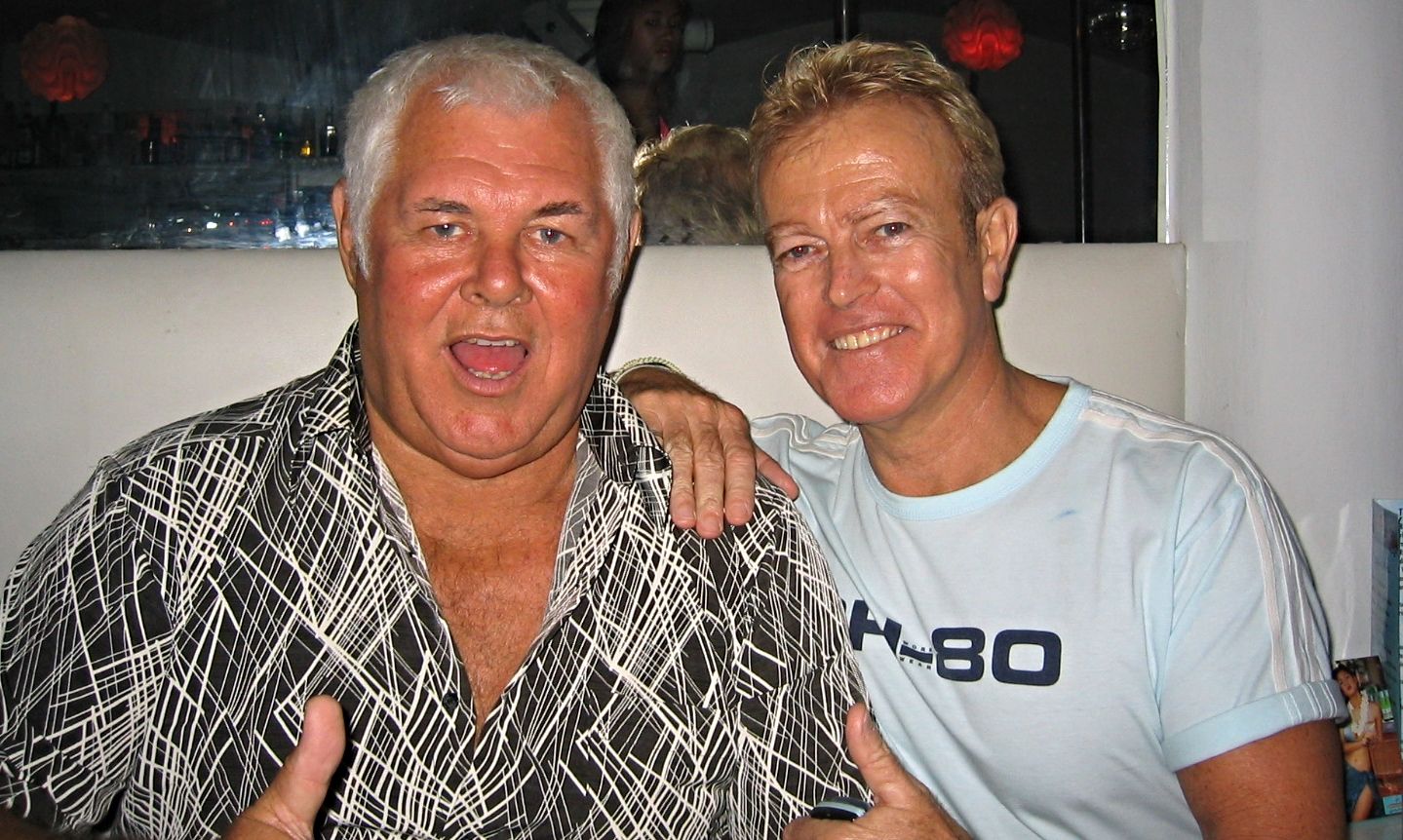 Greg is an Aussie who is the major shareholder in Heaven Above, always has a good choice of young go go dancers. Coincidentally when I moved to Thailand in 2011 we lived in adjacent apartments at Markland Condo in Beach Rd.
Fresh from Heaven Above in Walking St
Tall & skinny & totally gorgeous. No my dear that's not my car, we are taking the Baht bus. 🙂
From the classroom in Soi 2
The classroom is no longer there.
Straight to my hotel room
Say no more. 🙂
John Sinclair & Jock Granger at Cherry bar
Jock is another Aussie from Mosman in Sydney who loves Pattaya, a few days after this photo was taken he & I flew to Angkor Wat in Cambodia for a few days.
Sinclair's black list
For may years John Sinclair has been banishing people to his black list so I thought I would design a shirt for all of us to wear. 🙂 🙂 🙂
Murphy wants some crackling
Tony Murphy & I often travel together to Thailand & other places around the world, we have had some wonderful trips together.
Thanks for visiting my Hot babes Bangkok Pattaya photo blog.
Sabai Resort is our hotel of choice right opposite the Atlantic & next to Big C shopping mall.
Lots more hot babes on the slideshow, check them out below.
Fabulous views, excellent restaurants & a very good room rate if you book through THIS LINK.
The building in the middle is the Holiday Inn, on the left is the Amari Hotel which is another very good five star hotel. Use THIS LINK to book for a very good room rate.
The best Pattaya budget hotel, 3 pools & opposite Central Marina shopping mall. For a great room rate just book through THIS LINK.
Sutus Court is a great budget hotel right i the heart of one of Pattaya's main bar areas, just use THIS LINK for a terrific room rate. 420/100 Moo 9 Soi Buakhao.
This is the view from Horizons the amazing rooftop bar. A great five star hotel located opposte the beach & above the Central Festival shopping mall. Just book through THIS LINK for an excellent room rate.
Please check out these fabulous posts
Great hotel room rates anywhere in the world if you book
through these links below. Book now & pay later.
Free Cancellation.
This gallery contains 3 photos