New Pattaya Shopping Mall
Building Terminal 21 Pattaya
Building Terminal 21 Pattaya started in November 2015 when they started demolishing the shopping complex. That seemed to take the best part of a year before actual building commenced. Now they are really making progress as you will see from this photo blog.
It's a huge site adjacent to the Dolphin roundabout as you can see from the above photo.
A popular cafe
I used to often have breakfast at this popular little Thai restaurant beside the Dolphin roundabout.
Above you see it, below you don't. 🙂
November 2015 and they start demolishing.
The wrecking ball at work.
It's a huge job pulling down this large building, it is taking months & months.
Slowly everything is coming apart
Escalators & elevators have already gone.
Here comes the heavy machinery
Now they are getting serious. 🙂
Workplace health & safety
Does not really exist in Thailand. 🙂
Looking like a bomb site December 24 2015
You could be mistaken thinking this is a war zone.
Bye bye Hong Club
Not sure what went on here but it's all over now folks.
All this has to be removed
Knocking it down seems like the easy part, now somebody has to remove the rubble.
OK, we are getting somewhere May 21st 2016
In the top left hand corner you can see the Dolphin roundabout.
Building Terminal 21 Pattaya
You may recognise 2nd Rd North Pattaya.
Pile drivers are here.
June 28th 2016 8 months after the start.
Phoenix rising
February 6th 2017 and we see the start of the building.
March 27 2017
They are working at a frantic pace, 7 or 8 cranes are in operation.
April 2nd 2017
At this rate I think they will finish by mid 2018.
This shows the progress
Taken from the 26th flor of Markland Condo.
An exciting project.
This is only the shopping mall section, the 25 story hotel is going up at the bach of the shops.
July 18 2017
The work never stops.
October 21 2017
The mall is really taking shape.
November 6 2017
These guys work 24/7.
Sky Bar perhaps
Looks like there will be a sky bat at Terminal 21.
Waiting for take off. 🙂
No, it's not Pattaya's new airport. 🙂
We have lift off.
July 29 and we can see the light at the end of the tunnel.
Almost finished on the outside.
August 25th & the end is in sight.
Centrepoint Hotel
The entrance to the 400 room hotel.
Outside area almost finished.
Normally you would see 100 workers here. 🙂
September 22nd 2018
Due to open October 19.
An impression of the final product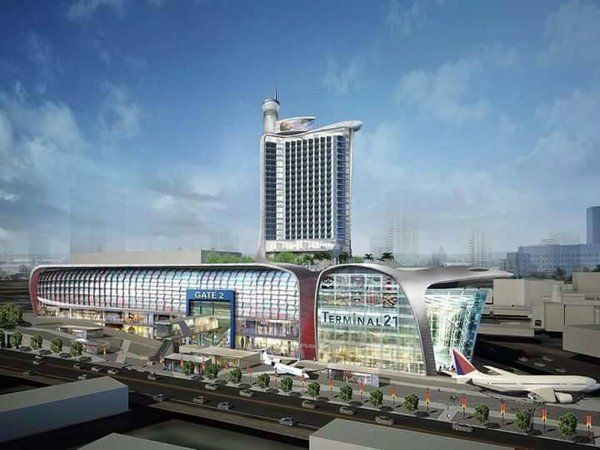 Thanks for visiting my Building Terminal 21 Pattaya photo blog.
The big opening day has arrived October 19 2018.
People are lining up 3 hours before opening hoping to receive some prizes.
Please check out some of the most popular below, and thank you for visiting.
Fabulous views, excellent restaurants & a very good room rate if you book through THIS LINK.
The building in the middle is the Holiday Inn, on the left is the Amari Hotel which is another very good five star hotel. Use THIS LINK to book for a very good room rate.
The best Pattaya budget hotel, 3 pools & opposite Central Marina shopping mall. For a great room rate just book through THIS LINK.
Sutus Court is a great budget hotel right i the heart of one of Pattaya's main bar areas, just use THIS LINK for a terrific room rate. 420/100 Moo 9 Soi Buakhao.
This is the view from Horizons the amazing rooftop bar. A great five star hotel located opposte the beach & above the Central Festival shopping mall. Just book through THIS LINK for an excellent room rate.
Please check out these fabulous posts
Great hotel room rates anywhere in the world if you book
through these links below. Book now & pay later.
Free Cancellation.