Excellent food & wine at a reasonable price,
Wine Connection Beach Rd Pattaya
Wine Connection Beach Rd Pattaya has finally arrived in our city by the bay. Opened November 28 2018 & a friend & I dined there the following day.
Welcome to Wine Connection
A nice warm welcome awaits your arrival. 🙂
Relaxed friendly atmosphere
The restaurant is quite large, I'm guessing it would seat 100 people.
This is what makes Wine Connection different & unique.
The wine cellar is part of the restaurant & you can browse & select your bottle to enjoy with dinner. As you can see there are wines from all over the world starting at a low B500 or $15 USD, which is good value in Thailand where wine prices are ridiculously high.
Australians are so lucky they can buy very good low price wine for $4 Aud or $3 USD. Just last year Coles took home the title of best wine under $20 from Australia and New Zealand at the Winestate Wine of the Year Awards, with their $5 James Busby Big & Bold Shiraz 2015.
Recently an $8 Aldi rose was named one of the best in the world — catch was you couldn't get it in Australia.
However another Aldi wine has won big at the Melbourne International Wine competition & a bottle is going to set you back only $6.99! Here is a selection of their best wines for under $10 AUD.
The guys behind the bar are ready & eager to look after you.
We found all the staff here were eager to please & very friendly indeed.
Spanish Style Gambas.
My favourite dish at Wine Connection, cooked to perfection. 🙂
Caesar salad was excellent.
The two entrees above are the perfect way to start a meal. 🙂
Duck Confit
Another excellent dish, Duck confit is duck that has been cured with salt and then gently cooked in its own fat. The duck emerges meltingly tender with a rich, slightly salty but mellow flavor—there's nothing quite like it. Traditionally, the whole duck is used for confit.
La pièce de résistance
A 200 gram grilled Australian tenderloin cooked to perfection.
To finish I had the Cream Crème brûlée & my friend Ron Rigg from Hawaii had the chocolate cake.
Crème brûlée, also known as burnt cream or Trinity cream, is a dessert consisting of a rich custard base topped with a texturally contrasting layer of hardened caramelized sugar. It is normally served slightly chilled; the heat from the caramelizing process tends to warm the custard producing a cool center. Wikipedia
Chocolate Lava Cake & ice cream.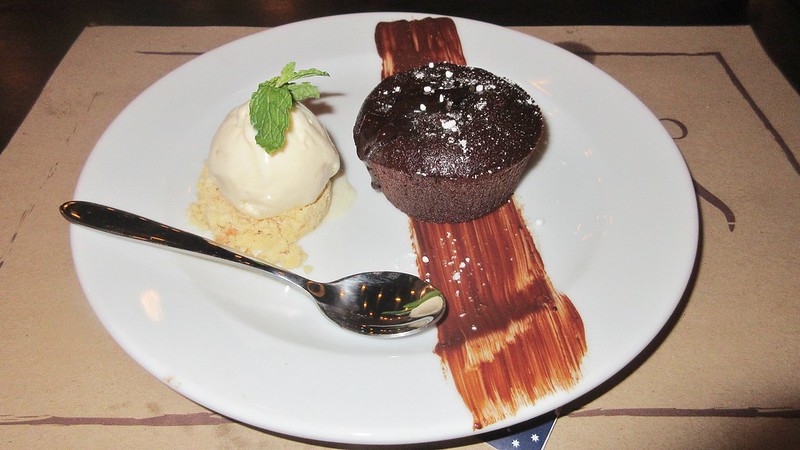 Say no more. 🙂
Australian red wine
Billy's shadow shiraz is B650 or $31 AUD, & Angus the bull B850 or $40 AUD. Billy's sells for $7 in Australia & Angus $19.
Lots of staff on hand tonight
Here is a story that fits the theory of "six degrees of separation", Eugene Chew was here from Wine Connection head office in Bangkok & he generously gave us complimentary deserts. We were chatting about various subjects & my friend Ron Riggs who lives in Hawaii told Eugene he grew up in Manchester Michigan. Here is the surprise, it turns out Eugene was also born & raised in Midland Michigan only 2 hours north of Manchester.
Also he went to college at the University of Michigan in Ann Arbor which is only 30 minutes from Manchester, what are the odds? 🙂
Manchester to Midland
Thanks for visiting my Wine Connection Beach Rd Pattaya photo blog. I have also had the pleasure of dining in several of their Bangkok restaurants as well as Koh Samui.
Here are some more posts to check out
Great hotel room rates anywhere in the world if you
book through these links below. Book now & pay later.
Plus free cancellation .
For a great room rate at the A-One hotel opposite the beach just book through THIS LINK.
That's all folks