Around the World again.
Santiago Brazil Barcelona Bangkok
Santiago Brazil Barcelona Bangkok was a fantastic trip in 2003. Add to this two visits to Vietnam, 3 times to Thailand, Singapore and a 13,000 km road trip through Australia's outback. Overall one of my most frantic years for travel and fun was certainly 2003.
The photo above is Copacabana Beach with Sugarloaf mountain in the distance.
This it not part of my travel blog, just part of my personal photo & travel history from 2003. Mainly revolving around the many people who helped make it another fantastic year of travel.
My friends in Copacabana
These were very happy Times in Copacabana in 2003, from the left is Doug Rourke, (RIP) Marcelli, Dave Wylie, Dave Sommer (RIP) Tatiane and I forget the last guys name. 🙂
Carla at Copacabana
The most magnificent colour skin I have ever seen.
I often wonder where she is now.
Lunch with Jackie at Mea Pataca
A regular spot opposite the beach.
Mea Pataca restaurant in Copacabana
This seafood soup was fantastic.
Angra dos Reis
Today, because of its beautiful beaches and nearby regions, the municipality has become a focal point for tourism – not only state wide but on a national scale also. Within the municipality are over three hundred islands, many of them owned by national and international celebrities. Distance from Rio de Janeiro: 168 km; São Paulo: 411 km.
Angra dos Reis
An interesting place to get away for a quiet weekend.
Two hours north of Rio de Janeiro is Buzios. In the early 1900s Búzios was popular with the Carioca's high society, who wanted to escape from the chaotic city life of Rio de Janeiro and enjoy over 23 beaches that the peninsula offers.
Beautiful Brigitte
It wasn't until 1964, when the famous French Actress Brigitte Bardot visited Búzios, that it grew to be a popular tourist destination.
Buzios
Búzios is located at 105 miles NE from the city of Rio de Janeiro, about a 2 hour drive from that city. You come to a fork in the road, straight ahead for Cabo Frio and left for Buzios.
Tin man at Copacabana
One of the great Copacabana characters.
Copacabana Palace
The most famous hotel in Rio.
Dinner at the Palace
I took these cute Scandinavian girls to dinner at the Palace, cost me a bloody fortune. 🙂
Does my bum look big in this?
Definitely not. 🙂
The last of the Rio shots before checking out Santiago.
I was not too impressed with Santiago, I really preferred Valparaiso.
Valparaiso central Chile about 100 kilometers from Santiago. I bet this fantastic house has been photographed millions of times, perched on the edge of a sheer drop you would not want to be a sleep walker. This is one of the escalators (Ascensores) connecting the harbour area to the hills, and the building is the restaurant Las Brujas.
Statue from Easter island in Vina del Mar
Vina del Mar is just to the north of Valparaiso.
I only spent two nights in Santiago and must admit I was not too impressed. I found it a fairly dull city overall, unlike Valparaiso and Vina del Mar which are more to my liking. However when it comes to drinking wine Chile has some wonderful examples. Although I live in Thailand most of the wine I drink here comes from Chile.
Old Customs building beside the harbour.
La Rambla is a street popular with tourists and locals alike. A tree-lined pedestrian mall, it stretches for 1.2 kilometres connecting Plaça de Catalunya in the centre with the Christopher Columbus Monument at Port Vell.
Casa Mil
Casa Milà, better known as La Pedrera, is one of Gaudí's main residential buildings and one of the most imaginative houses in the history of architecture. This building is more a sculpture than a building. The façade is a varied and harmonious mass of undulating stone that, along with its forged iron balconies, explores the irregularities of the natural world. UNESCO recognized this building as World Heritage in 1984.
Final stop Thailand
Koh Chang is the 2nd largest island in Thailand and is located near the border of Cambodia.
My friend from Beijing
In September 2002 I met Mable in Beijing and we enjoyed a nice time together. Consequently I sent her a ticket to meet me in Thailand and we spent time in Pattaya, Koh Chang and Bangkok.
It is now 2015 and from my balcony in Pattaya I look down on the pool at the Sabai Lodge in Soi 2, a very good low price hotel.
Chinese ladies don't like direct sun. 🙂
Thanks for visiting my Santiago Brazil Barcelona Bangkok photo blog.
Here are some more posts to check out
Please check out these fabulous posts
Great hotel room rates anywhere in the world if you book
through these links below. Book now & pay later.
Free Cancellation.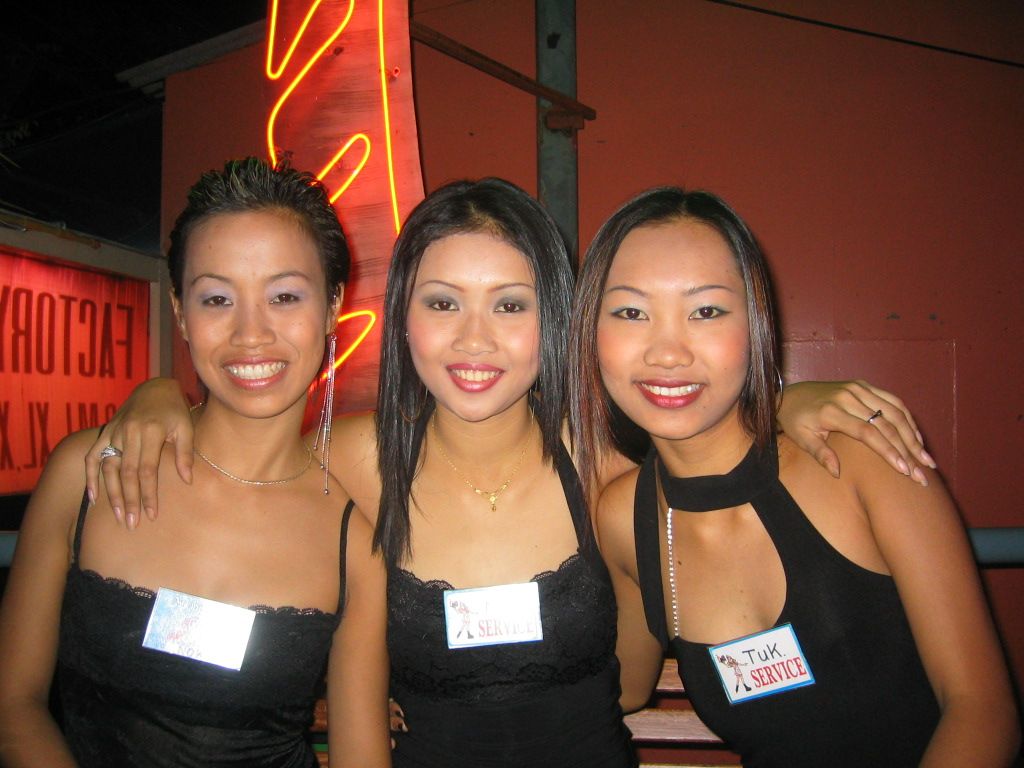 Ah! Thankfully some things never change in Thailand. 🙂
Jump ahead to 2005 Rio Carnival
That's all folks