May 7, 2016 by David Herd
My personal story from the 6os, (not a travel bog)
Passport photo April 1964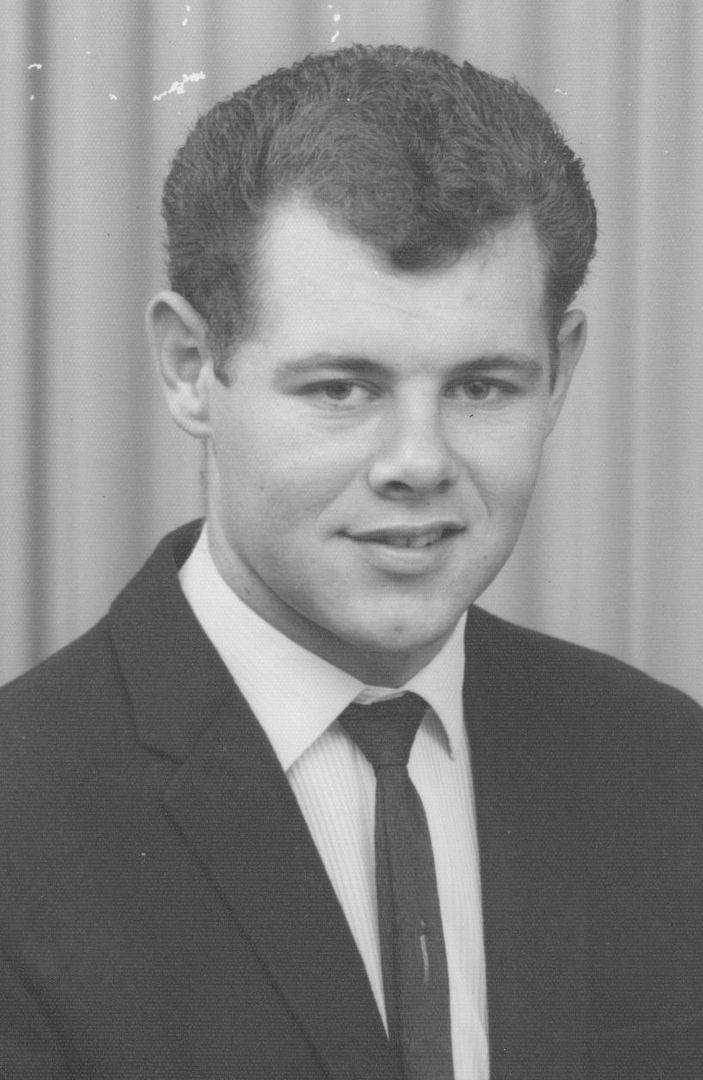 Life changing adventure 1964 really was a rite of passage for me. My best friend Glenn Beasley and I boarded the Fairsea in Sydney on May 7 1964 for a six week journey to Southampton in England. I spent the next 15 months having the time of my life in the U.K. and Europe as well as a stint as a junior engineer on a cargo ship plying its trade between Europe and America.
Rites of passage definition
Ceremonies that mark important transitional periods in a person's life.
Boarding the Fairsea
It was May 7th 1964 the beginning of my first huge adventure.
The Brisbane River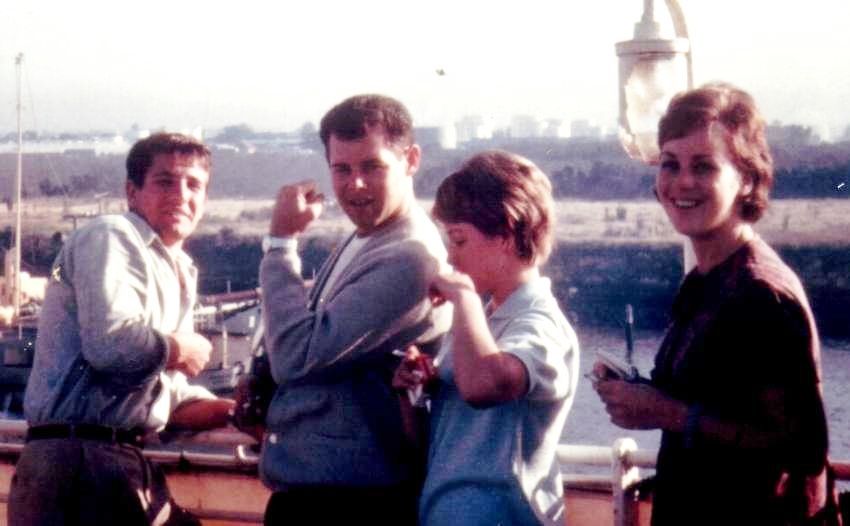 Our first stop was Wellington before crossing back over the Tasman to Brisbane then on to Singapore. We met lots of friends and partied hard all the way to NZ but sadly many of these new found friends left the ship in Wellington and were replaced by lots of elderly passengers.
We were spending a lot of time with three nice girls from Melbourne, Robyn Pearson, Libby Durston & Sue Jameson. Luckily I still have my dairy to help me recall the names. 🙂 That's Libby and sue in the photo above.
We left Brisbane on May 14 and the first night the seas were very rough indeed, many of the passengers and some of the crew were seasick, luckily for us we were quite ok.
The "old shipboard romance".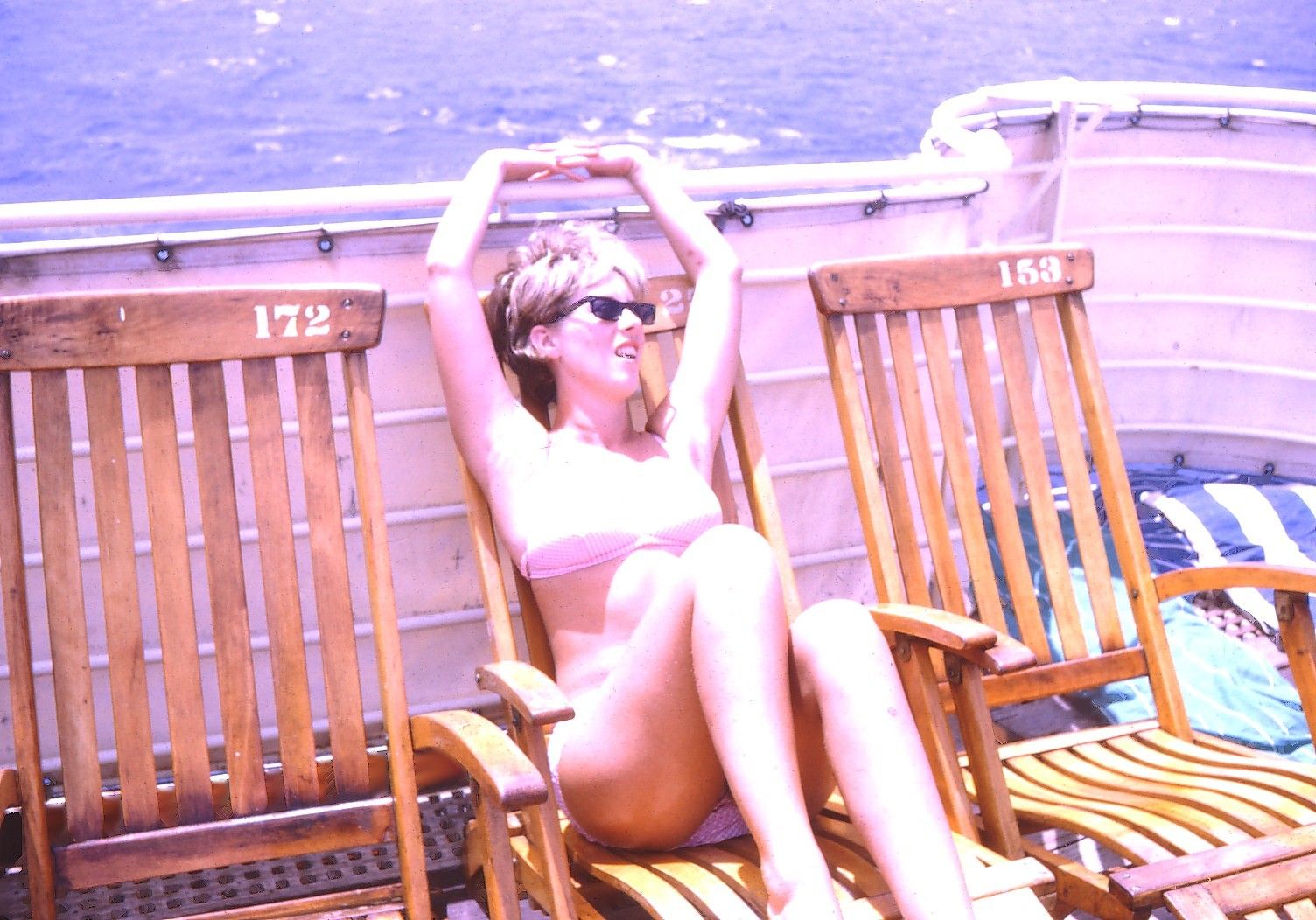 Two days out of Brisbane I met Leanne Scott from Adelaide and we started seeing each other regularly, well as regularly as she would let me. 🙂
The "mad hatters" night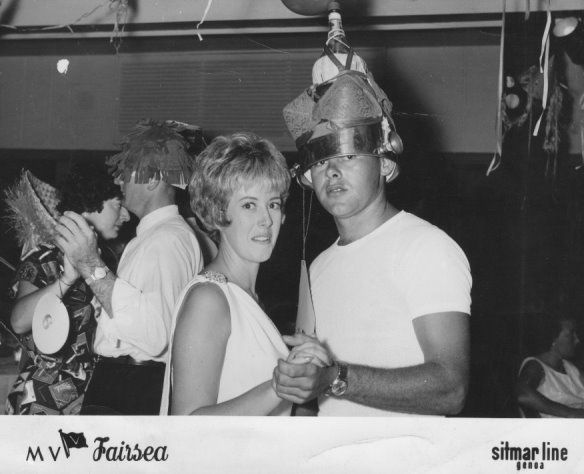 There were all sorts of special nights arranged by the crew to keep the passengers occupied. I will have to retrieve some more photos next time in in Oz. If this photo was in colour you would be able to see the bright red knickers I had wrapped around the ice bucket. 🙂
Sadly I have no personal photos from Singapore however looking through my diary reminds me of some of the things I saw there. Singapore was a very dirty shabby city, there were hundreds perhaps thousands of people sleeping on the streets and footpaths. Follow this link for some interesting information about cleaning up the rivers in Singapore.
Singapore From Cavenagh bridge now & then.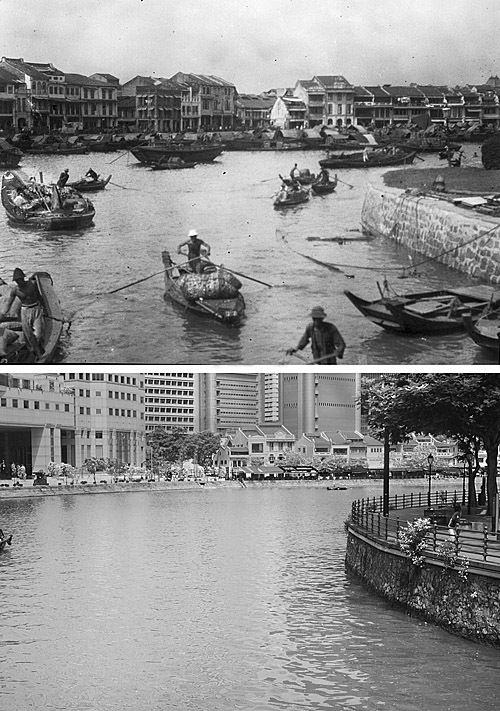 You would never recognise the city back then.
Bugis Street
This was a famous street mainly for transgenders or LadyBoys as we call them in Thailand.
Bugis Street in the 60s
Singapore in the 60s bears no resemblance to Singapore in 2015.
Mount Lavinia Hotel Colombo a Life changing adventure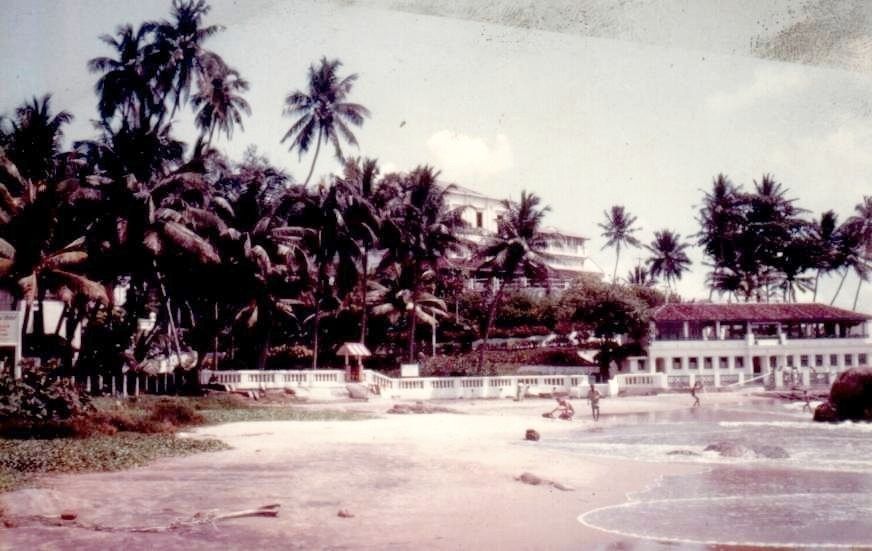 In 1962 the island was called Ceylon, now of course it is Sri Lanka. Anyhow we absolutely fell in love with the place and even spoke about leaving the ship and staying for a while. Impractical of course as our main luggage was in the ships hold which put a stop the that whimsical idea.
The usual tourist photo in Colombo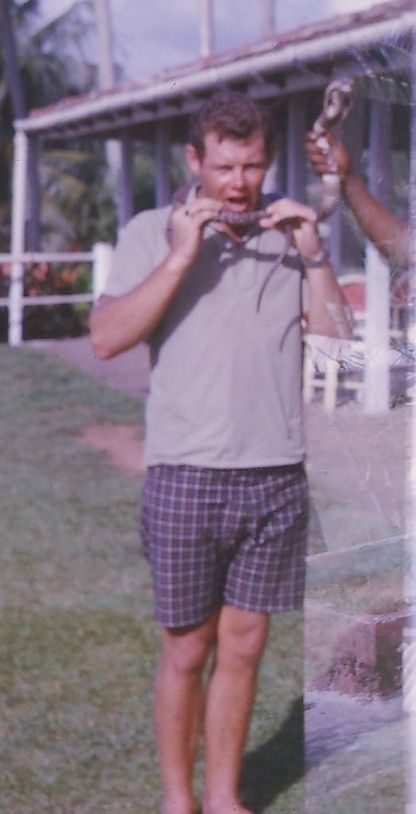 Sadly I have very few photos from the trip as my camera purchased in Singapore for 16 Quid turned out to be a dud.
Aden in Yemmen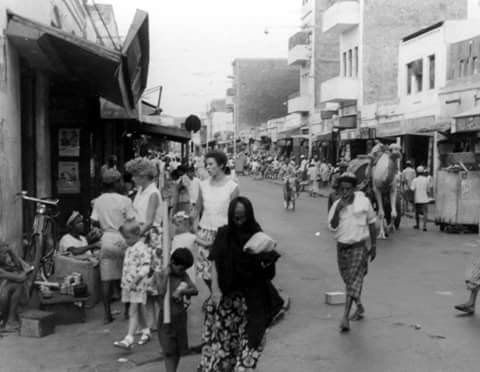 Next port of call was Aden, however we did not dock, instead the ship anchored in the harbour and we bought cheap trinkets etc from the "bum boats" that came out to meet us.
From my diary; I took Leanne ashore and we spent a couple of hours walking around the city, the heat was intense, it must have been around 110 degrees. We met some friends from the ship and had a few beers in the Grande Hotel before returning to the ship.
My money was starting to get low because in this weather you rarely had a beer out of your hand.
Next stop Cairo in my Life changing adventure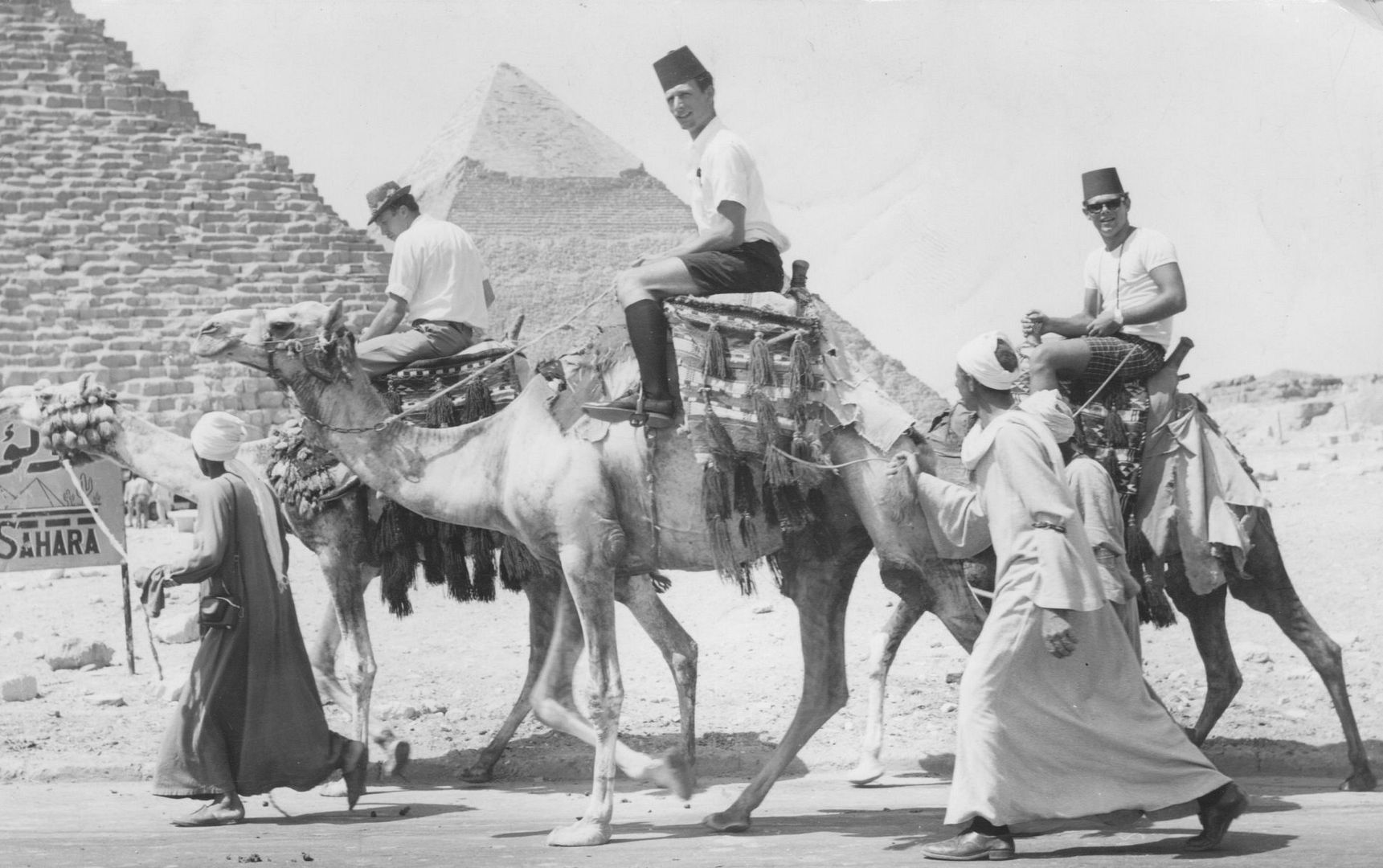 We left the boat at the entrance to the Suez Canal and took an organised tour to Cairo and the Pyramids. As you can see I was fully equipped with my Fez and camel. 🙂
My iconic photo
Glenn & I at the great pyramids of Egypt which was certainly the highlight so far in our Life changing adventure . From Cairo we travelled by bus along one of the branches of the Nile, for several hundred yards each side of the river the land was green and fertile from irrigation. Then it abruptly became dry hot barren desert, my thoughts at the time were I would like to visit again one day. So far this has not happened.
Naples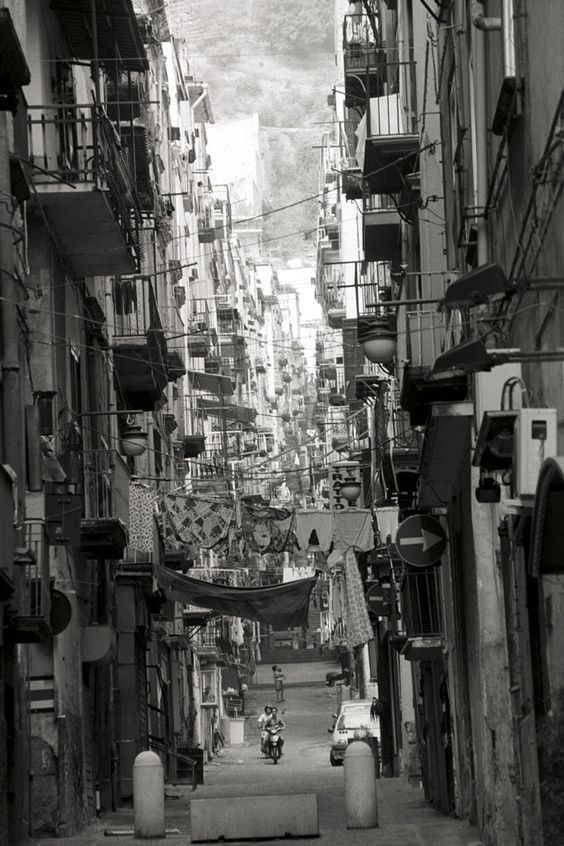 Our final stop was Naples where many of our friends departed for various parts of Europe. Some of them we would hook up with again in London. Glenn & I hit a few bars with our friends David Wright and Allan Bremner but were were not too impressed with the city. We were ever less impressed when a slick conman relieved us of a few quid and a few cartons on cigarettes. Oh well, it was a lesson well learnt and not too much damage was done, except to our pride. 🙂
Our 6 week voyage ended in Southampton on June 6 1964, we all had a truly great trip even though during the last week we were all desperate to get our feet on dry land. Now our London adventure was about to start and the fact is the party had only just begun.
The next phase in my Life changing adventure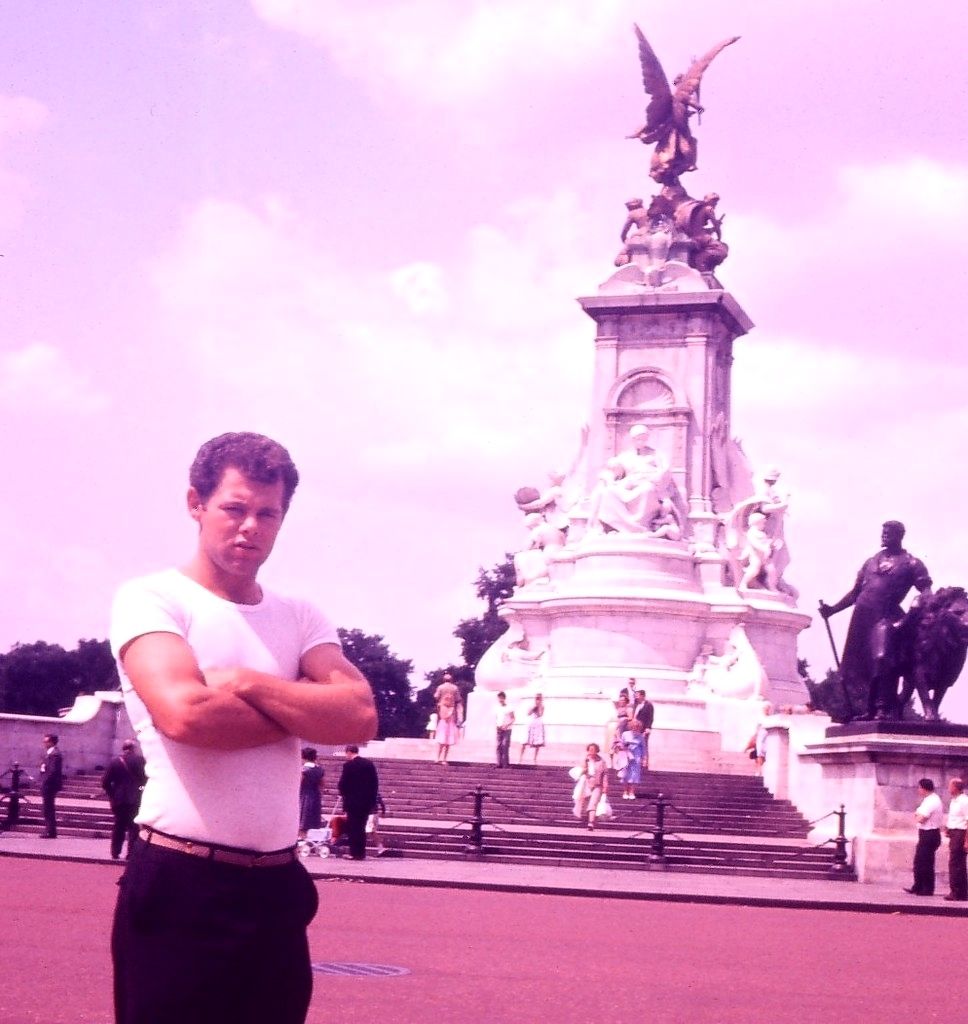 Thanks for visiting my Life changing adventure photo blog.
Here are some more posts to check out
Life 2013 Family history Life 1982
Adelaide 1972 Iron Bar Freddy Sydney 2006
Thailand 2008 Gold Coast Babes World trip 2003
Great hotel room rates anywhere in the world if you book
through these links below. Book now & pay later. ?
That's all folks
That's all folks
This gallery contains 2 photos