Soho Village Food market Pattaya
Thailand amazing street food culture
Thailand amazing street food culture is a great way to eat, very cheap and lots of choices. This market in 2nd rd North Pattaya is only 5 minutes walk from my condo.
Prawns & scallops.
Really well cooked fresh food, these two dishes cost me 300 Baht or $10.
So many decisions to make. 🙄
The Thai people have taken street cooking to an art form. Most Thai's in fact eat out on the street rather than cook at home.
More seafood
Too much seafood is never enough. 🙂
Fantastic ribs
These pork ribs are so good they are addictive. 150 Baht per rack and I always take a couple home to snack on the following day.
Soi 11 Bangkok
A great street for food and restaurants.
Hard working street vendor
Still in Soi 11 off Sukhumvit in Bangkok. iCheck Inn is a good place to stay when in Bangkok, for a great rate use this link.
Thailand street food, Phad Thai.
Thailand street & market food would not be complete without Pad Thai, probably the most popular Thai dish worldwide, 100 Baht or $3 at the Pattaya 2nd rd market, & delicious.
Wine or beer sir?
There are always one or two bars in every market so you won't go thirsty. 😆

Plastic chairs, but who cares?
Order your food, grab a table and wait a few minutes while you watch the passing parade.
Banana Pancake, YUM!
This is one of my favourite snacks, 30 Baht or $1, great value & a great taste. Thailand street food at it's best.
Perhaps bugs are more your style?
Thailand street food comes in all forms however I must admit I still can't convince myself to eat bugs or insects.
Frog kebabs, delicious.
Ok I'm exaggerating here, this is another meal I have not been brave enough to sample this Thailand street food. Please click on Google + to help my page ranking.
The pig arrives on a bike.
Each night outside my local bar in Soi 3 North Pattaya the pig arrives on a motorbike.
Sometimes there are 2 pigs
Two pigs are better than one. 🙂
Try this Thailand street food if you dare.
I'm fairly sure most Thai people have their taste buds removed at an early age, some of these dishes are so spicy Self-immolation can start within 3 seconds of your first mouth full. 😳
Thailand amazing street food culture
Book your hotel through AGODA for a great deal.
Fresh fish at Naklua market
The girls at the market will kill , clean & gut fish while you wait.
Car park dining in 2nd rd beside Alcazar.
Great food served here for lunch & dinner. The only downside at night are the exhaust fumes from the dozens of busses leaving the car park.
Street seafood, delicious.
Lots of seafood in Koh Larn which is a 30 Baht, 30 minute ferry ride from Pattaya.
BBQ fish, calamari & prawns.
Is it any wonder Thailand street food is famous throughout the world? In Thailand street & market food is everywhere so you don't have to walk too far for dinner.
Fresh food
Taking up most of the sidewalk these food stalls are part of Bangkok's charm & character.
Sidewalk restaurant on Soi 22
The graffiti certainly brightens up the decor. 🙂
Fresh fruit stall
Right outside my apartment building in Soi 1 North Pattaya every day.
Late night street cafe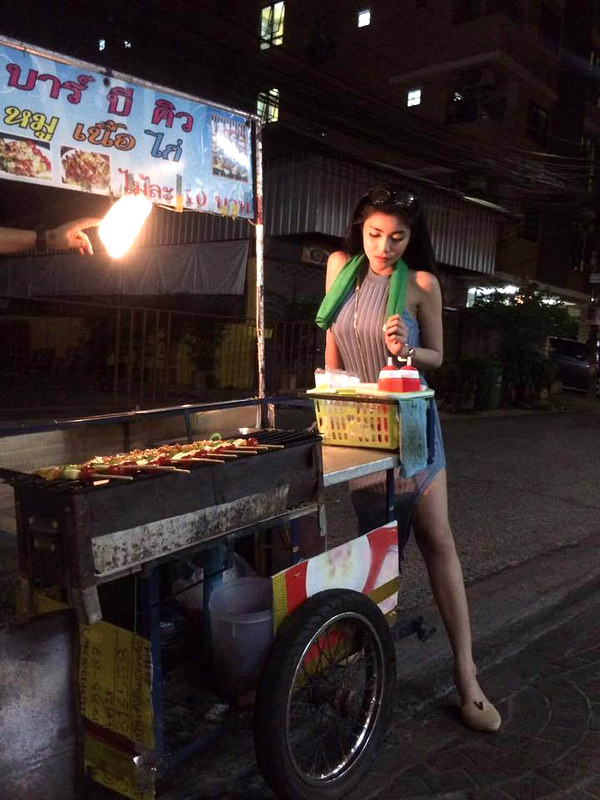 It's 5 am & no customer tonight, I guess I should eat. 🙂
Thanks for visiting my Thailand street food culture photo blog.
CNN did an excellent story on the world's best street food.
Fabulous views, excellent restaurants & a very good room rate if you book through THIS LINK.
The building in the middle is the Holiday Inn, on the left is the Amari Hotel which is another very good five star hotel. Use THIS LINK to book for a very good room rate.
The best Pattaya budget hotel, 3 pools & opposite Central Marina shopping mall. For a great room rate just book through THIS LINK.
This is the view from Horizons the amazing rooftop bar. A great five star hotel located opposte the beach & above the Central Festival shopping mall. Just book through THIS LINK for an excellent room rate.
Please check out these fabulous posts
Great hotel room rates anywhere in the world if you book
through these links below. Book now & pay later.
Free Cancellation.
Live fish at the market
Some nice shots of Pattaya here
Check out Soi 6 on Xmas day 2014
Siam @ Siam is one of Pattaya's most interesting hotels
Have a look at some Bangkok bars