April 15, 2015 by David Herd
It all started in Sydney
California Miami Rio Carnival Paris Bangkok
California Miami Rio Carnival Paris Bangkok, it all started in Sydney in January 2005. Next stop was San Francisco, on to Miami before flying down to Rio de Janeiro. Make no mistake Rio Carnival is the greatest show on Earth. I then met my friend Simone in Natal in North East Brazil, we travelled 300 kms by taxi to Recife stopping at Praia da Pippa for a few days on the way.
I said au revoir to Brazil where it was 35 degrees and flew to Paris to be greeted by a temperature of 3 degrees,
My Sydney friends
Lunch with friends at Wildfire restaurant at Sydney's Circular Quay.
Aquarium of the Bay.
Aquarium of the Bay is a public aquarium located at Embarcadero and Beach Street, at the edge of Pier 39 in San Francisco, California. The Aquarium is focused on local aquatic animals from the San Francisco Bay and neighbouring waters.
Lunch at Fisherman's wharf is a "must do" in SFC.
How many movies has this Miami deli been in?
The Architectural District (also known as Old Miami Beach Historic District, and the more popular term, Miami Art Deco District) is a U.S. historic district (designated as such on May 14, 1979) located in the South Beach neighbourhood of Miami Beach, Florida. The district is bounded by the Atlantic Ocean to the east, Sixth Street to the south, Alton Road to the west, the Collins Canal and Dade Boulevard to the north. It contains 960 historic buildings. In 1989, it was listed in A Guide to Florida's Historic Architecture, published by the University of Florida Press.
Quintessential South Beach Miami
The fabulous art deco towers are unique examples of this form of architecture, they along the eight and a half mile stretch of Beach. All told there are twenty five towers guarding those who use the beach. At once functional and decorative, they contribute beautifully to the overall aesthetic of this Floridian resort city. A great example of Art Deco South Beach Miami.
We have been waiting for you all year, where have you been. 🙂 The beautiful on the left is Samantha, her blonde girlfriend was around 6′ tall.
David Herd with the bird.
I'm at a big warehouse where they store many of the Carnival characters and floats.
The Sambadrome Marquês de Sapucaí is centre stage of Rio Carnival, the host venue of the annual parade of Samba Schools. It is important to note that Rio Carnival, popularized around the world as the greatest party on the planet,is about much more than drinking and partying. At its heart, Carnival is an exhilarating combination of competition and camaraderie as organizations called Samba Schools battle for the title of Rio Carnival Samba Parade Champions. For Cariocas, the local residents of Rio de Janeiro, is a time to show the world the product of a year's worth of hard work and dedication. All the magic ofRio Carnival — the beats, songs, dances, floats and costumes — are the product of well-orchestrated machines called Samba Schools.
Meanwhile out on the street
The whole city goes crazy for Carnival, this was my 2nd experience, I returned in 2008 for my 3rd Carnival.
I also spent some time at Copacabana beach
There are many reasons to love Copacabana, this is one of them. 🙂
Dave Sommer RIP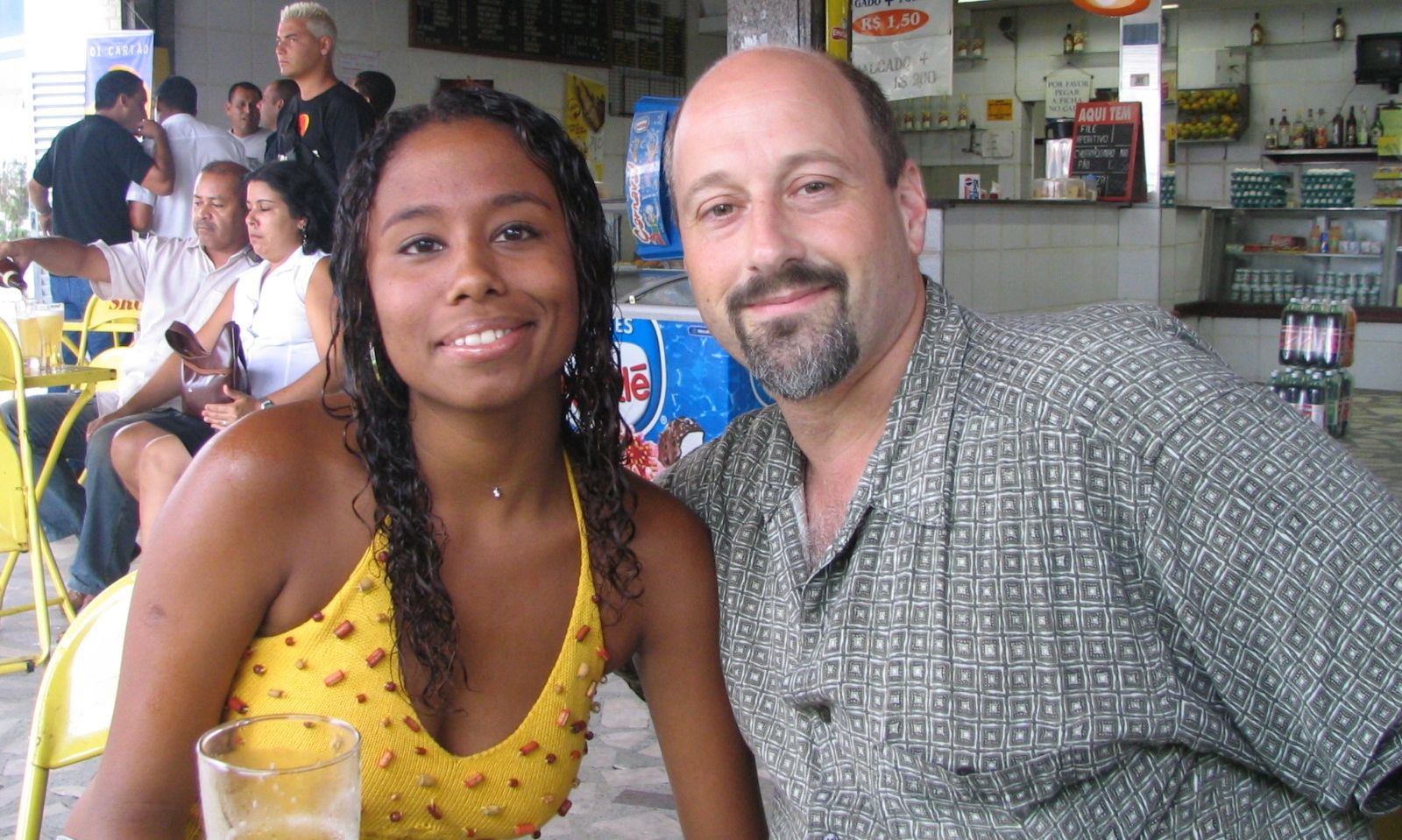 Two of my friends from 2005 are not with us anymore, Dave Sommer lived & worked in Sao Paulo, Sadly he was brutally murdered on January 11 2015. I remember the great day we spent together visiting the Samba school with his girlfriend, they were both preparing to participate in the parade.
Doug Roarke also passed away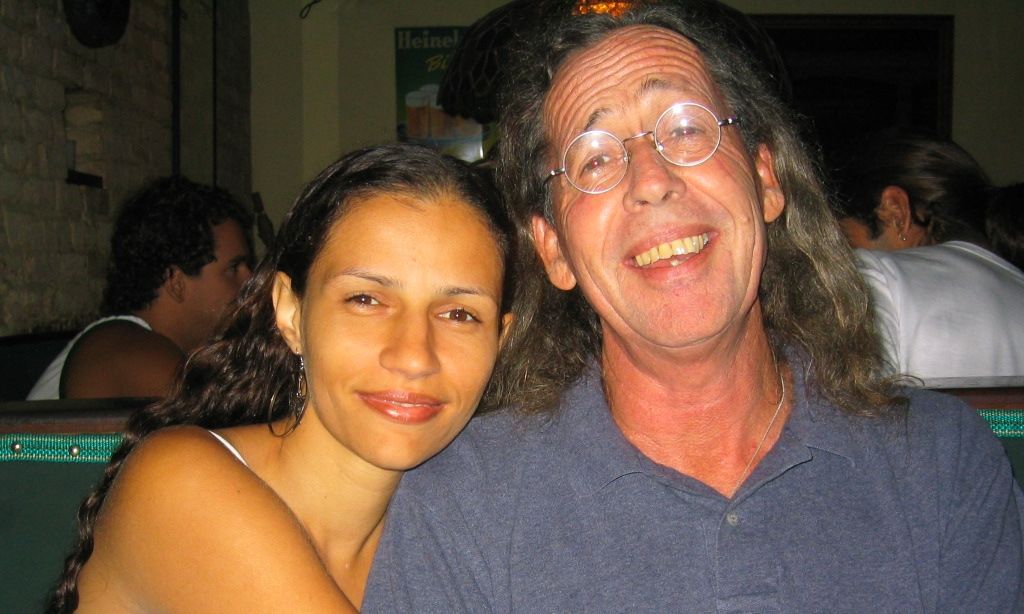 Doug Roarke was a lovely guy who lived life to the max, after battling a long illness he passed away around 2007. Danielle was his gorgeous long time girlfriend in Rio. I remember sitting in a bar in Rio Di Janeiro with Dave Wylie & Doug Roarke, (RIP) and when I asked what was their favourite place in Brazil, Doug briefly considered the question before saying "Praia de Pipa". Until that moment I had never heard of the place, but on Doug's recommendation I planned my trip. Pipa Beach quickly became one of my favourite places in the world.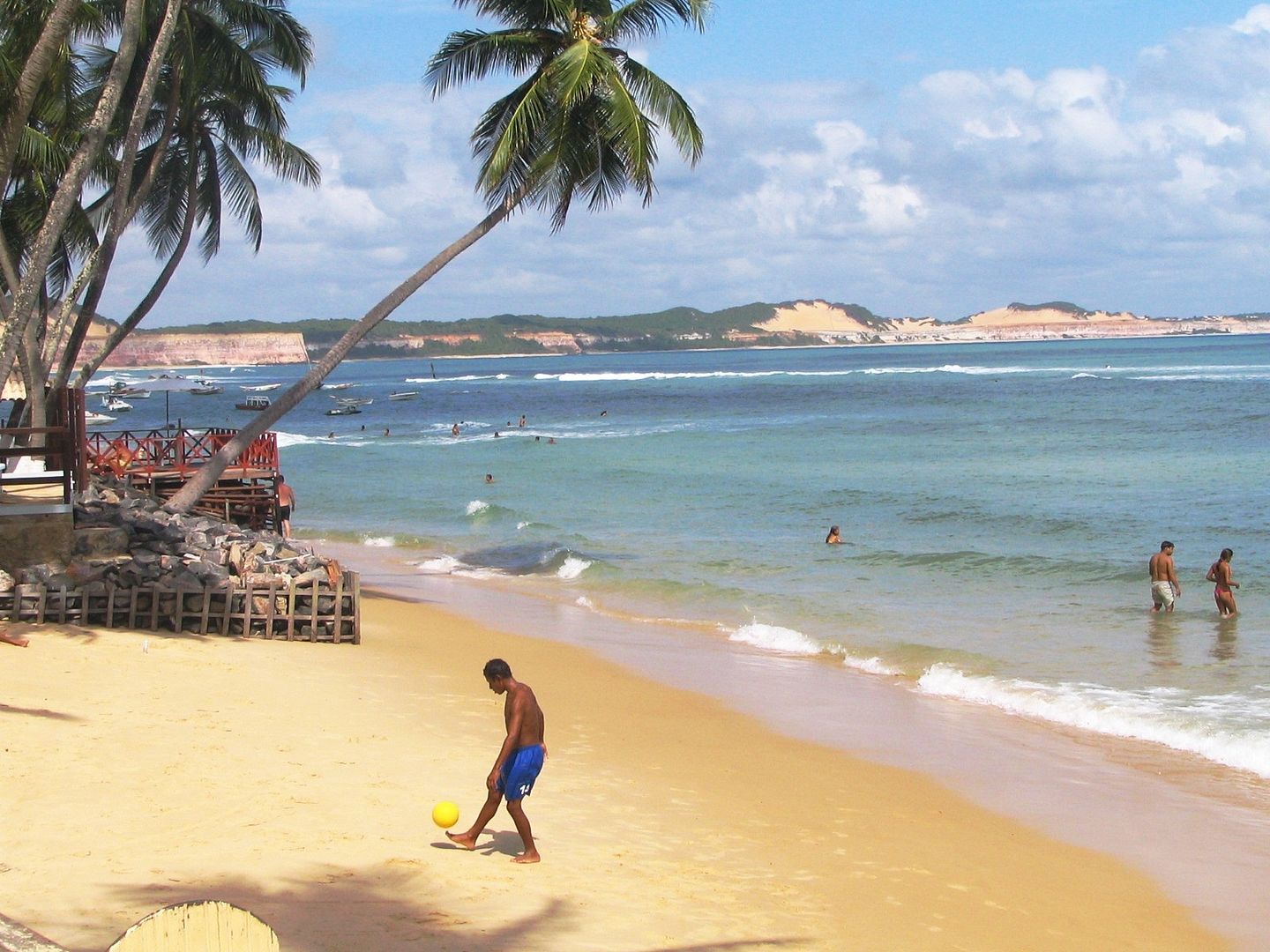 This will always be one of my favourite photos at one of my favourite places.
Fresh for dinner tonight
Fresh fish, what fresh fish? I don't see any fresh fish. 🙂
Ah! here is the fish straight out of the ocean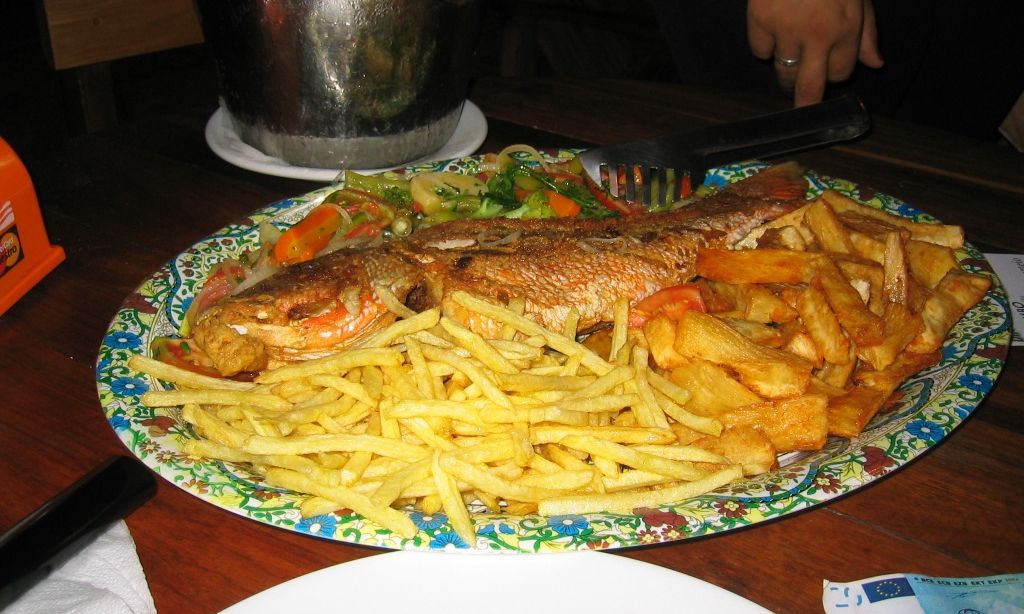 Fresh fish and lots of chips.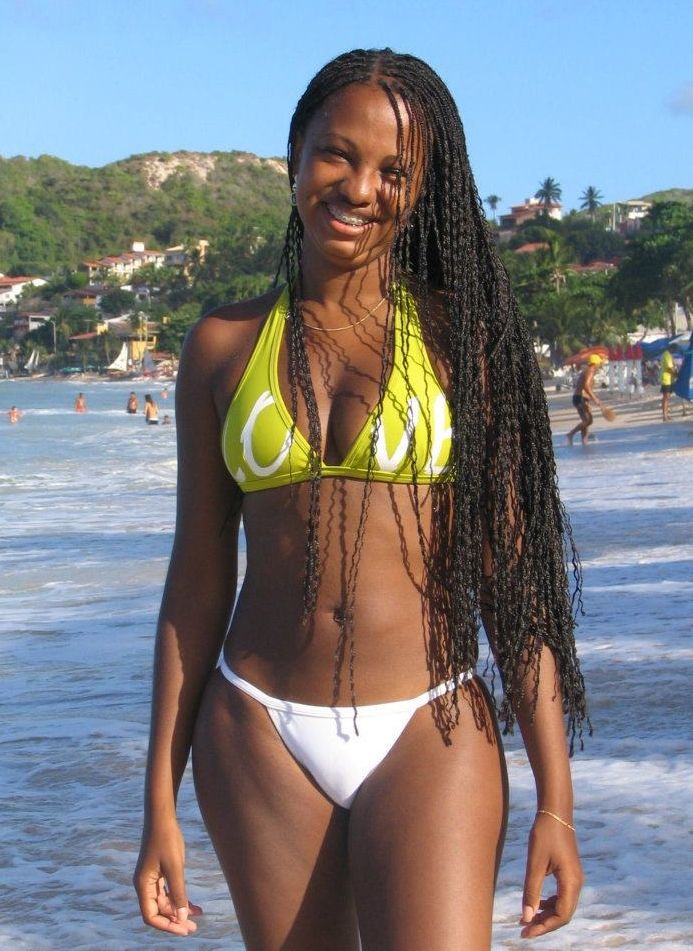 My lovely travelling companion Simone Cristina Oliveira was living in Uberlândia in Minas Gerais at the time, she now works at a bank in Sao Paulo, after all these years we still keep in touch on Facebook.
The coast around Pipa.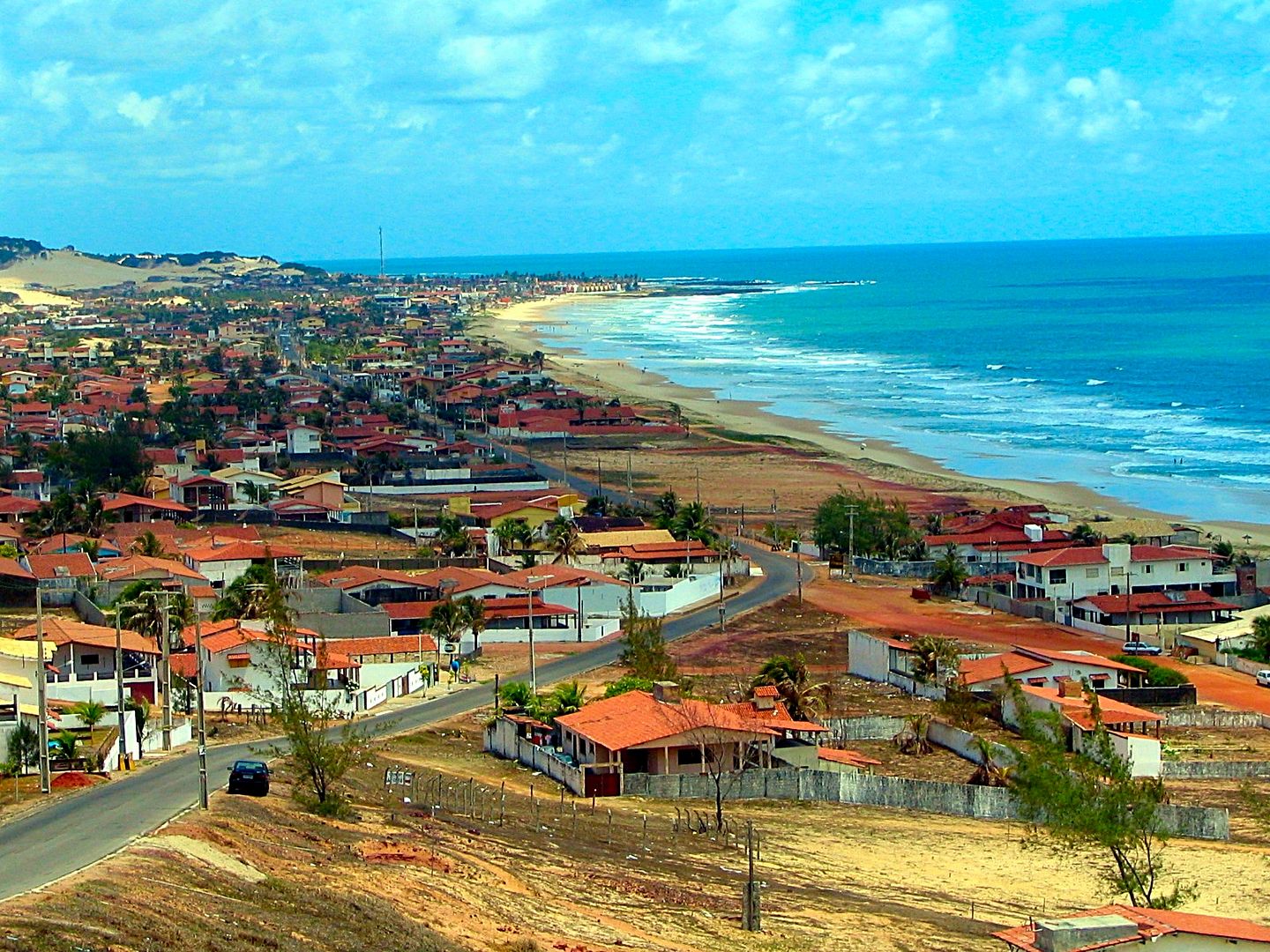 Towns built on sandy soil.
Low tide at Pipa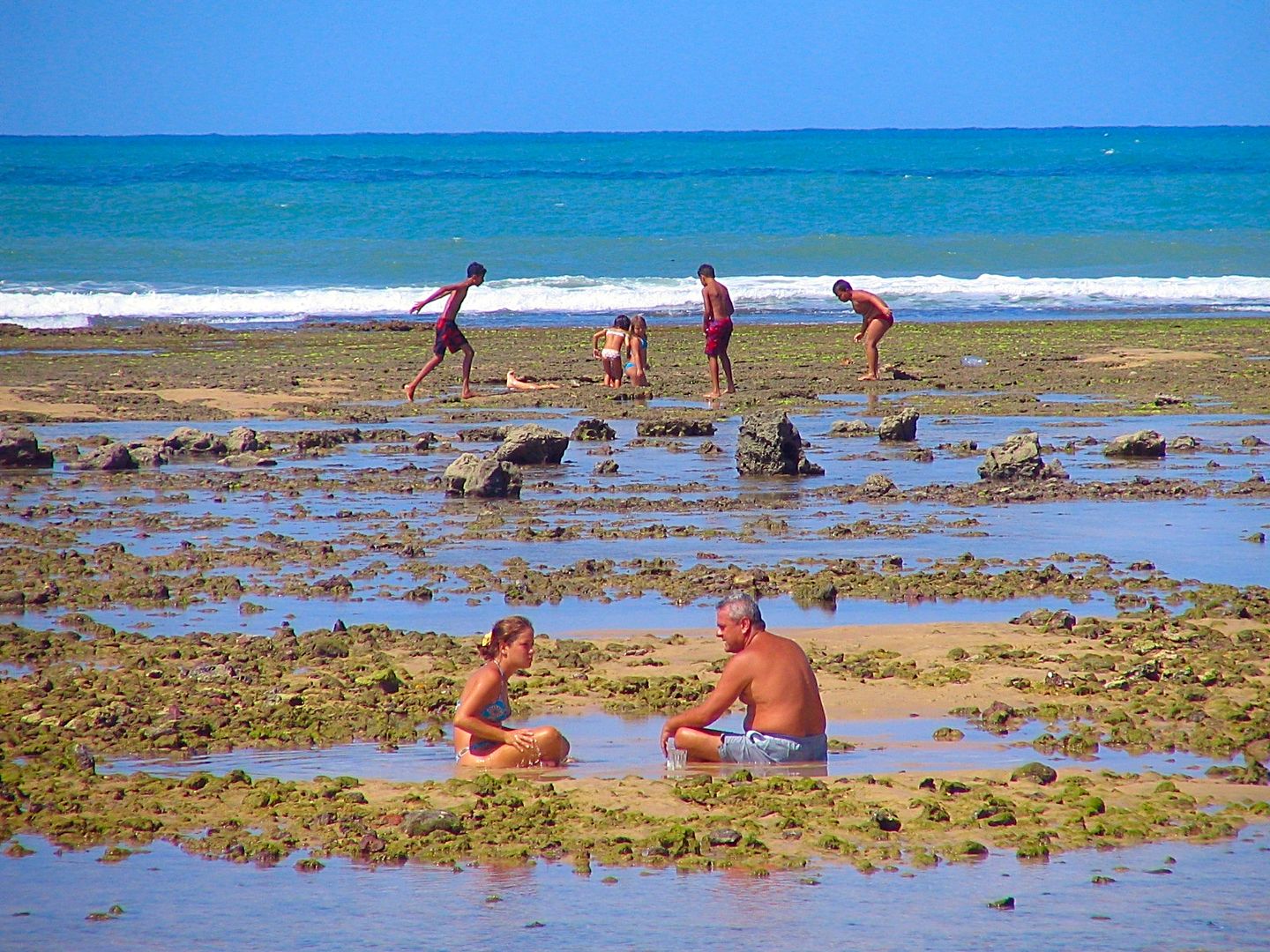 Low tide and the children play.
Happy hour? In Pipa it's always happy hour.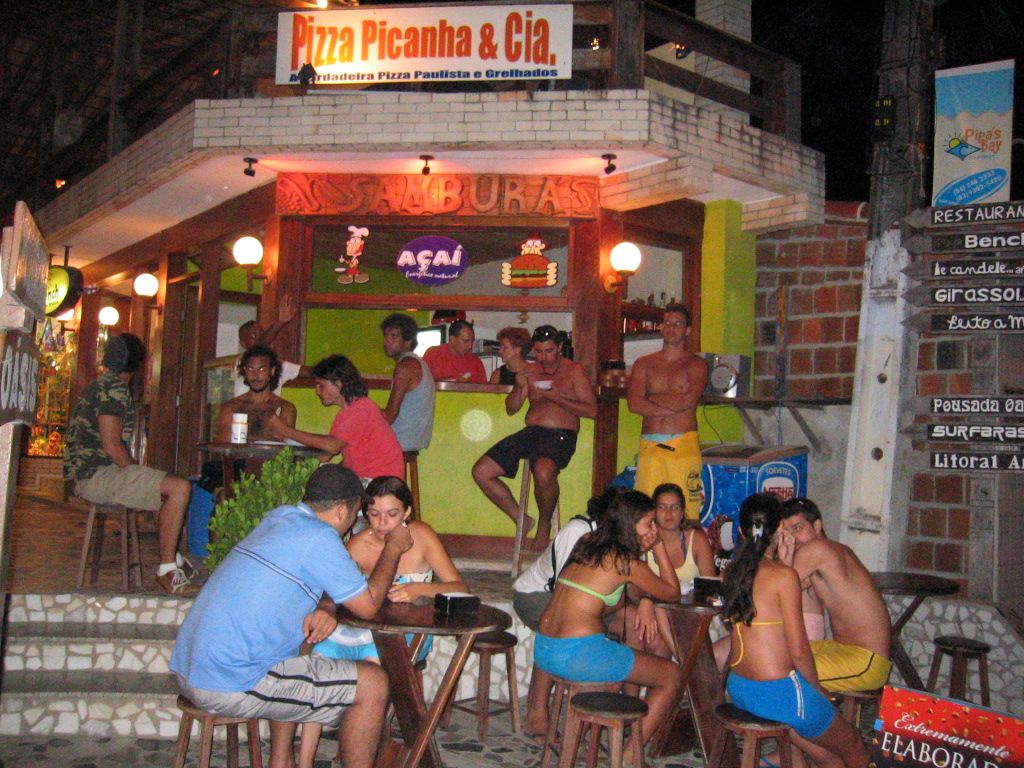 Local Pipa bar.
Morro do Careca (Bald Hill) Ponta Negra.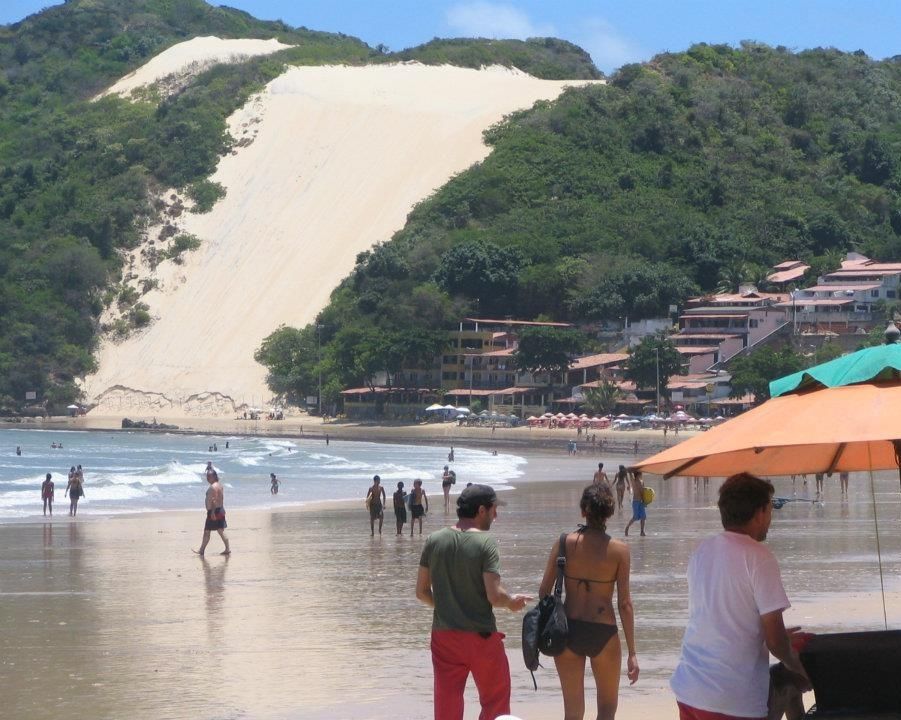 Ponta Negra is close to Natal about 80 kilometres from Pipa.
The beautiful city of Olinda.
Olinda is a city in the north-eastern Brazilian state of Pernambuco. It hosts one of Brazil's most famous carnivals and is listed as a World Heritage Site by UNESCO due to its XVI and XVII-century buildings. Many bars, restaurants, artist and craftspeople studios add charm to the old-town setting. Olinda is just across the river from Recife.
My friend Simone & her cousin Pedro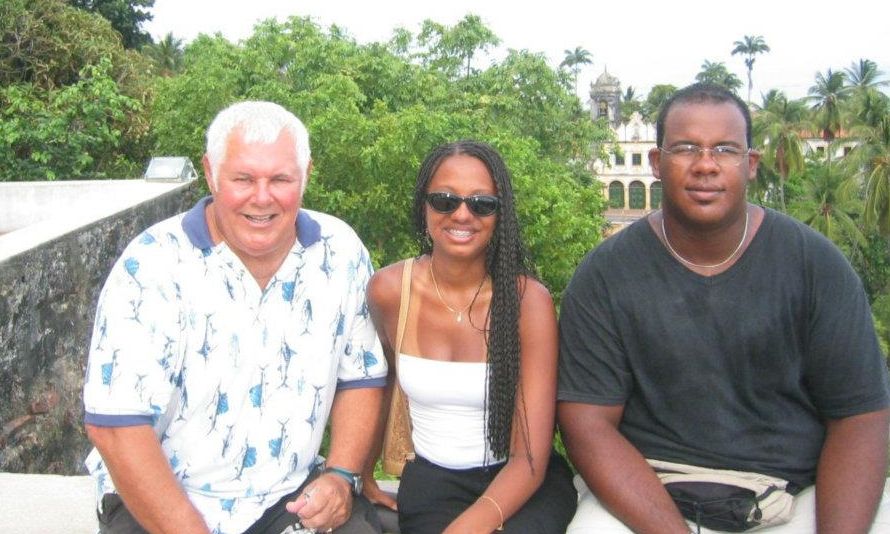 Sightseeing in Olinda.
Recife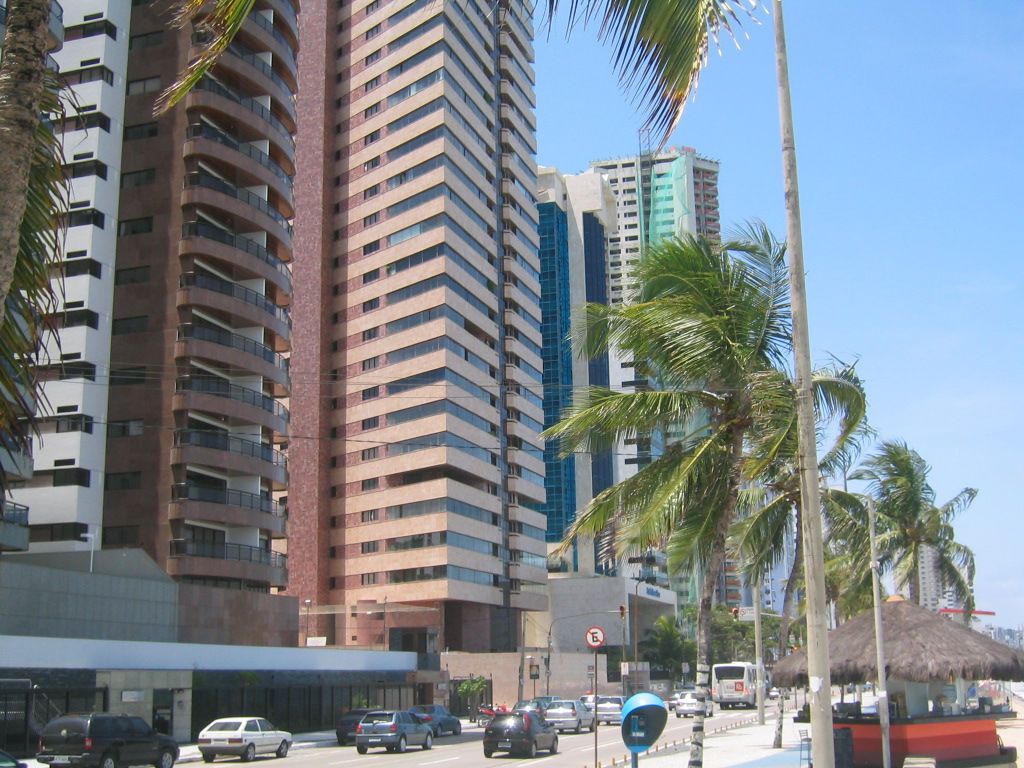 A big modern city in the north east corner of Brazil, Recife is the fifth-largest metropolitan area in the country with 3,743,854 inhabitants.
Porto de Galinhas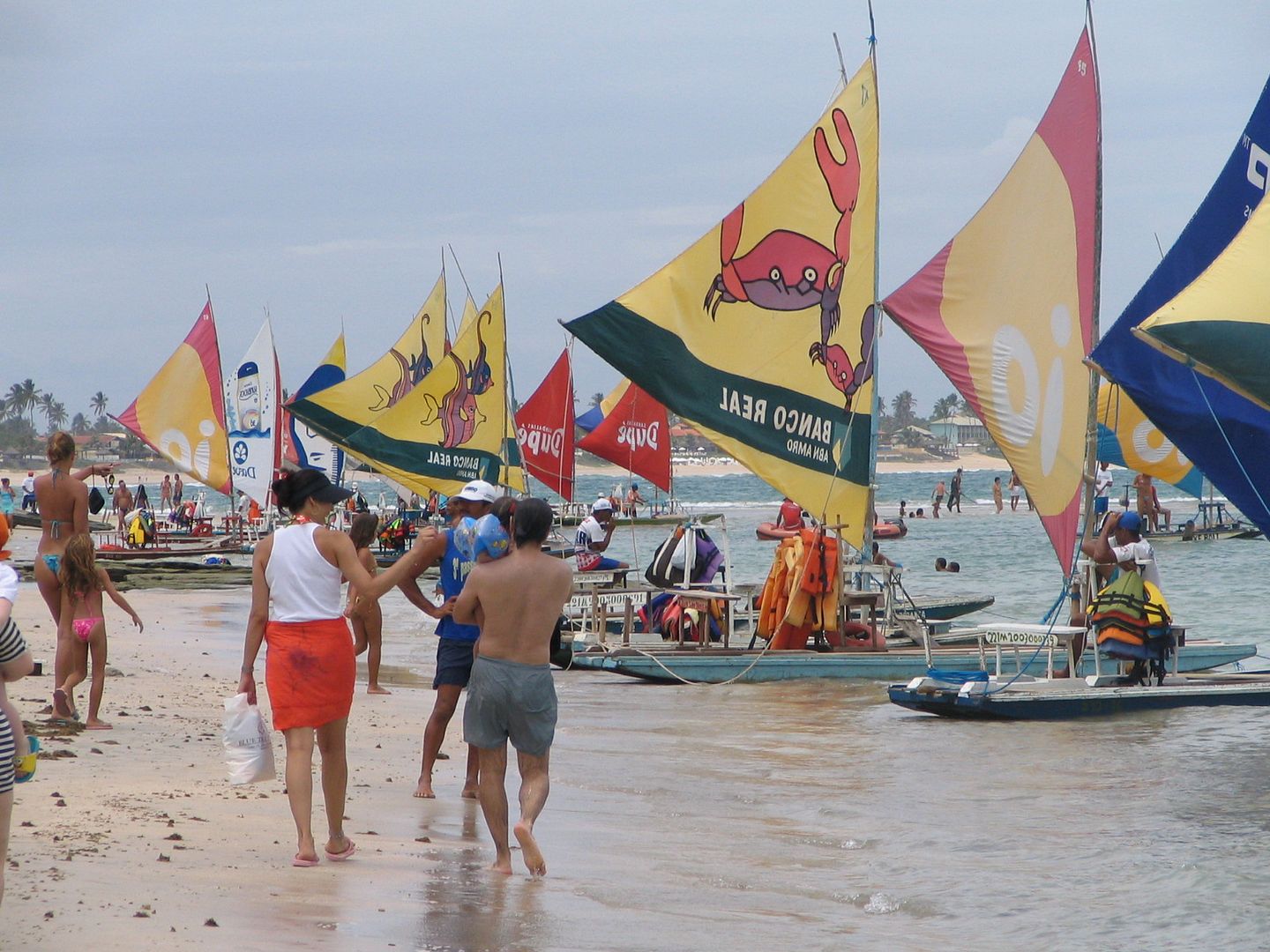 The origin of the name is well known. Porto de Galinhas means "Port of Chickens" in Portuguese. In the second half of the 19th century, the Brazilian government imposed restrictions to the commerce of slaves, which were widely used as manpower in the sugarcane farms around Recife to circumvent the prohibition, the "black ships" (which transported slaves from Africa to Brazil) looked for other places to harbor, far from Recife.One such place was in the bays around Suape and Ipojuca, about 60 km to the South ofRecife. When a ship arrived in town, as it was prohibited to mention slavery, the word spread as "there are new chickens in the port"; hence, the place gained its name Porto de Galinhas.
This city was a real surprise packet.
Paris Miami Rio Carnival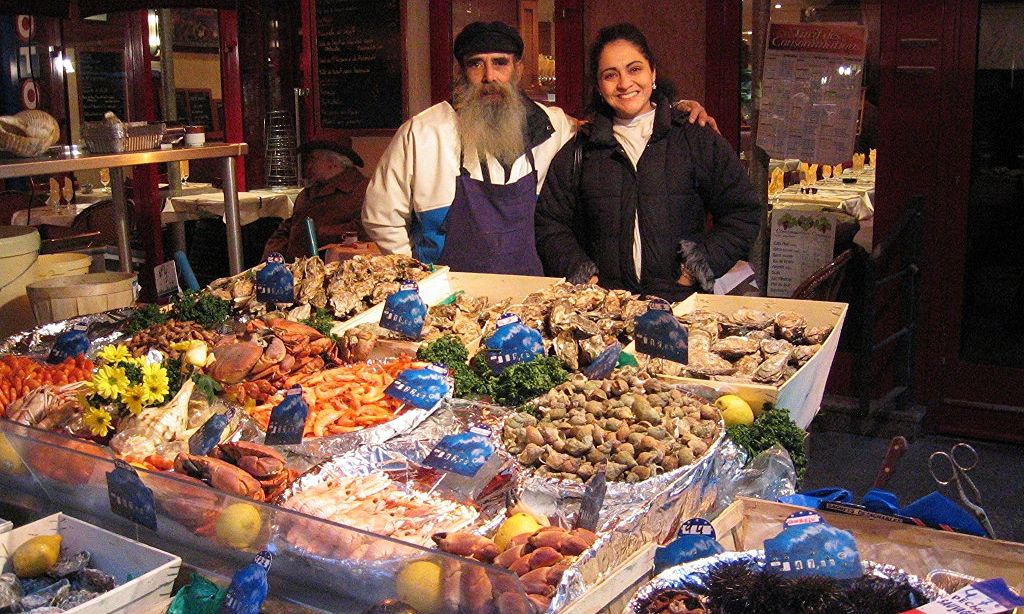 Farewell Brazil, hello Paris, as I said earlier Brazil was 35 degrees and I flew to Paris to be greeted by a temperature of 3 degrees. Here is my friend Malvina who I originally met in 1999 in Mexico City.
Dinner with Australian friends
I met up with Gavin & Cheryl Kernot in Paris and we spent a few days wining and dining. Cheryl was a very well known Australian politician who enjoyed red wine from Bordeaux almost as much as I. 🙂
Did I mention how bloody cold it was in Paris? 🙂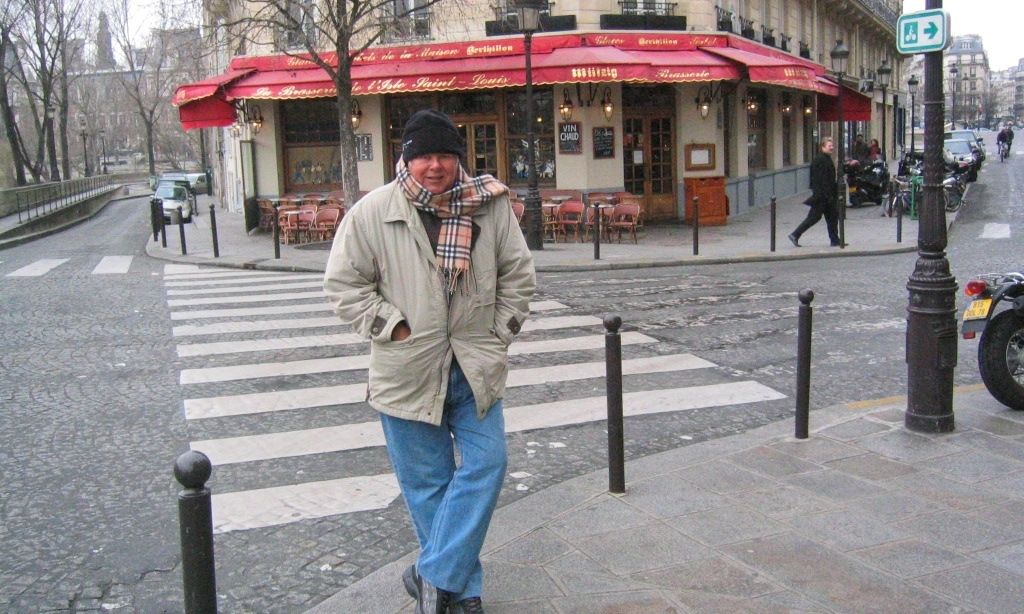 What a shock 3 degrees after enjoying 35 degrees in Brazil.
At last I'm back in Bangkok, you can now call me the spy who came in from the cold. 🙂
I feel right at home
Nana Paza Bangkok, let the games begin.
Next stop Pattaya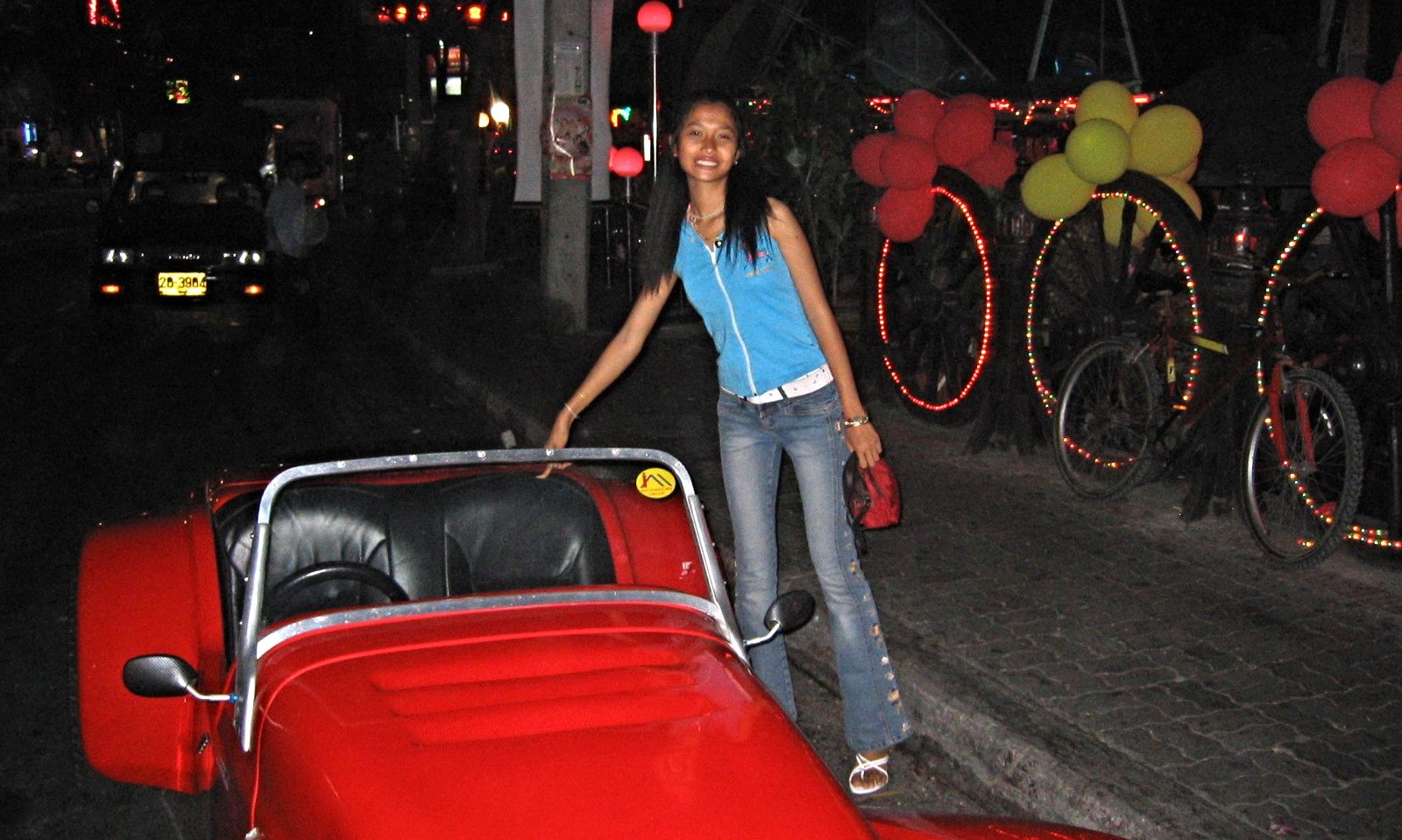 Hi David, where have you been? Your car is waiting.
Greg Clee at Heaven Above in Walking St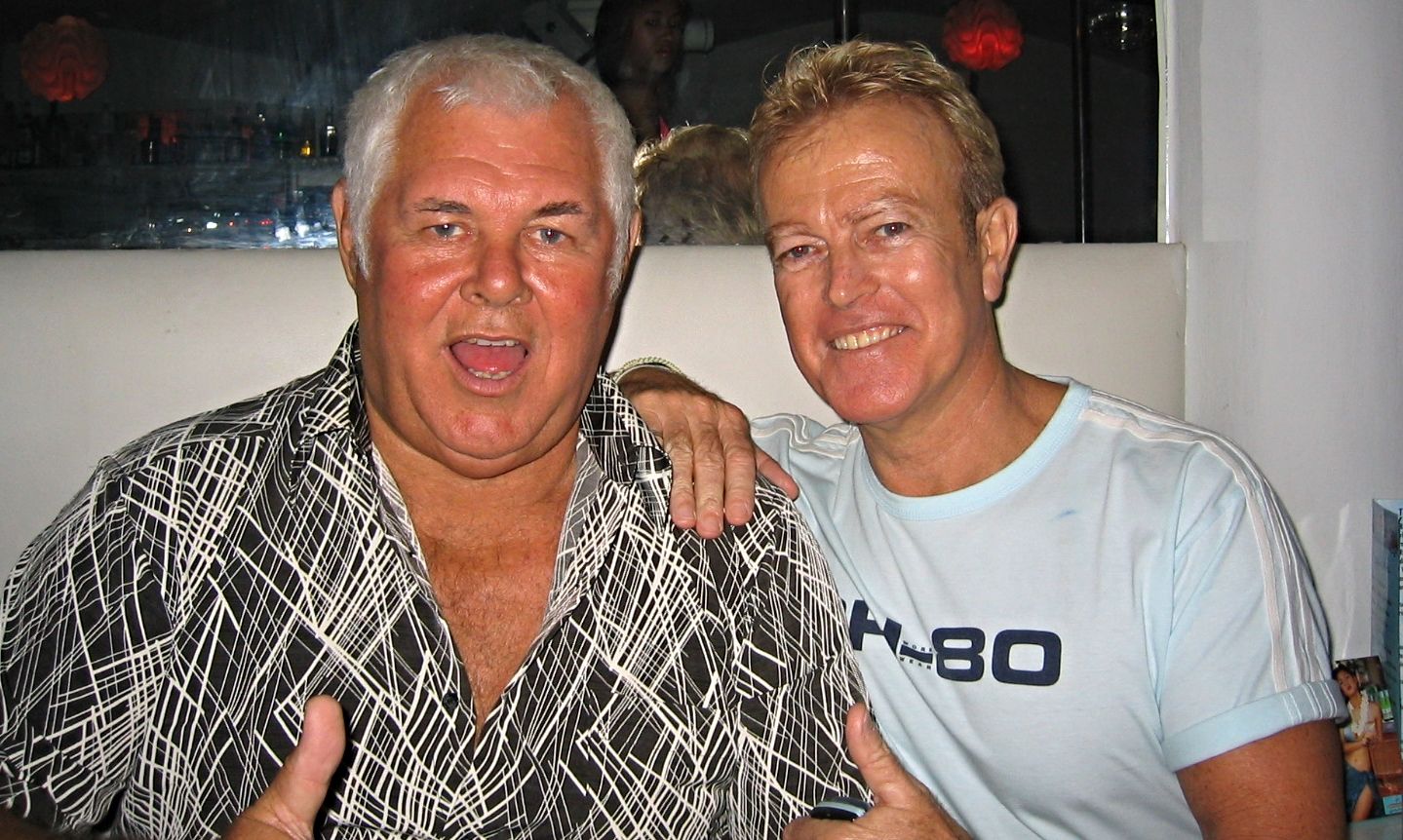 Greg is an Aussie who is the major shareholder in Heaven Above go go bar, always has a good venue for young go go dancers. Coincidentally when I moved to Thailand in 2011 we lived in adjacent apartments at Markland Condo in Beach Rd.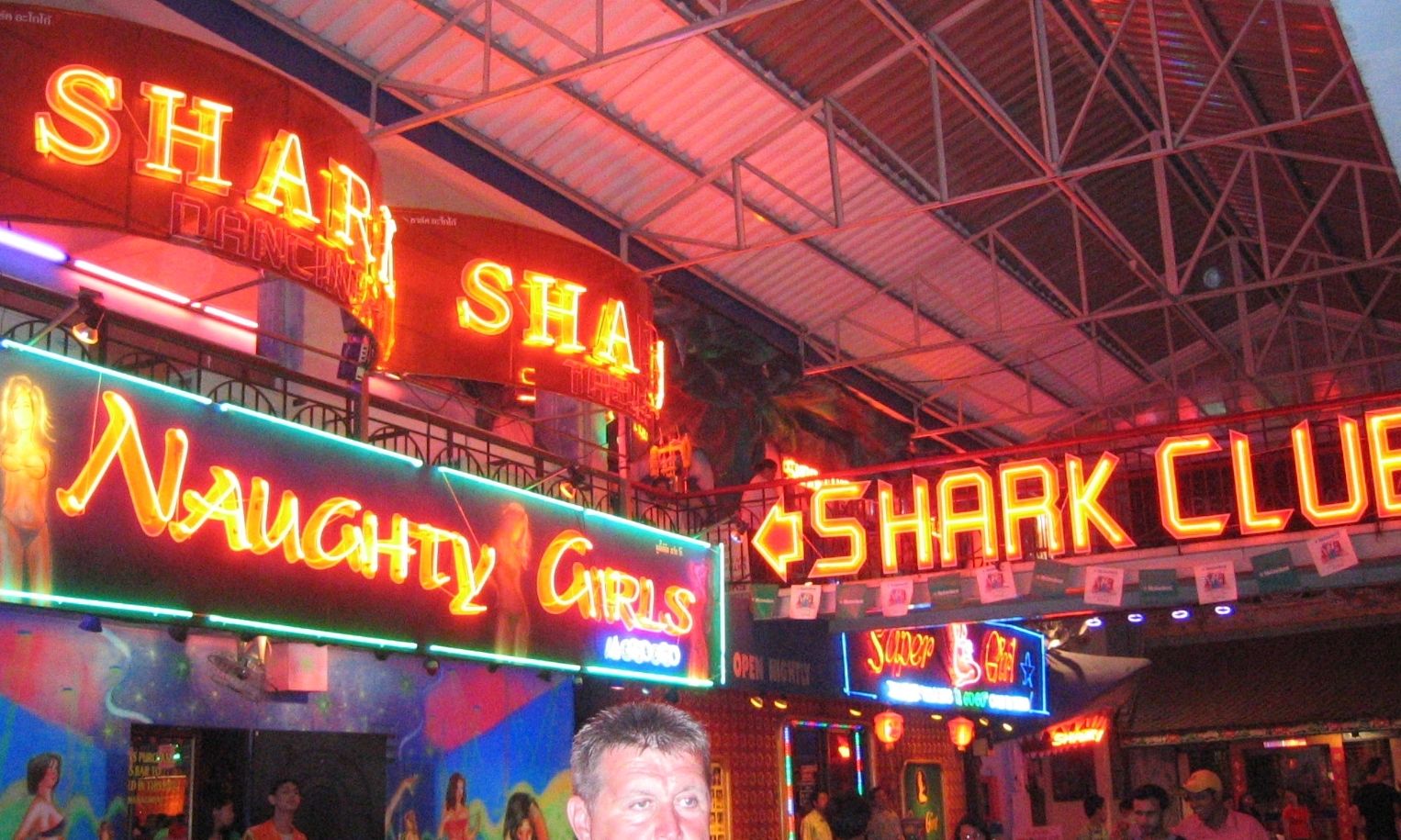 Thanks for visiting my California Miami Rio Carnival Paris Bangkok photo blog.
For great Pattaya hotel rates just book through
THIS LINK.
Here are some more posts to check out
This gallery contains 1 photo.