Breathtaking skyline from Red Sky Bar
Spectacular Bangkok Rooftop Bars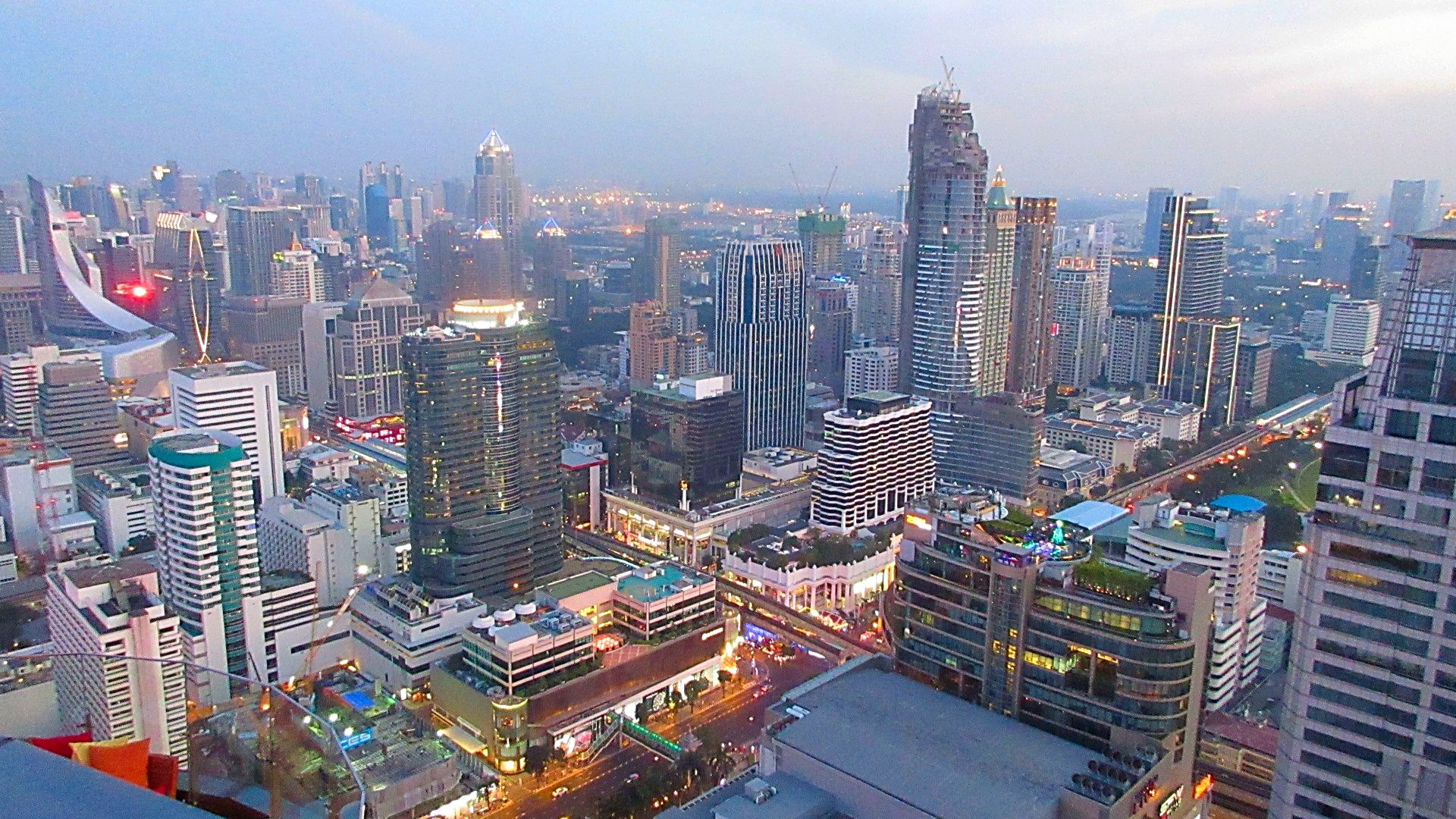 Spectacular Bangkok Rooftop Bars, I really doubt if any city in the world has as many amazing skybar/restaurants than Bangkok. This photo is from the 56th floor of the Red Sky Bar located abbove CentralWorld.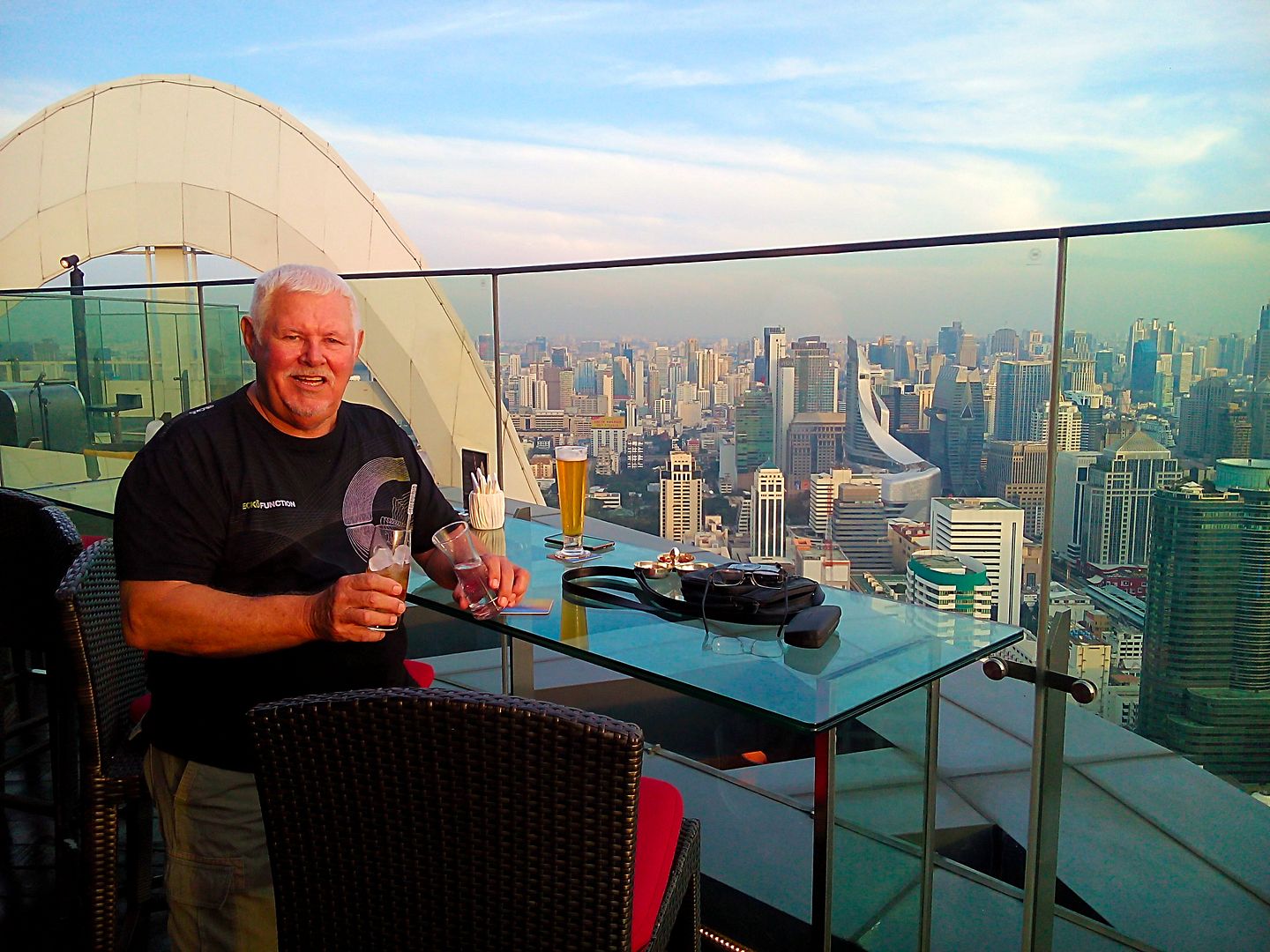 Generally as you can imagine Sky Bars are expensive venues, however between 5 & 7 pm buy one get one free is a good deal, for instance a Jack Daniels or a beer is B360 or $10.50 usd, so getting 2 for 1 is a good value.
I rate Red Sky Bar 5 stars.
At the Hotel Indigo Bangkok 81 Wireless Road, Pathumwan, on the 25th and 26th Floor.
I give Char a 4 star rating.
The amazing Bangkok skyline.
Open at 6 pm in time for the sunset.
Char Bar walking distance to CentralWorld.
An easy walk from Char Bar to Red Sky Bar.
I rate Char Bar 4 stars.
Long Table sky bar Bangkok is located on the 25th floor of the Colomn serviced apartments in Soi 16 Asoke. Obviously not as high as many of the Bangkok sky bars but still offers an incredible view of this great city.
I rate Longtable 4 stars.
Spectacular entrance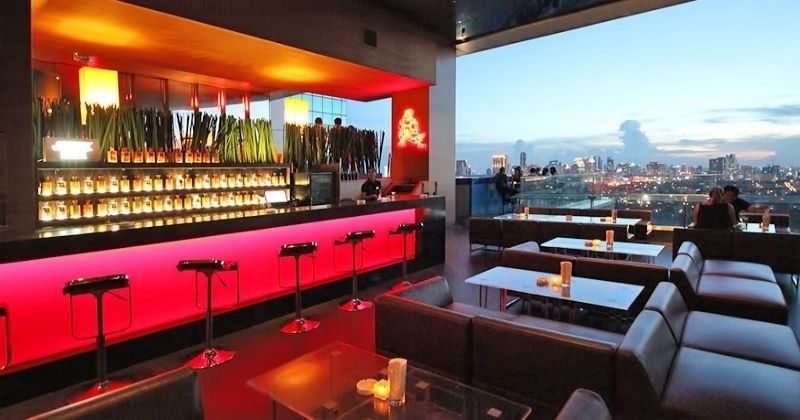 Walk in the door and this is the fabulous view of Bangkok. Obviously not as high as many of the Bangkok sky bars but still offers an incredible view of this great city. Photo credit Asia Web Direct.
Use THIS LINK for a great rate of around $80 USD + tax for a 62 M2 serviced apartment.
Another spectacular venue to add to the many other "must do" places to visit in this great city. Located between Sukhumvit 69 & 71 only five minutes walk from Phra Khanong BTS station.
A small beautifully designed intimate restaurant
The Cielo Sky Bar & Restaurant menu caters to a variety of budgets and offers a small selection of well known international dishes. Try the simple Spaghetti Carbonara (250 Baht), the fancy Roasted Duck with Fresh Orange Thyme Sauce (320 Baht), or for those wanting to splash out: the grilled Australian ribeye steak (850 Baht).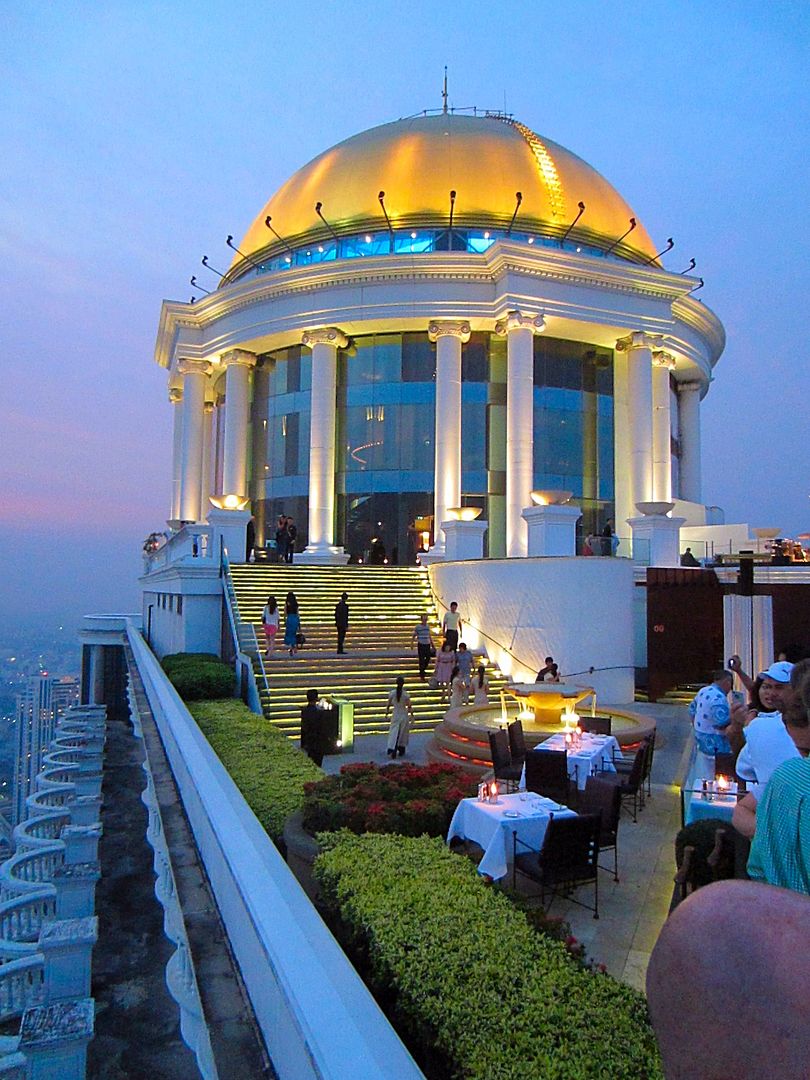 Sirocco Sky Bar State Tower Bangkok is one of the best rooftop restaurants bars in the world. In fact I really doubt if any city in the world has more roof top bars than Bangkok. I would certainly like to know if there is any place more spectacular than Sirocco which is located of the 64th floor of the State Tower building in Bangkok.
I rate Sirocco 5 stars.
Top floor Lebua Hotel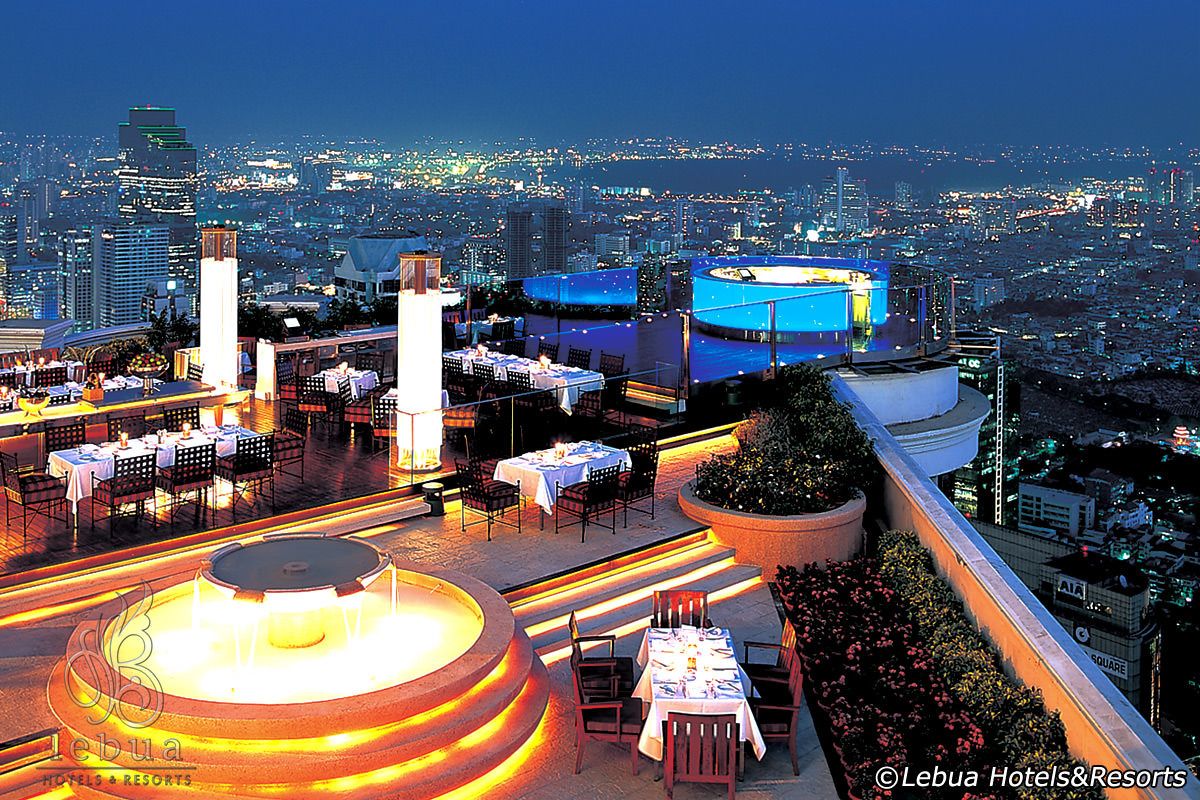 Great location close to the Sky Train and the river ferries. One of the nicest ways to spend an hour in Bangkok is cruising along the mighty Chao Phraya river. The river ferry takes you up the lazy river for only B150 for the whole day. It is a great way to see many of Bangkok's wonderful landmarks. A ticket to Chinatown is only B40, get off at pier number 5 at Ratchawong and walk 10 minutes up the road.
For a great room rate at the Lebua Hotel just book throughh THIS LINK.
Sirocco to Red Sky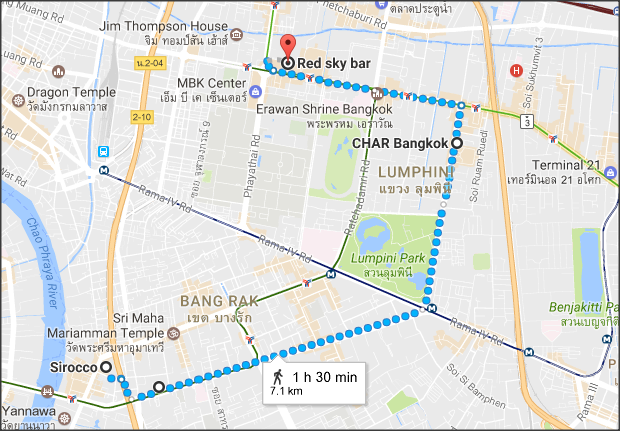 Via Roof 33 & Char Bar.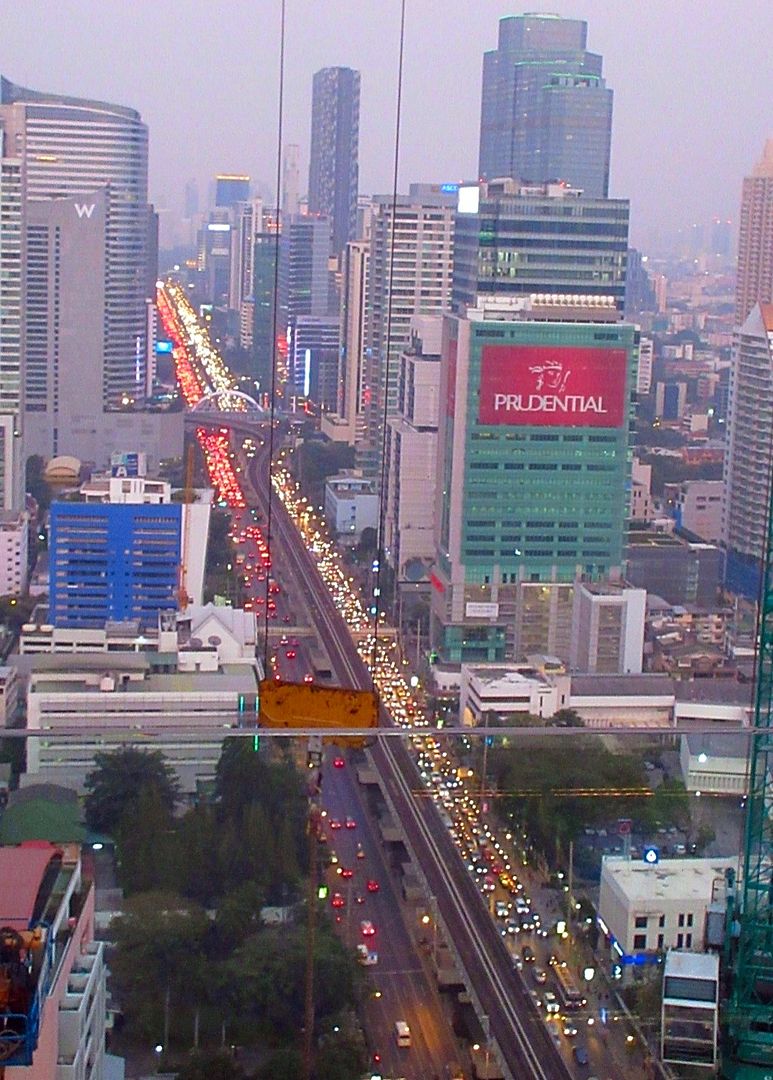 Located on the 38th floor of the Mode Sathorn Hotel which is right next door to Surasak sky train. A nice relaxing atmosphere and the drinks are rather expensive as you would expect.
Rawiwan (Lucknam) Thaikam @ Roof 38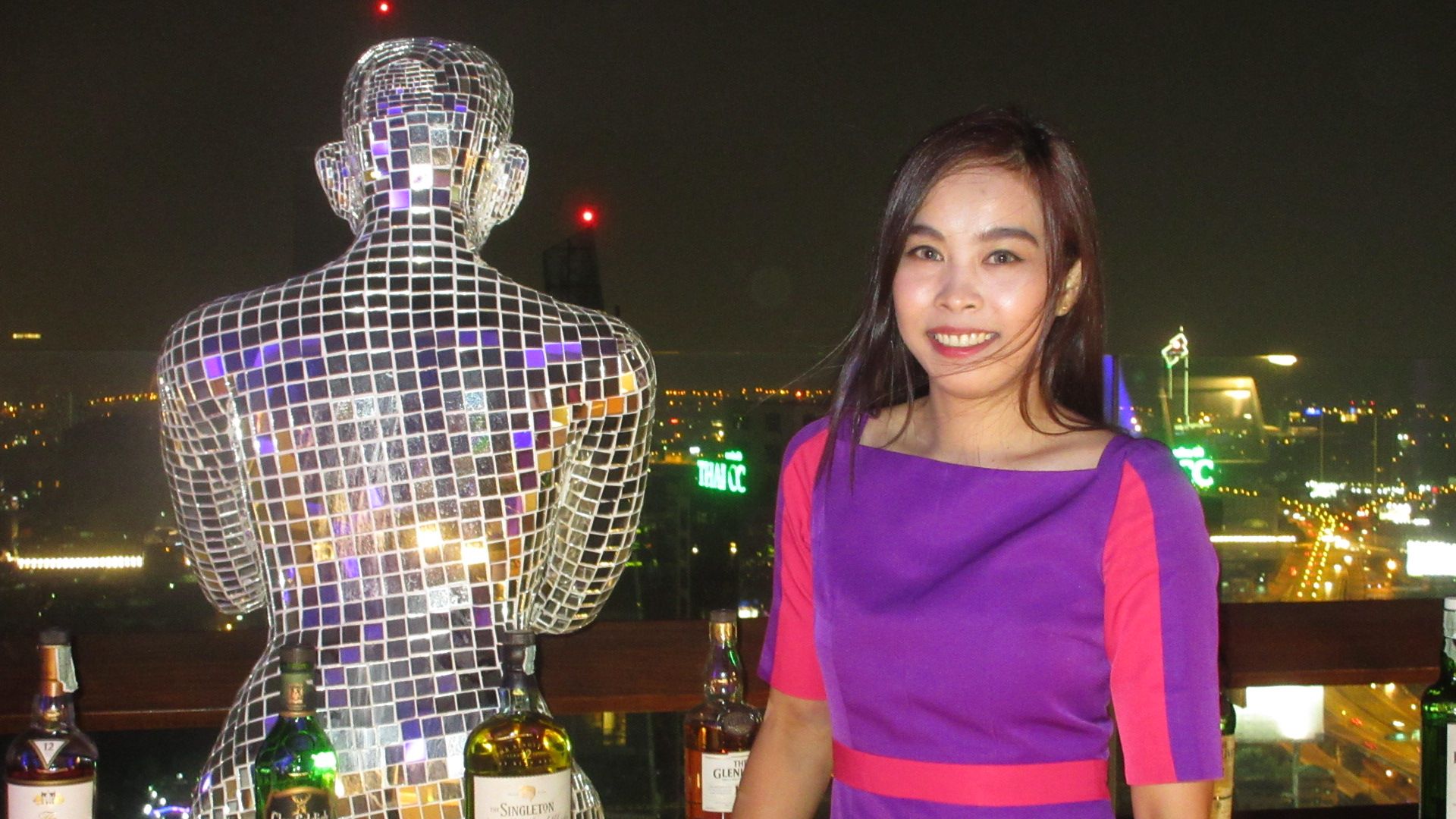 The lovely lady is the Roof manager, very friendly with a beautiful smile. She has worked at some other bangkok Roof bars and I think the 38 bars is very lucky to have her on the staff.
Brewski Sky Bar Radisson Blu Bangkok on Sukhumvit Road near Soi 25 claim to be the only rooftop craft beer bar in Bangkok. I'm not into craft beers however an Asahi bottle was reasonably prices at B160, or $4.50 USD.
Two Pattaya reprobates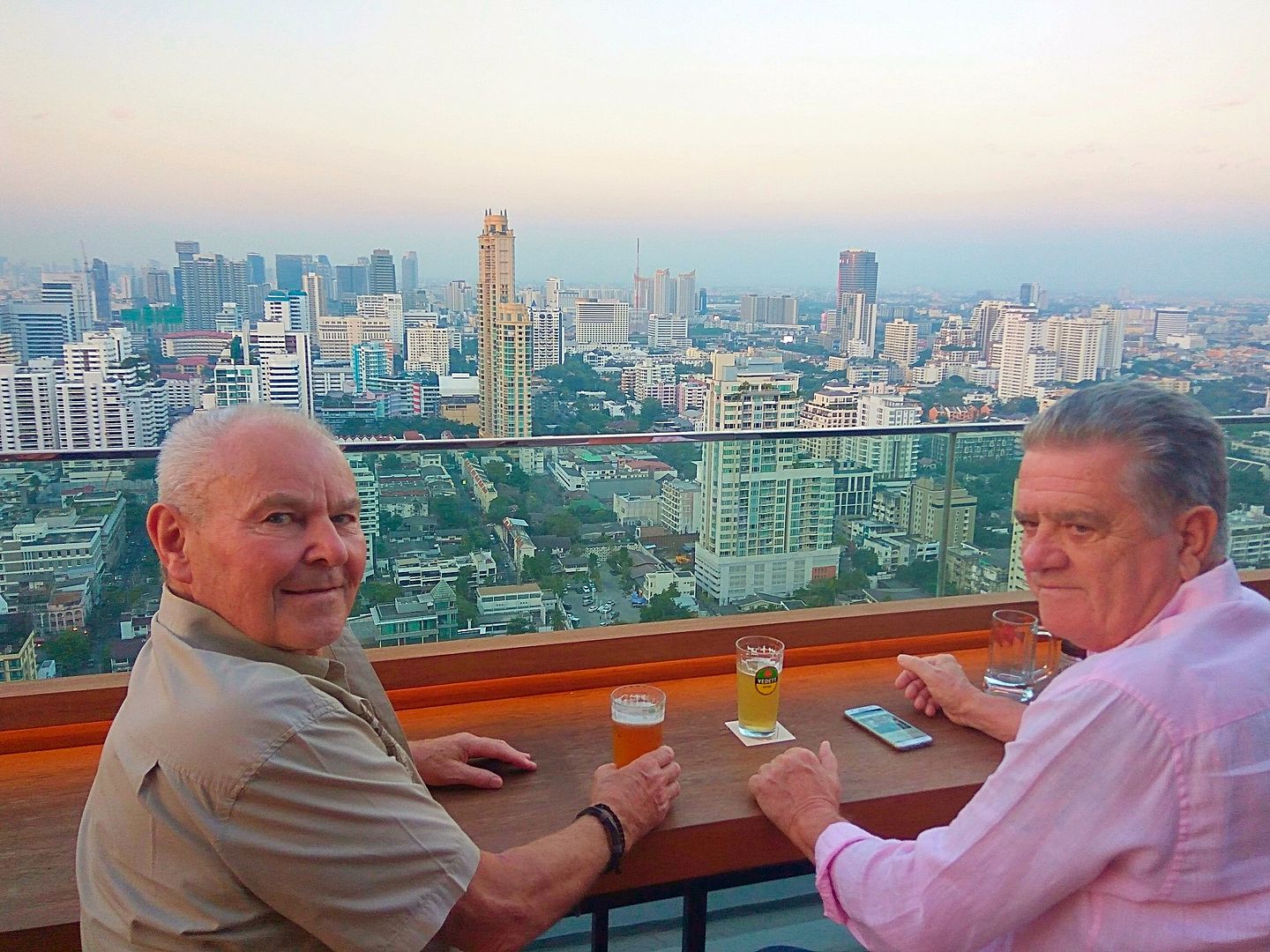 Joergen Ulitzka & Pothole aka John Martin were very impressed with the view.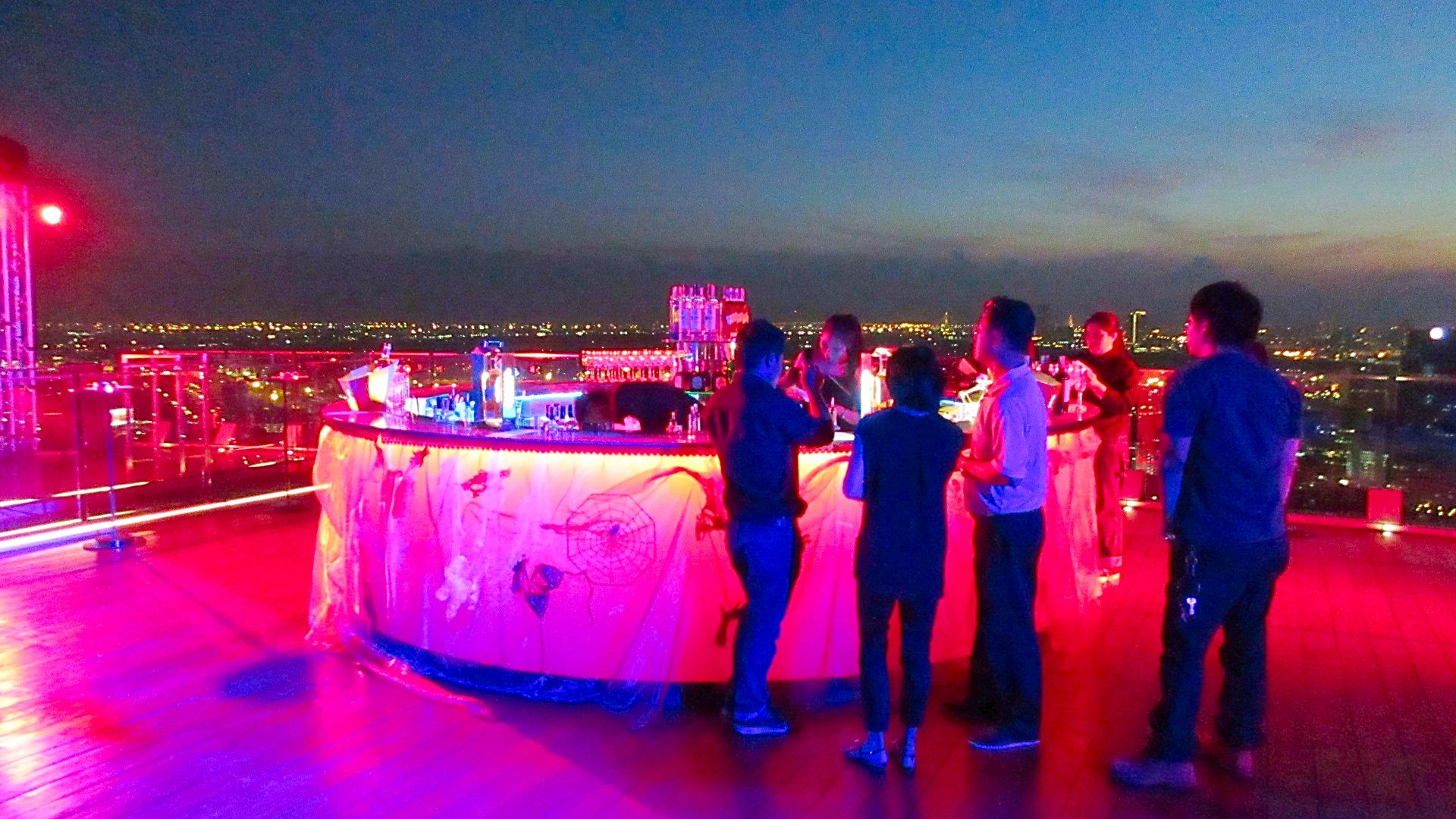 Sukhumvit is one of Bangkok's busiest roads so catch the sky train to Thong Lo station and walk 5 minutes to 57 Sukhumvit Rd.
I rate Octave 4 stars.
Waiting for sunset at Octave.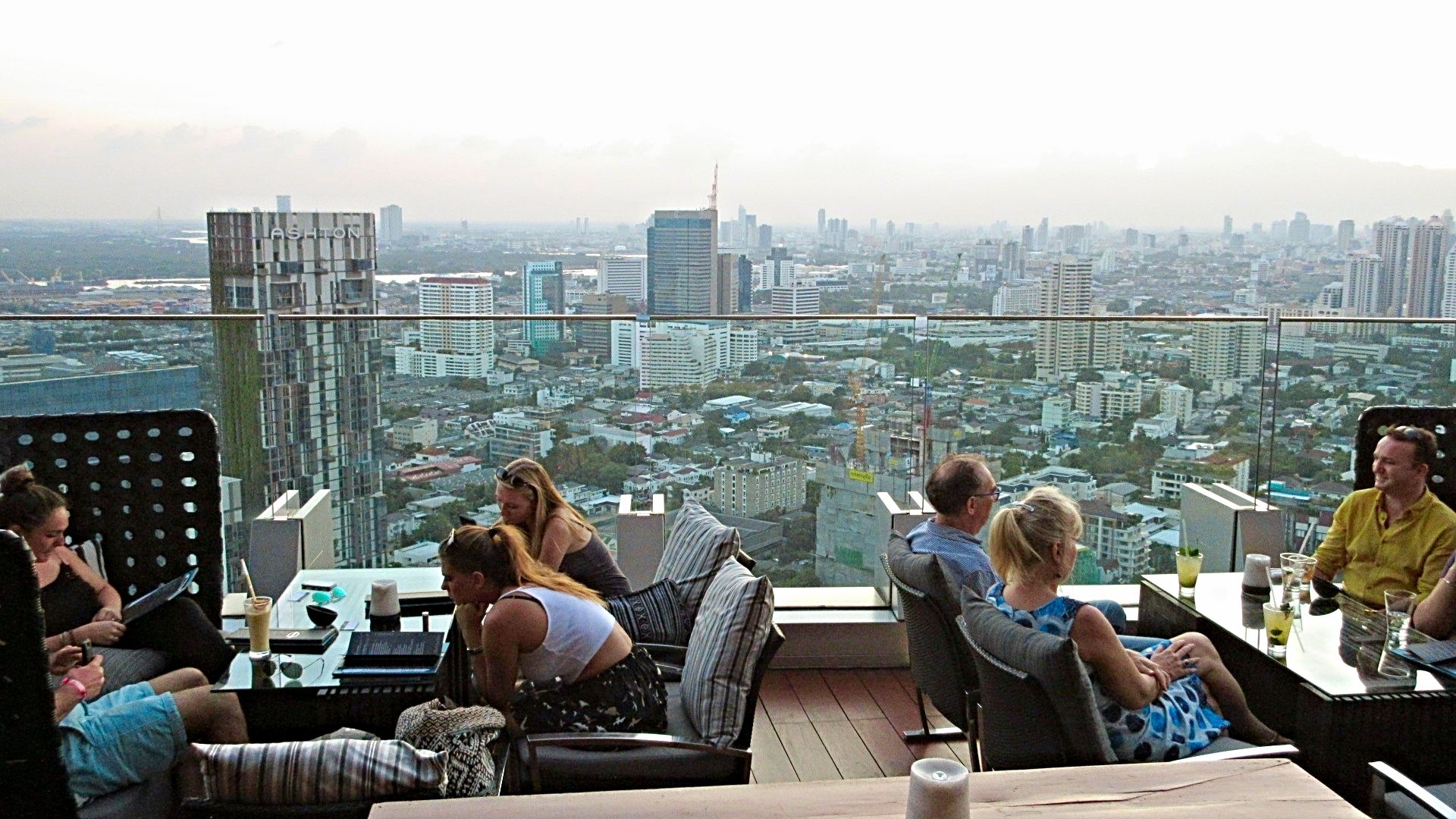 The drinks are quite expensive at most roof top bars however here you get two for one cocktails at happy hour before 6pm.
For an excellent room rate here at the Marriott just use this link to book and you will be very happy with the result.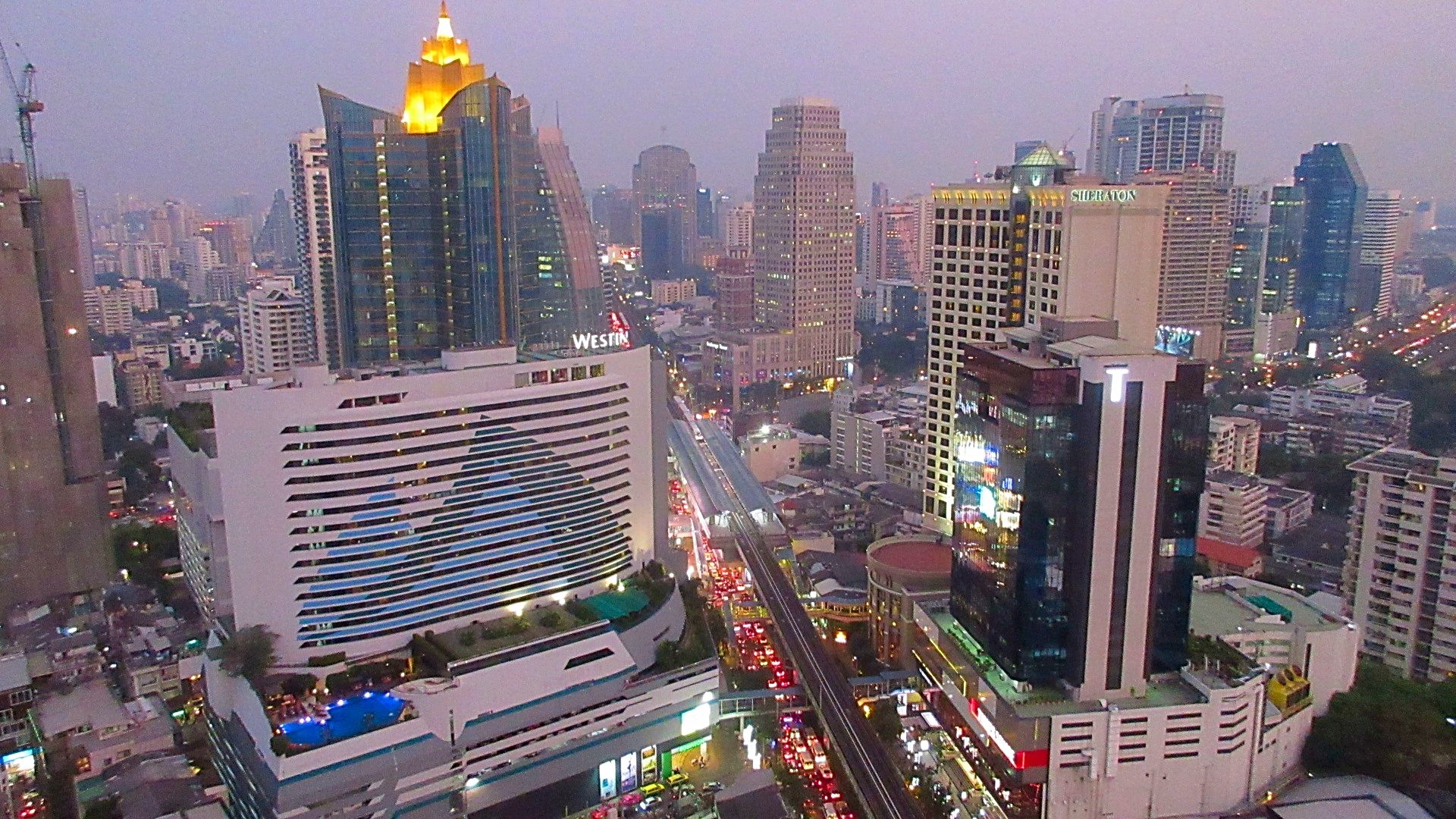 On the left is the Westin Hotel which is next door to Terminal 21, & on the right is the Sheraton.
I rate Sofitel 4.5 stars.
Farewell from the Sofitel & the Spectacular Bangkok Rooftop Bars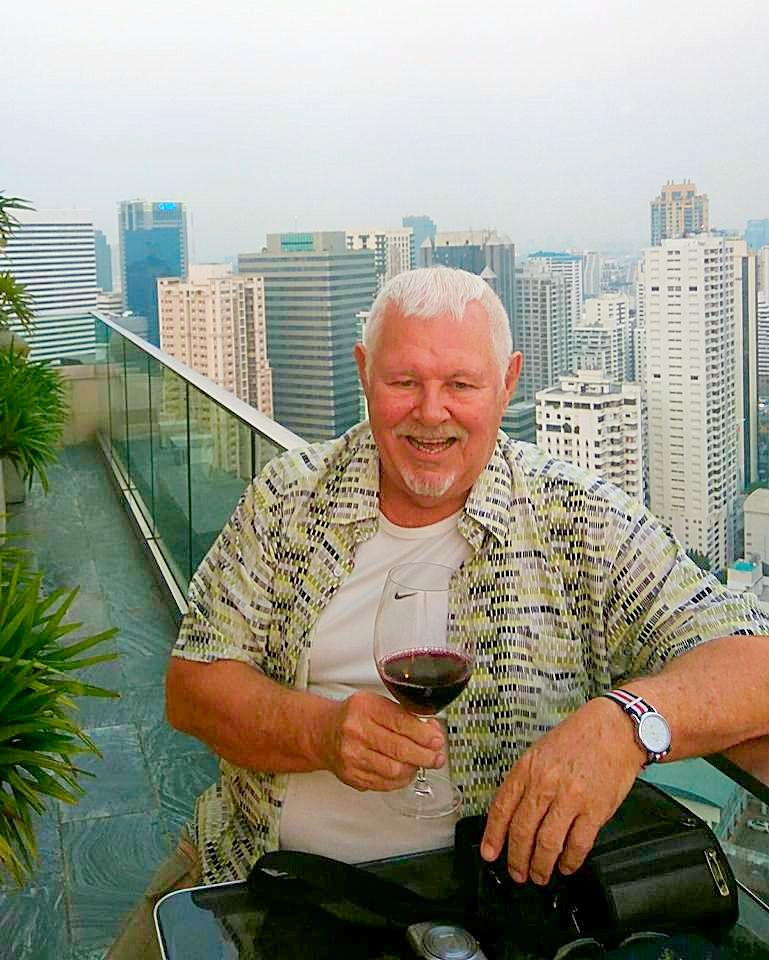 Thanks for visiting my Spectacular Bangkok Rooftop Bars photo blog. One popular Sky Bar Cloud 47 closed the end of March, see the story on THIS LINK. Soon I will reveiw Above 11 & the new Park Hyatt which openen on May 12th 2017.
Book your Bangkok hotel through THIS LINK for a great discount, you can pay later or cancel if you wish.
iCheck Inn Soi 11
When I'm in Bangkok I like to stay in Sukhumvit Soi 11, here is an excellent budget hotel, if you USE THIS LINK you will get a great rate of around B1100 per night, or $30 USD.
Please check out some of the most popular below, and thank you for visiting.
Zagreb Croatia Rio de Janeiro Brisbane River
Great hotel room rates anywhere in the world if you book
through these links below. Book now & pay later.
Plus free cancellation .?
That's all folks