Soi 11 one of the great streets
Restaurants bars Sukhumvit Soi 11 Bangkok
Restaurants bars Sukhumvit Soi 11 Bangkok is my favourite street in Nana, so many good bars, restaurants & hotels. Only a short stroll to Nana station and much cleaner & more interesting than Soi 4.
Mobile shop
One of the things that make Thailand a fascination country are the street vendors.
Aussie bar in Soi 11.
This was Saturday October 31st 2015, a double reason to hit the bars, Halloween and the rugby world cup.
Mulligans at Citadines hotel.
The Irish bar at Citadines hotel which is open 24 hours per day.
View of Soi 11 from Mulligans
Citadines hotel is a great location to stay in Bangkok, right in the middle of the action.
The rooms are compact and nicely laid out including a kitchen if you like to prepare some food.
Old German Beerhouse
Another very popular bar in Soi 11, good low cost food and a happy atmosphere.
Old German Beerhouse
Bratwurst sausages and potato salad, what else are you going to eat at the Beerhouse? 🙂
Oskars bar and restaurant
Next door to Citadines hotel is Oskars, a very popular bar restaurant with good food and always single Thai girls looking for a date.
Pasta at Oskars
The food was very good however it is more bar than restaurant, the later it gets the noisier it gets.
Cheap Charlies at Super Sukhumvit Soi 11
An iconic Bangkok bar in a small alley off Soi 11. A great spot to have a pre dinner drink before choosing one of the many restaurants in this great little back street Bangkok lane.
Sadly Charlies is no longer there, the area is being re-developed, so at the end of May 2017 we said bye bye Charlie.
Soi 11 near Sukhumvit
Just 200 meters to Nana station, and 40 meters from Cheap Charlie's.
I have stayed at the Ambassador a few times, make sure you get a room in the tower. Use this link for an excellent room rate.
Dim Sum at the Ambassador
Excellent quality food and never crowded.
au bon pain
I used to have breakfast in the Pattaya branch of this chain before it closed late 2016, good bacon & egg croissants & coffee. This Soi 11 branch on the ground floor is part of the Ambassador hotel. There is an Italian restaurant above.
Plenty of street food on Soi 11
You will never go hungry on Soi 11.
But wait, there's more
The choices of street food in Bangkok is endless.
Just a few meters from Nana station is an excellent small hotel tucked away in a lane off Soi 11. If you use this link you will get a room for around B1100.
Next door to i-Check Inn is Yuma
Quite an authentic Japanese restaurant, however I was disappointed in the skewers, but the salmon Roe was excellent. I'm probably hard to please after just returning from a fabulous trip to Japan.
Salmon Roe & cold Asahi at Yuma
A sensational taste.
Restaurants bars Sukhumvit Soi 11 Bangkok Halloween
Just another pretty face.
Happy Halloween Sports Bar in Soi 13.
A five minute walk from Citadines to Nana station and a 10 minute walk to the infamous Nana Plaza.
Goodbye Charlie
Cheap Charlie's and a handful of other popular bars and restaurants on Sukhumvit Soi 11, will be closed to make room for real estate development. The owner of Cheap Charlie's has revealed that the one-rai parcel of land, where the bar has sat for 34 years, has been sold and the bar will be closed as of March 2017.
March 31 2017 sadly Cheao Charlies is no more.
New bar in Soi 11 Nana.
Opening night Friday February 10 2017.
The drummers & the Golden Girls.
Luckily I was on the VIP list at "8 on Eleven" & enjoyed a couple of hours drinking Moscow Mules, a classy place that should succeed.
The Russian Golden Girls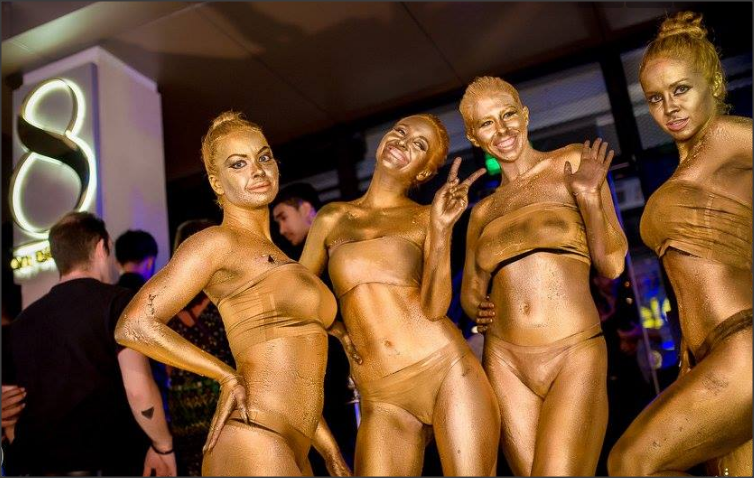 These four girls looked rather spectacular.
Late night snack
I really love this photo, it sums up a typical 5am Bangkok morning. Photo credit Stickboy.
RIP Charlie, the good news is they will try to relocate elsewhere.
Thanks for visiting my Restaurants bars Sukhumvit Soi 11 Bangkok photo blog, check out Bangkok's newest shopping mall here.
When I'm in Bangkok I like to stay in Sukhumvit Soi 11, here is an excellent budget hotel, if you USE THIS LINK you will get a great rate of around B1100 per night, or $30 USD.
The best Bangkok budget hotel I have ever stayed in.
Please check out some of the most popular below, and thank you for visiting.
Zagreb Croatia Rio de Janeiro Brisbane River