Pastry Addiction Mera Mare Hotel Pattaya
Pastry Addiction Mera Mare Hotel Pattaya is located on Beach Rd next to the Hard Rock hotel. I have been walking past every morning since it opened early 2015 & never realised what a hidden gem it was.
Beautiful decor
Overlooking Beach Rd & Pattaya bay the decor is as good as anything in Pattaya.
Coffee & pastry at the front
The room is made up of two adjoining sections, coffee shop at the front & the moree formal restaurant & kitchen at the rear.
Looking towards the rear
Here is a modern version of Buggs bunny with one blue eye & one red. 🙂
The main restaurant section
The door at the far end connects to the Mera Mare Hotel. For an excellent room rate just book through THIS LINK.
Excellent food
This dish, Pork Belly & Prawns was quite different and perfectly cooked.
Mango Cheesecake
Desert is one of my many weaknesses and this mango cheesecake was to die for. 🙂
Many more varieties here
Plus a variety of ice cream flavours as well.
I'm coming back for the mango
Pastry Addiction Mera Mare Hotel Pattaya is a great choice for afternoon tea, lunch or dinner. It's a touch on the expensive side & a glass of house wine is priced way over the top at B260.
Wine is too expensive.
Sadly B260 for a glass of house wine will probably stop me & many of my friends coming for dinner, hopefully management with see the light and offer house wine at around B150.
Ultra modern kitchen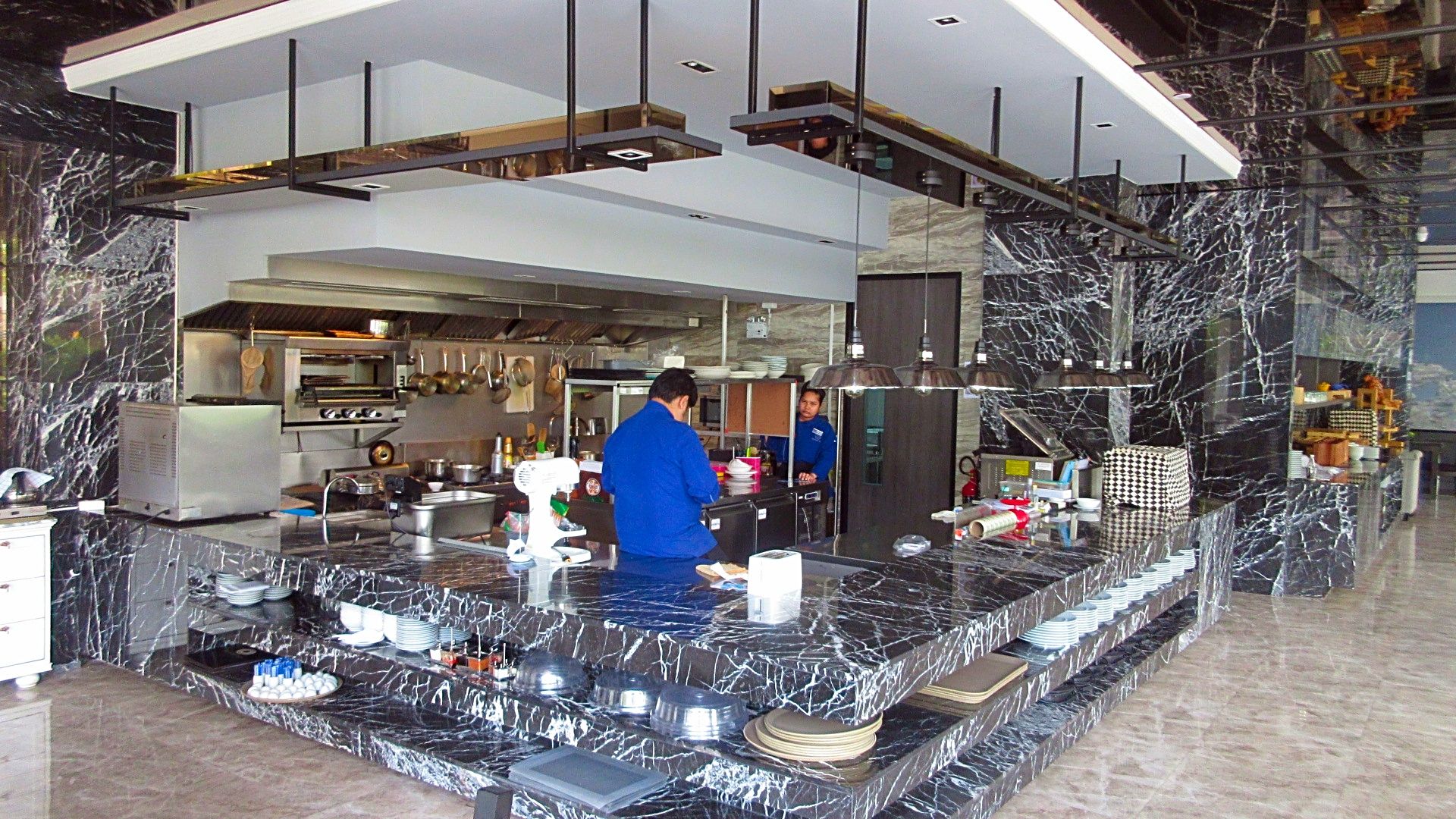 A fabulous looking kitchen which matches the rest of the decor.
Location
Right next door to the Hard Rock Hotel.
Another look at the rabbit.
Rather risque showing off a nipple. 🙂
Eggs Benedict
A perfect breakfast for B190 or $5.50 usd.
Pastry Addiction is on the left.
Sabai Wing Soi 1, 3 swimming pools and nice rooms, 100 meters from BigC, great value at only $30 usd per night as of 2017. I live in the high-rise in the background, Markland. For a great room rate book here.
Thanks for visiting my Pastry Addiction Mera Mare Hotel Pattaya photo blog.
Great hotel room rates anywhere in the world if you book
through these links below. Book now & pay later.
Plus free cancellation .?
That's all folks