Nathan "Carnage" Corbett, Muay Thai Champion.
Nathan Corbett 11 times world champion in Muay Thai is in Pattaya Thailand training for his Chicago fight which was on October 12 2013. You can watch a replay at the end of this post. His next event is December 14 at the gold Coast Convention centre.
Nathan has held 11 World Champion titles in three different weight divisions, not only is he a champion fighter he is a very nice person. Here are some photos of Nathan training and relaxing with some of his friends in Pattaya.
Nathan is action
A great action shot.
Nathan Carnage Corbett vs Henriques Zowa
Nathan in full flight is an awesome sight.
Nathan Corbett
His lethal elbows are his greatest weapon.
Check out Nathan's phenomenal history.
Nathan trains at Fairtex, the best gym in Pattaya. Part of the complex is a nice hotel, very good rates if you book here.
Nathan Corbett's final training session in Thailand in July 2013
Here are some more photos of Nathan & friends, below everyone is enjoying the sunset at the Beach Club at the Pullman Hotel. Nathan stays at the Amari hotel with great ocean views when he is in Pattaya.
The Beach Club in Wangamat.
Take a look at Nathan training in Pattaya just click here. Here is another short video, please click here. After 2 weeks training Nathan was looking a lot sharper, click here.
RIP Dang
We all all in shock this week to learn that his great little sparring partner Dang died in his sleep on Monday July the 28th, RIP Dang you will be missed by many friends.
Nathan is coming back to Pattaya to continue his training on August 24. Once again Brendan Daly GM at the Amari hotel is making sure Nathan enjoys his stay by giving him a room with a view over the ocean, my thanks once again to Brendan for looking after my friends. Sadly tough little Dang won't be training with Nathan this time, RIP.
Sparing with Dang
Please play the song below while you are reading about Nathan.
Nathan takes on the Pork Knuckle, what a challenge. 😆
Nathan arrived back in Pattaya August 24th to continue his training, here he is doing battle with the huge pork knuckle at the Beerfest restaurant in 2nd rd Pattaya. The Pork knuckle won by a narrow margin, possibly because of the chicken kebab Nathan demolished 30 minutes prior to this bout at the Cherry Bar.
Sunday brunch at the Mantra.
The
Mantra
in
Pattaya
is part of the
Amari Hotel
and is our favorite restaurant. Here is Vetea Tiare & David Herd with Nathan at the Sunday brunch on 1-9-2013.
The Mantra restaurant.
Nathan always stays at the
Amari Hotel
in Pattaya, above is the General Manager Brendan Daly and his lovely daughter Hannah, Brendan always ensures Nathan has a memorable stay at his wonderful hotel.
Recovery massage for Nathan & the boys.
Ready for a Thai massage.
Please click on Google + to help my ranking.

October 12 Chicago, Nathan loses to Sprong.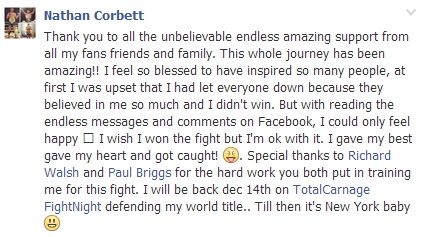 The Istanbul showdown.
Nathan Corbett vs Gokhan Saki
The battle is on
The fight was all action.
Battered & bloody warrior
Only good thing that came out of getting my ear half ripped off was being in the same hospital as Tyrone hanging out at 3 am after I travelled around Istanbul to 3 different hospitals to find a plastic surgeon that could stitch it back together!!
Not a good night for the both of us I guess!! Hope his leg heals fast and well
Istanbul hospital
Both fighters wound up in hospital, a tough way to make a living.
Here are some travel posts to check out
That's all folks
Fabulous views, excellent restaurants & a very good room rate if you book through THIS LINK.
The building in the middle is the Holiday Inn, on the left is the Amari Hotel which is another very good five star hotel. Use THIS LINK to book for a very good room rate.
The best Pattaya budget hotel, 3 pools & opposite Central Marina shopping mall. For a great room rate just book through THIS LINK.
Great hotel room rates anywhere in the world if you book
through these links below. Book now & pay later. ?
That's all folks