Karina Vineyard
Mornington Peninsular Victoria, I stayed with old friends Helen & Jack on their beautiful 20 acre property in Dromana & sampled many great home grown wines. The property next door is Stillwater where you can arrange a luxury wedding or birthday celebration.
Here is where it all starts.
Mornington peninsula s a popular holiday destination, famous for its beaches, wineries & outdoor activities.
Man at work
Here is Jack hard at work.
Here is where we drink a lot of wine.
What a beautiful setting, life is very good here.
Just to prove, here I am with Jack. 🙂
Here we are sampling the product.
I'm with the resident horse
What a fabulous sculpture, of course Helen is an absolute horse fanatic.
From my bedroom window.
Quite a different outlook for a city boy like myself.
Lets do lunch
An Aussie BBQ is hard to beat. 🙂
Old friend from the 70s
Here is Jan Graves an old girlfriend of mine from 1974, that's right 1974, I had not seen her for 40 years.
Jan Graves & Helen Burke
Helen who along with Jack owns this lovely property was my girlfriend in 1982, It has been around 20 years since I last saw her. It was terrific to catch up with these great ladies from so many years ago.
Here are the girls as they used to be
Jan in 1974
Helen in 1982
Helen & I had lunch & a glass of wine here at this delightful winery.
There was quite a crowd tasting the product.
A butcher who also sells wine.
Red Hill Gourmet Meats & Country Smokehouse
Mount Martha in the background
Mornington Peninsular Victoria is a fabulous part of Australia.
Mount Martha beach
The Mornington Peninsular Victoria is primarily a local tourist region, with popular natural attractions such as the variety of beaches both sheltered and open-sea and many scenic sights and views. Other popular attractions include the various wineries, mazes and the diverse array of water sports made available by the diversity of beaches and calm waters of Port Phillip and Western Port. Most visitors to the peninsula are residents of Melbourne who camp, rent villas and share houses or stay in private beach houses. It is known simply as "The Peninsula" to locals and Melburnians alike, giving rise to the expression "going down the peninsula".
The iron horse
What a great garden ornament, Helen loves her horses.
Wonderful catching up with old friends
It's hard to believe it's been 40 years since I last saw Jan.
Helen & Jack were great hosts.
Thanks for visiting my photo blog.
Dean Martin Original Release LITTLE OLD WINE DRINKER ME
Here are some more posts to check out
Life 2015 Family history Life 1982
Adelaide 1972 Iron Bar Freddy Sydney 2006
Thailand 2008 Gold Coast Babes World trip 2003
Great hotel room rates anywhere in the world if you book
through these links below. Book now & pay later.
Free Cancellation.
That's all folks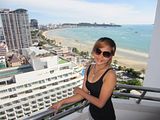 That's all folks