They arrive in their thousands every day
Chinese storm Thailand beach
Chinese storm Thailand beach every day of the year and climb aboard powerful speedboats which take them to nearby Koh Larn or para sailing in Pattaya bay
South Pattaya
In the background on the right if the famous Walking St, you can see restaurants built (many illegally) over the water. The tall condo building has only recently been completed during the current Pattaya building boom.
Thousands arrive every day
Of course there is some controversy about who receives the revenue as most of the money is paid on packaged tours in China when they book their trip. Pattaya is suffering from a downturn in tourism, here are comments made in a recent article in June 2015 in the Bangkok Post; "Pattaya hotels are struggling to survive and are being pressured by Chinese travel agents to reduce their room rates by 30-40%. Hoteliers in the resort city have been relying mainly on Chinese tourists after the sharp fall in European tourists, particularly Russians, due to the economic recession in their countries. Locally run Pattaya hotels have faced an oversupply since last year and the situation… "
Slightly over powered
An example of one of the speedboats with three 225 HP Yamaha motors, a slight case of overkill. Are there any accidents you ask? Of course there are, many of the Thai skippers are unlicensed and high on drugs or booze, if an accident occurs they invoke the well used Thai strategy of "run & hide". 🙂
Para sailing on Pattaya bay
The buzz around like mosquitoes and yes sadly accidents often do happen here as you will see in the following news video.
Para sailor killed on honeymoon
This sad incident happened in 2011 however the safety situation does not seem to have changed since then.
Hundreds of boats
This is a huge business in Pattaya taking Chinese tourists to Koh Larn.
About to land
Lets hope he has a soft landing. 🙂
Whew! back safe & sound
I'm sure many of these tourists will never forget their Pattaya holiday.
Buzzing like mosquitoes
Even the storms don't stop the boats.
An awesome sight watching the storm roll in over Pattaya bay.
Screaming Yamahas
I mentioned earlier I don't have much confidence in the Thai boat divers, here is how they cope with sandbanks.
Chinese storm Thailand beach. If you build it they will come. 🙂
Every day of the week they come from China and elsewhere.
Lined up ready to go
The fleet is ready and waiting.
August 4th 2016 at 7am
Lots of boats and one rainbow. 🙂
Chinese storm Thailand beach
The busses roll into Beach Road of a morning and the tourists flock to the boats.
Here is a perfect Pattaya day
What a view from the balcony of my apartment.
Peace & quiet at sunset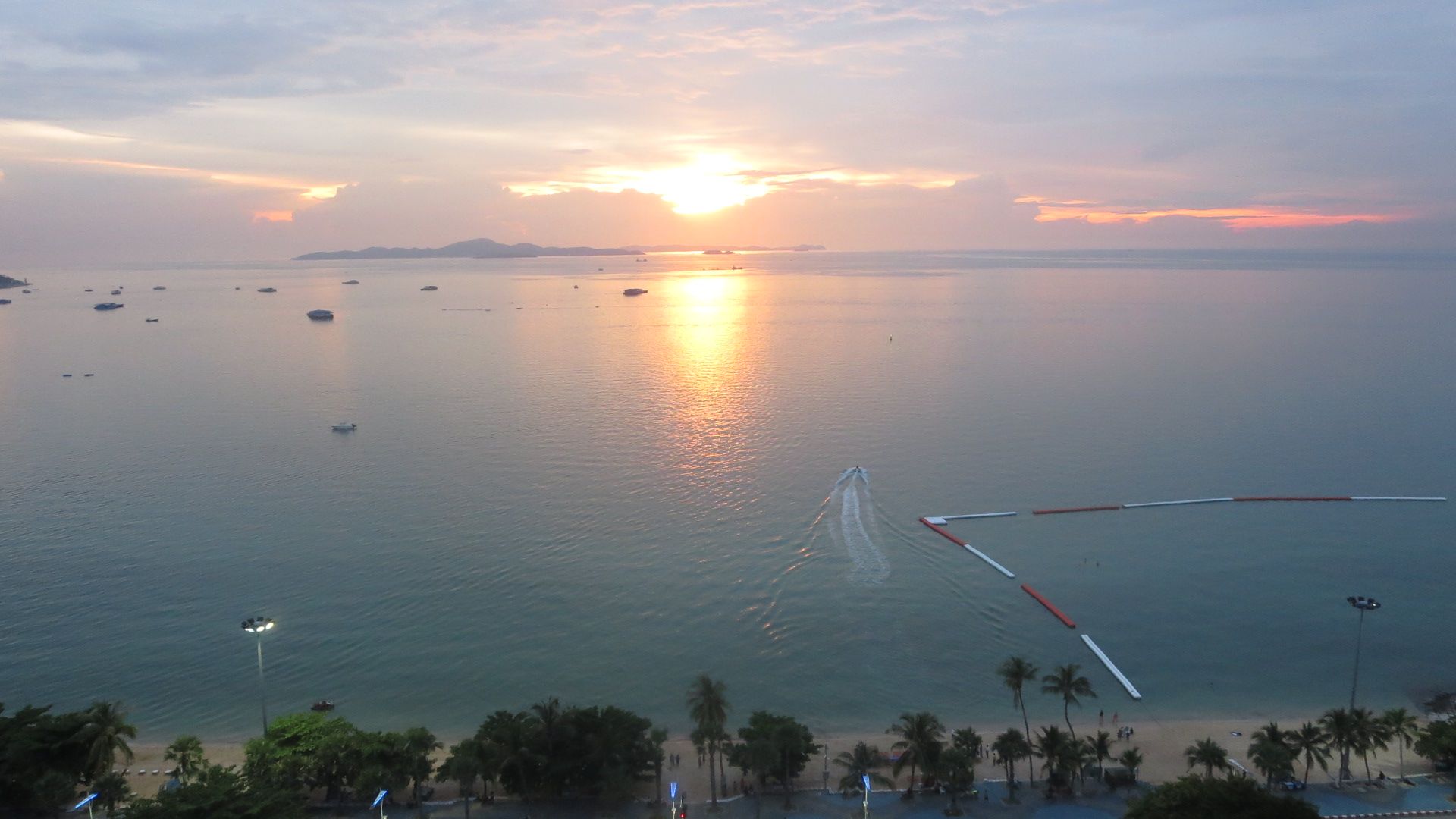 Thanks for visiting my Chinese storm Thailand beach post, there is never a dull moment in Pattaya.
Fabulous views, excellent restaurants & a very good room rate if you book through THIS LINK.
The building in the middle is the Holiday Inn, on the left is the Amari Hotel which is another very good five star hotel. Use THIS LINK to book for a very good room rate.
The best Pattaya budget hotel, 3 pools & opposite Central Marina shopping mall. For a great room rate just book through THIS LINK.
Please check out these fabulous posts
Great hotel room rates anywhere in the world if you book
through these links below. Book now & pay later.
Free Cancellation.