February 11, 2015 by David Herd
Carnival dancers in Paraty
Sexy Brazilian samba babes
Sexy Brazilian samba babes, it was a case of being in the right place at the right time. It was January 2008 & my friend Sudzi & I were in the beautiful colonial village of Paraty which is 3 hours drive from Rio de Janeiro. Suddenly we heard the sound of drums then saw the band and two beautiful tall statuesque Brazilian girls heading our way.
David Herd plus camera
As you can plainly see my camera is always by my side.
Amazing beautiful Brazilian
I'm not sure exactly when I fell in love with her, probably within a few minutes of taking her photo. 🙂
You have seen the front now here is the back. 🙂
Say no more…………………
I'm in heaven
Naturally I just had to get into the act, it's not hard to imagine this has become one of my all time favourite photos.
I'm too sexy for my shirt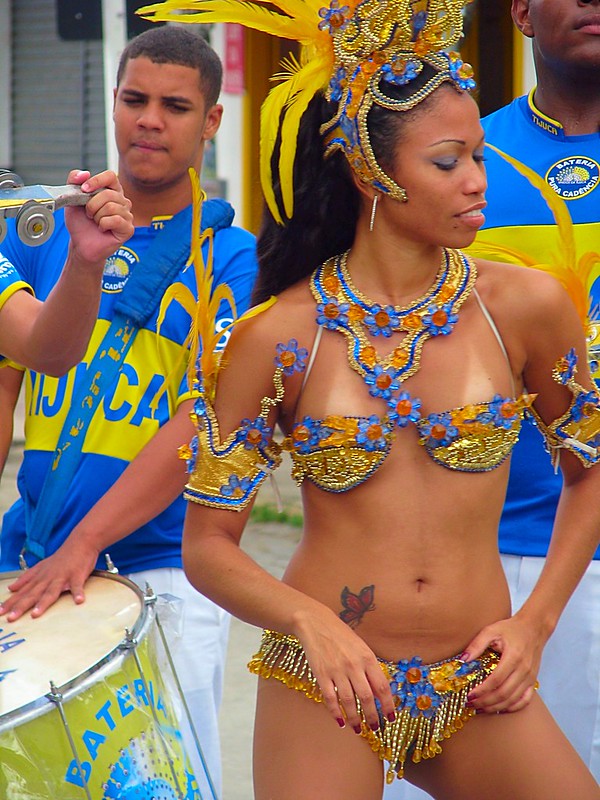 These two girls could really move.
Here are lucky guys
Very lucky guys to be able to speak Portuguese and work with those gorgeous girls. 🙂
OK, back to the love of my life
Words fail me……..
Wonderful samba outfits
OK, lets go live
Magnificent Brazilian girls dancing Samba in Parity.
Sexy Brazilian samba babes
Sexy Brazilian samba babes will remain as one of my favourite Brazilian memories, and believe me I have so many great memories.
Sexy Brazilian samba babes will stay in my memory forever.
Perfection really needs no description
Words absolutely fail me, how beautiful is this girls skin.
Many thanks ladies for making my day
I'm hoping to return to Paraty again in January 2016, it's a small village and who knows, I may just see her again. 🙂
The intrepid travellers
What a trip this was, two fabulous months in Brazil including New Year & Carnival in Rio de Janeiro. Sudzi & I teamed up in Curitiba then spent a week or so in Florianopolis. We travelled north and were taken completely by surprise when we stumbled across Belneario Camborui. The beach was twice as long as Copacabana with a cable car at one end and a Statue of Christ on the mountain behind. From here we travelled to Paraty then on to Rio. Sudzi saw Carnival at the Sambadrome and had his camera stolen in the crowd when he was leaving. Dave Wylie & I had a window seat at the famed restaurant Garrota de Ipanema which was surrounded by a Rio bloco where thousands party in the street. This was another night I'll never forget.
Thanks for visiting my Sexy Brazilian samba babes photo blog.
Here are some more posts to check out
Great hotel room rates anywhere in the world if you
book through these links below. Book now & pay later.
Plus free cancellation .
That's all folks
The Rio girls love the beach, many of them live in the Favelas and use the beach as their perfect playground.
Copacabana beach, one of the sexiest places on Earth.
Walk from Copacabana to Ipanema
This gallery contains 2 photos