August 3, 2016 by David Herd
This is not a travel blog just my personal photo collection from the 2nd half of 2016.
Another birthday rolls around July 7.
Loving Pattaya life 2016
Loving Pattaya life 2016 has seen me spend all year here, the quietest travel year I have had this century. I over spent in the last 2 or 3 years so I thought I should pull my horns in. 🙂
I spent 5 days in Koh Samui in June, 2 weeks in Australia in August and a great trip to Japan in October.
Some of the usual suspects
Greg, Hamish & John helped me celebrate at the Mantra.
A year living in Pattaya seems like about 6 months, time just seems to fly.
Great beach shot August 4th at 7am
All the boats are waiting for the hordes of Chinese tourists.
And here they come in their thousands
The buses roll into Beach Road of a morning and the tourists flock to the boats.
Tony & Nikki Murphy at Signature Steak & Seafood.

The Murphy's spent a week in Pattaya then 3 nights in Mae Pim before flying back to Australia.
Visitors from San Diego
It was great to catch up with Paul, Eileen, Parker & Elle in Pattaya as part of their 9 week Asian holiday with included Chiang Mai, Bangkok, Koh Samui, Koh Samet & Danang.
Seagulls in Pattaya?
Here is a sculpture on Beach Rd showing a flock of seagulls, yet to this day I have never seen a seagull in Pattaya. 🙂
Here comes the rain
I love seeing the black clouds roll in over Pattaya.
Steve is a great mate of Larry's from the Gold Coast. Terrific news for movie goers which vastly overshadows the recent Brangelina bullshit, the "odd couple" Larry Krausz & Steven Reade have been signed by BangBros, the largest porn studio in the world, to star in a remake of the 1988 movie Twins, which stared Arnold Schwarzenegger and Danny DeVito. See if you can pick who will play DeVito. 🙂
The more thigs change the more they stay the same
After many years the Cherry bar on Soi 3 & 2nd Rd has been sold and is now Billabong 2.
When can we have some fun?
Every night you go out in Pattaya the fun starts.
For a discounted hotel rate with free WiFi in Pattaya or anywhere in the world, just book through THIS LINK
Starbucks
Opened in September at the "Bay" which is between Soi 5 & 6 on Beach Rd.
Good coffee & happy staff
They are the first to open at the Bay, next will be McDonalds.
Stunning November sunset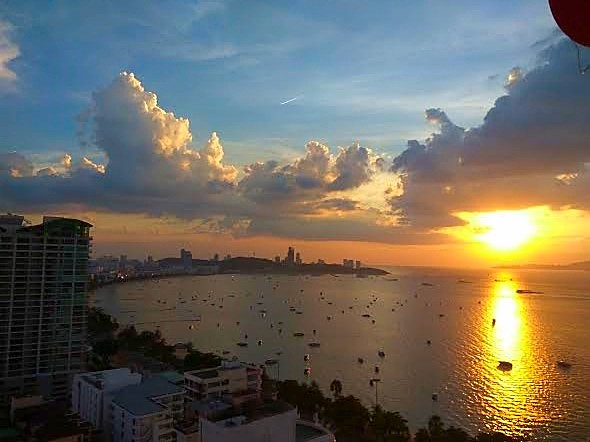 So many great sunsets from myy balcony.
My new home
On November 1st after 4.5 years I moved from the 17th floor in Markland to the 20th, does that mean I coming up in the world?
The usual suspects
Jim's Burgers is a great place for a casual dinner with friends, I'm with Hamish, Jonathon & Matt.
Delicious
Lots of varieties & you can order small or large.
One of my massage girls
Used to be a waitress in Chamiko in Soi 3, now she works at a massage parlour in Soi 3 & sometines gives me a reasonable foot massage.
Spectacular clouds over Koh Larn
These days I seem to be obsessed with taking photos of clouds & sunsets. 🙂
October in Japan
I m with my friend Kayo in a Spanish restaurant in Tokyo. I purchased a two week ticket on the Shinkansen or bullet train, then after 3 nights in Tokyo I travelled to 6 interesting Japanese cities, includung Kanazawa, Hiroshima, Kumamoto, Kagoshima, Nagasaki & Fukuoka.
I arrived back in Pattaya on Ocober 28th & the following day my good friend Larry Krausz was rushed to Bangkok Pattaya hospital after suffering a major stroke, now 5 weeks later on December 5th he is still in a serious condition in the intensive care ward.
Ross & Bryce arrive from Australia
The boys came over for a few days to visit Larry.
Centara Grand
After a couple of cold beers at Centara Grand and a Pattaya cop working security wanted to throw us out. I lay the blame 100% on Pothole aka John David Martin who was dressed like a local bum & showing off his silly tattoos. 🙂
Pothole & sons + Kayo.
Tate is Pothole's eldest son, he arrived in Thailand from Australia to celebrate Xmas & to meet his 2 half brothers Tyrone & Tiger. Notice for some strange reason known only to Pothole, all his children including daughter Tamara have to have a first name starting with the letter T. Just another one of his many offbeat strange quirks. 🙂 The lovely Japanese girl in the photo is my friend Kayo from Tokyo.
Even though Soi 6 is one of the wildest streets in Pattaya there is still time for some quiet shopping. 🙂
Soi Diana redhead.
A very sweet girl from Area 51, no wonder I'm Loving Pattaya life 2016′
On the subject of Soi 6
Here is Geoff from Australia, a fanatical Soi 6 supporter. We are at Leckerle in Soi 33 Naklua with his ex fiance Nana for a terrific meal & lots of wine.
Xmas Day with Geoff & Nana
We started with a bottle of French Champagne on my balcony.
Lunch at Surf & Turf & Loving Pattaya life 2016
A great location on the beach at Wongamat. Kayo flew from Tokyo to spend 10 days in Thailand before heading to Australia.
Two nights in Bangkok
December 29th took Pothole & Yogurt to Cheap Charles before checking out Brewski a new sky bar at the Radisson Blu.
New Years Eve in Pattaya
Steve "Jumbo" Reade having a ball at the Atlantic Bar & Loving Pattaya life 2016.
Atlantic girls
They all looked terrific, dressed to kill. 🙂
Meet the gorgeous Katie.
A very happy lay from Billabong 2.
Here's Pothole dressed in his Jaffa outfit.
Anything to attract attention. 🙂
Farewell to an old friend
Larry Krausz, a friend for around 30 years suffered a major stroke on October 28. After 2 months in the Bangkok Pattaya hospital on life support he was transported to Australia by a hospital Leer jet, thanks to his Medibank travel insurance. After a month his life support was removed & he passed away peacefully.
It's now 2017 and here is Glenn Frey to tell you exactly how I feel today.
For a discounted hotel rate with free WiFi in Pattaya or anywhere in the world, just book through THIS LINK
Please check out these fabulous posts
Great hotel room rates anywhere in the world if you book
through these links below. Book now & pay later.
Free Cancellation.
This gallery contains 6 photos