January 5, 2017 by David Herd
This is not a travel blog just my personal photo collection from the 1970s & 80s, check it out if you wish.
Arabella St Longueville
Farewell Melbourne hello Sydney
Farewell Melbourne hello Sydney, it was early 1976 after a dramatic final few months living in Melbourne, I resigned from Sanyo Office Machines, moved to Arabella St Longueville in Sydney & started a new job as NSW sales manager with Wilkins Servis washing machines. I rented a beautiful waterfront home with the view you see above & a garage for my red E-Type Jag.
Little did I realise the next 11 years would be the most successful money making decade of my life, along with an almost non stop party regime and included luxury waterfront apartments, Jaguars & Mercedes plus a Bertram fly bridge cruiser parked outside my condo, & last but not least a red Doberman called Baxter.
This was actually 1975
However it features my friends & my beloved Jag in Beechworth Victoria, how about the hair & the bell bottom jeans? 🙂
Looking back the 1970s was probably my most exciting decade.
Carol Aboud
It didn't take me long to get tied up with Carol who had a hair dressing salon in Double Bay. She also had a husband & 4 children but these minor complications did not stop us from having a lot of fun over the next 4 years.
There is a very funny story involving Carol on another blog, just follow THIS LINK.
My beautiful mother celebrating my birthday on the 7-7-77
What a great date for my birthday to fall on. When friends see these old photos is it any wonder they suggest I looked like a Miami drug dealer? 🙂
My Dad Arthur & my 2 best friends Wolf Wottke & Ron Walsh.
My two buddies surprised me by flying over from Adelaide without prior warning. That was a fabulous birthday present.
Carol's birthday November 1978.
Check out the hair colour & the gold chains.
New Years Eve 1978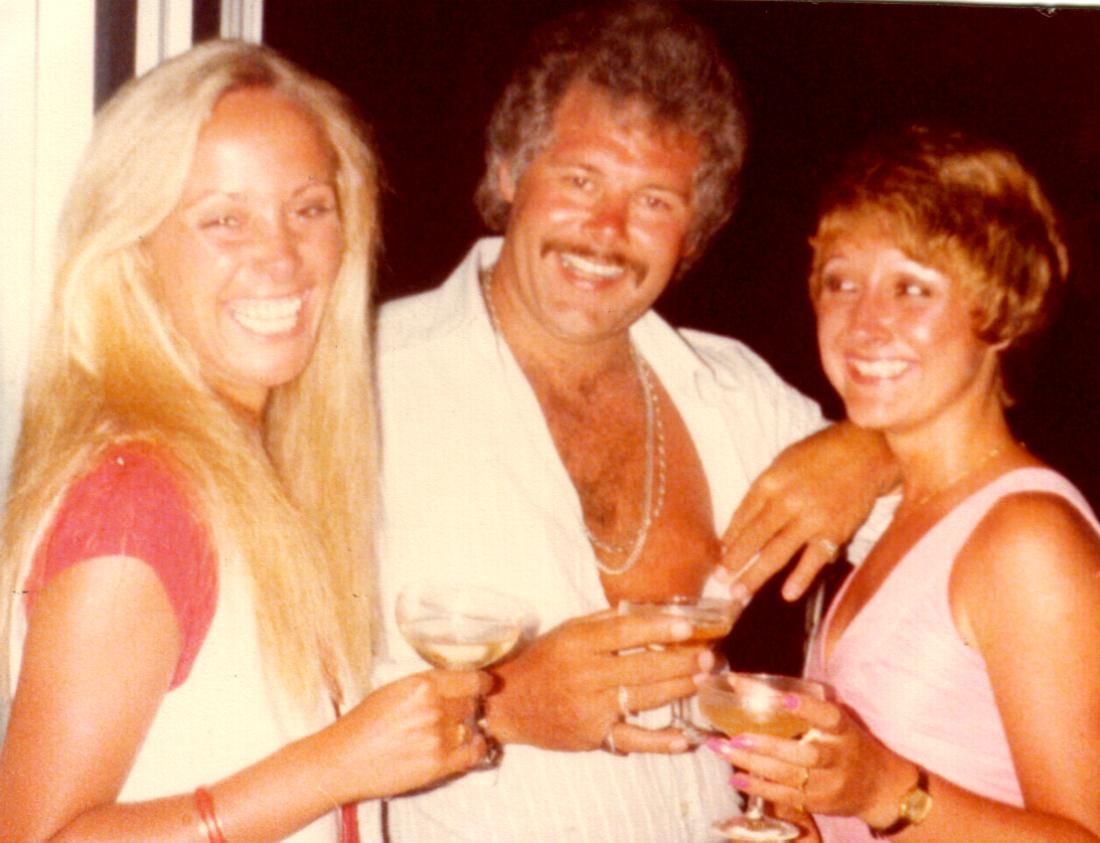 Apologies for the fuzzy photo, but you get the picture. 🙂
French Champagne of course
From memory we were at the Castle Cove house of my friend Peter H & the booze was really flowing.
Oh Carol, I am but a fool…..
Peter Luciano RIP
Peter & his wife in 1979, he was Carol's brother and sadly passed away a year or two later.
December 1978
We hired a houseboat for a weekend cruise on Hawksbury River. Two Peters, yours truly & Rob Symonds.
Talking about boats
This was my Bertram 25 moored right outside my condo at 72 Wrights Rd Drummoyne. I enjoyed six great years here & threw so many parties that I became the most hated person in the building.
St Georges Crescent Drummoyne
Just around the corner from my condo I purchased another waterfront apartment, so now I owned 2 condos & a terrace house in Glebe, I was on a roll. Working now as NSW Sales Manager for Remington Typewriters before moving to the word processing division.
Selling all my Sydney properties over the years was one of my worst ever decisions, I should have kept at least one.
After the Jaguar XJ6 I upgraded to a white Mercedes Sports, life was good.
In my eyes this was one of the prettiest cars ever built.
View from my condo
With my Bertram moored right out front.
Another party at Wrights Rd
This gorgeous redhead called Beryl worked with Carol in the Double Bay salon, she had just had a boob job and I couldn't help but admire them. 🙂
While we are on the subject of boobs….
You could never accuse Carol of being shy. 🙂
And the winner is Angie
Her name was Angela Savic, she was the girlfriend of my best friend Wolf. Without a doubt she had the best body out of all the girls we knew. Our very own Greek Goddess. 🙂
The five Herd brothers in 1979
Neale, David, Ian, Bryan & Warren, it's a shame the photo is such poor quality.
Jenny Dale
Jenny with the red eyes was another nice girl from the late 70s who wandered into my life occasionally. 🙂
Let's finish the year off properly
Well 1979 turned out to be a very tumultuous year, Remington gave me the flick and I joined the company who had the agency for Qyx the new word processor taking the world by storm. I did a marketing course with Exxon in Philadelphia and topped the class, there were 25 Americans in the course with me the only foreigner. Back to Australia to launch the product nationally but only lasted a few months before having a blowup with the company directors who showed me the door. I was never good at taking instructions from fools. 🙂
To top off the year finally Carol & I parted company after 4 terrific years painting the town, I suspect I may have been going through a mid life crisis. 🙂 🙂
Consequently I took 3 months off, spent lots of time on my boat, travelled to Philippines, Hong Kong, Thailand & Bali then opened my very own liquor store in March 1980.
Sydenham Cellars
Yippee, cheap booze for me. 🙂
The 1970s were probably the most interesting & dramatic of my life. 1972 saw me return to Sydney after a 2 year stint in Melbourne, only to see me head to Adelaide for two years as State manager for Sanyo, then back to Melbourne for two years with Sanyo before returning to Sydney in 1976.
Made some money, broke some hearts & had a lot of fun.
I was very good at my job, Sales & Marketing in the cut throat business equipment industry was a tough gig, but on reflection & being & brutally honest, my arrogant autocratic management style that worked well in the 60s & 70s was out dated in later decades. Consequently recognising my limitations I went back to what I was good at, which was selling. In the mid 80s I had a successful few years at Canon followed by 7 or 8 very good years as a financial planner with a couple of banks in QLD. In 1998 I took a year off work to travel & never really worked again. 🙂
It's now 2017 and here is Glenn Frey to tell you exactly how I feel today.
Some of my lovely ladies from the 70s.
Paula 1970 Dianne 1773 Lee 1974
Di Parko 72 & 76 Jan 72/74 Carol 76/79
Someone Like You by Van Morrison.
Here are some more posts to check out
Life 2015 Family history Life 1982
Adelaide 1972 Iron Bar Freddy Sydney 2006
Thailand 2008 Gold Coast Babes World trip 2003
Great hotel room rates anywhere in the world if you book
through these links below. Book now & pay later.
Free Cancellation.
That's all folks
For a great room rate at the A-One hotel opposite the beach just book through THIS LINK.
This gallery contains 1 photo.