June 15, 2015 by David Herd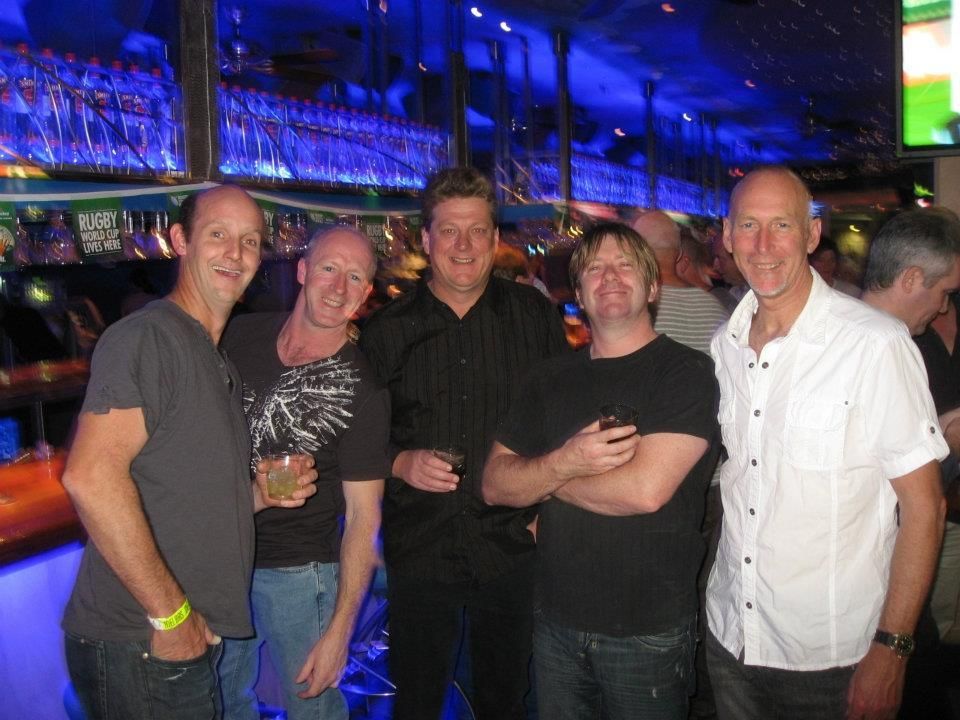 AFL Australian Football Lunatics  or Australian Football League, take your pick. I ran a tipping competition for 9 fun filled years on the Gold Coast & met some great people along the way. With a couple of exceptions of course, you know who you are, if you don't I will point you out. 🙂
Please note, this is not part of my Travel Blog. It's part of my personal history, check it out if you wish.
Now here is a happy bunch of tippers
Jason Ryan, Rob Swaine, George Sakkas and Peter Chesterman.
The brothers Craig & David Herd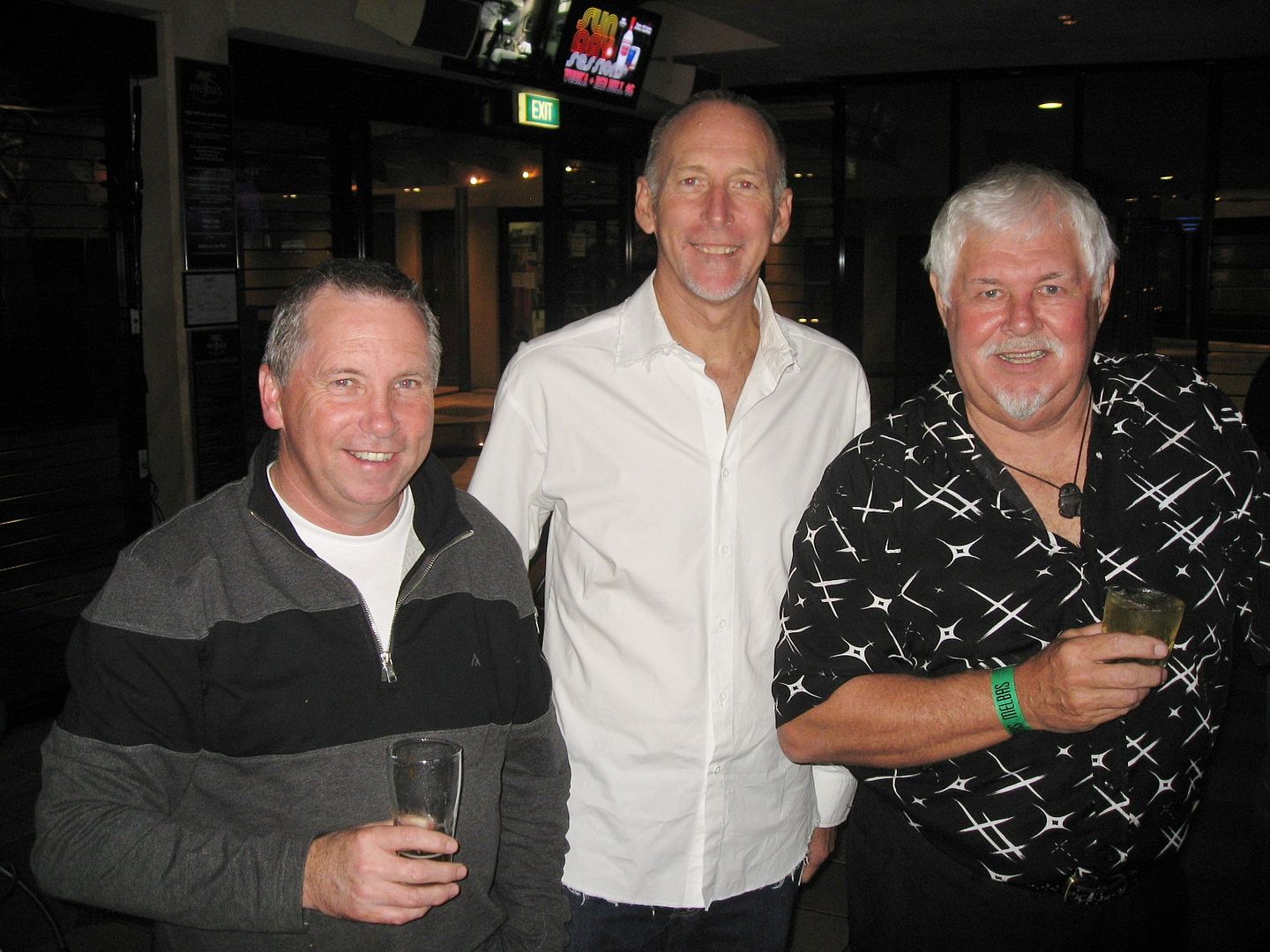 Michael & Greg Craig (gate crashers) enjoying drinks at Melbas.
 Fabulous Metricon Stadium on the Gold Coast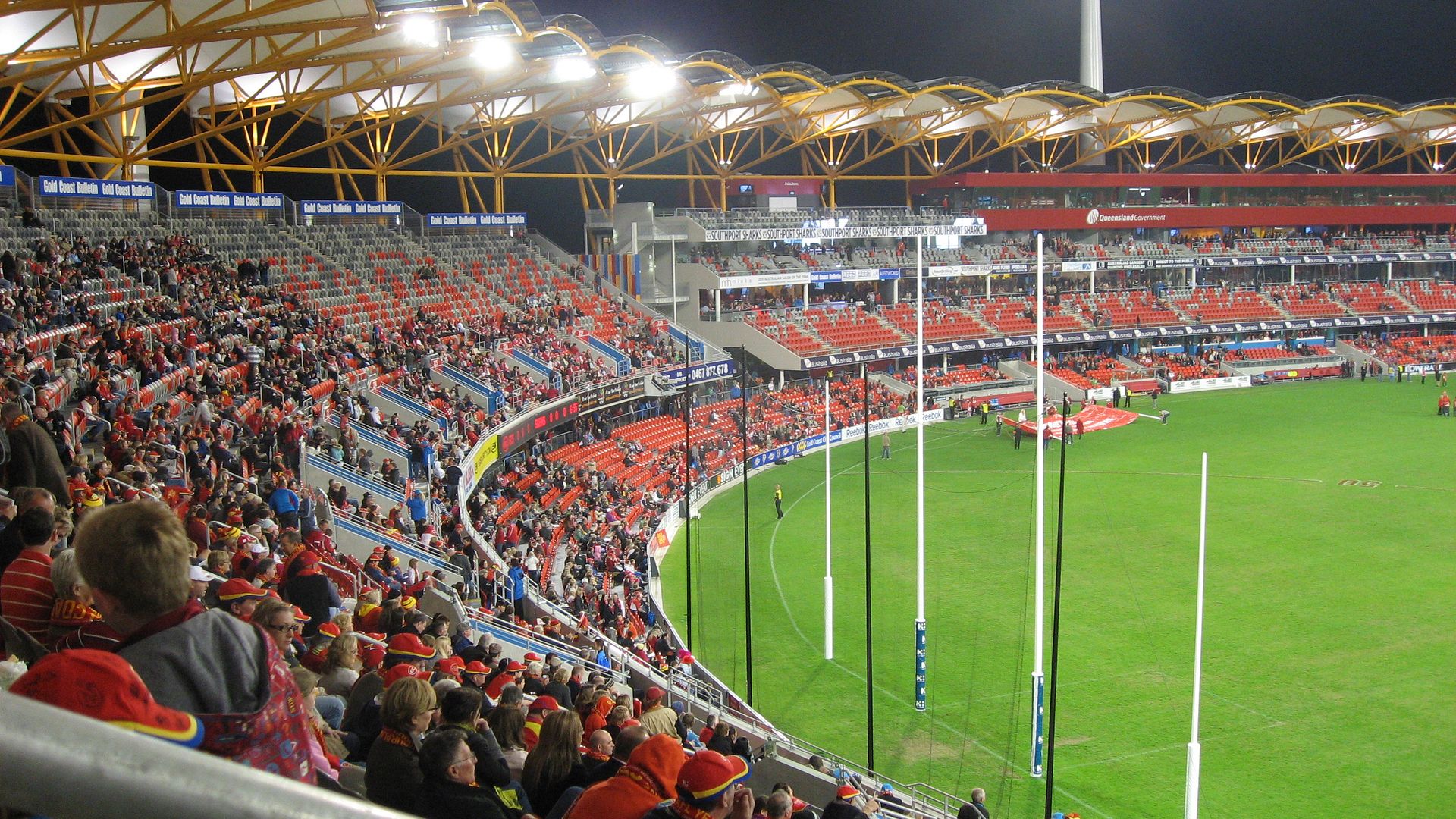 Melbas 2009 dinner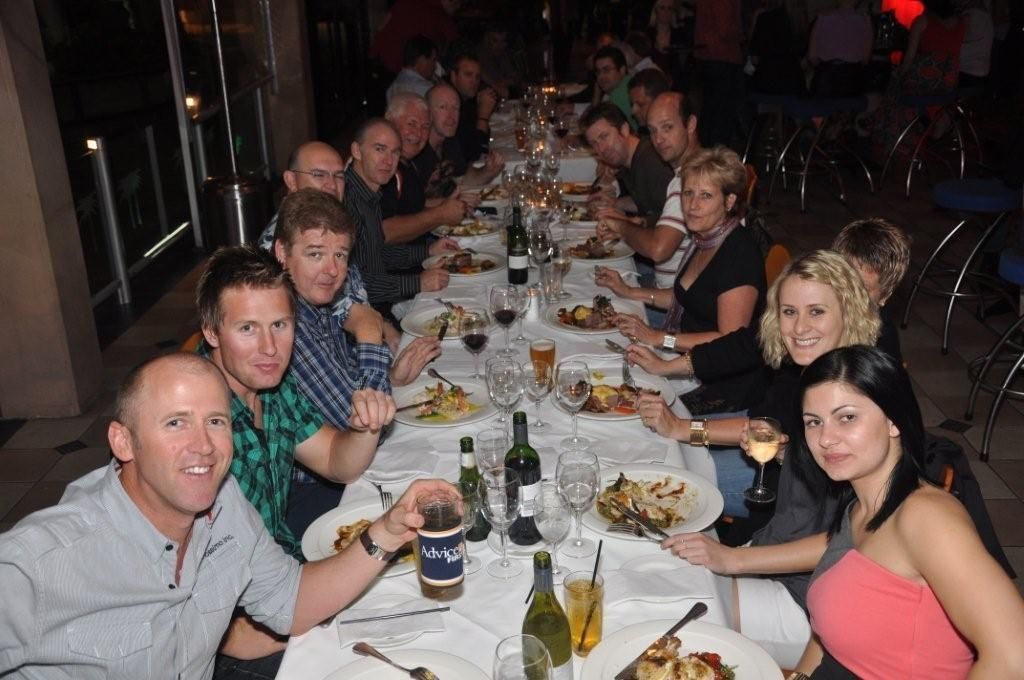 Great food and good company, no doubt about Melbas they know how to put on a show.  
Bunch of hillbillies
I only wish I knew all their names. 🙂  
2009 was another great year for footy.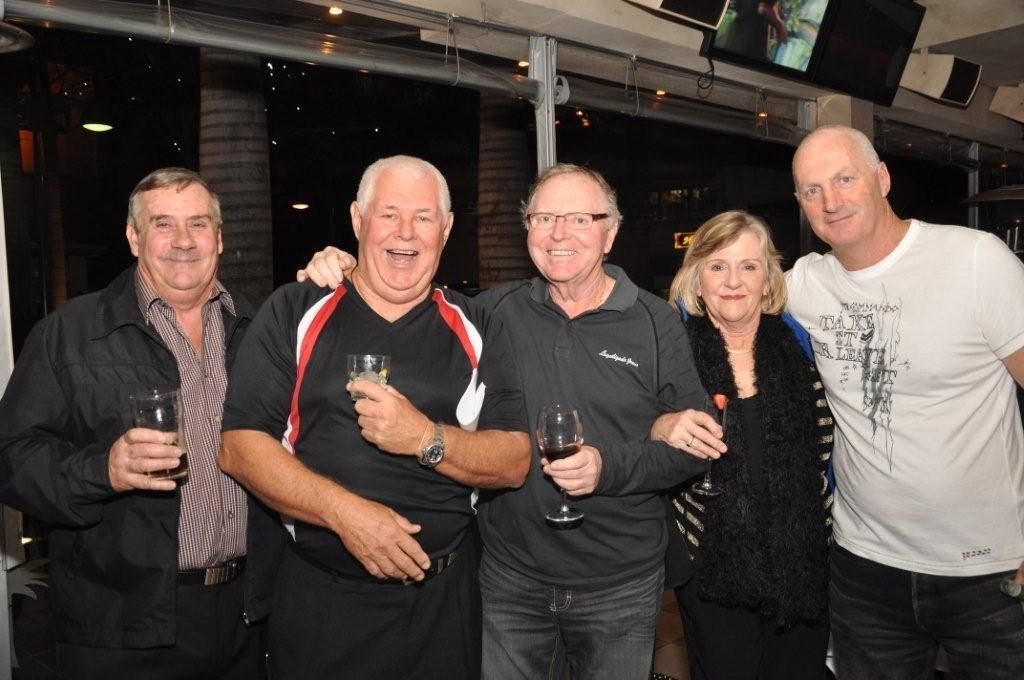 The winner was the guy in the middle, I forget his name. 🙂    
What a good looking trio.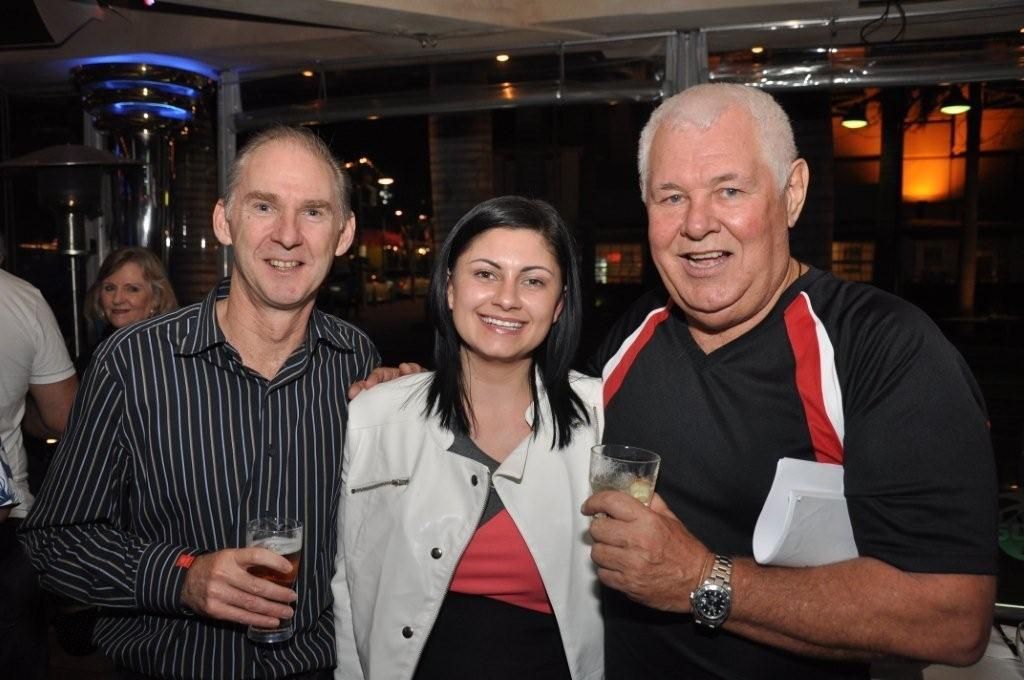 The lovely Roz and my good buddy Phil Thomson who tipped under the alias of Baldrick.  
Melbas 2009 mid year drinks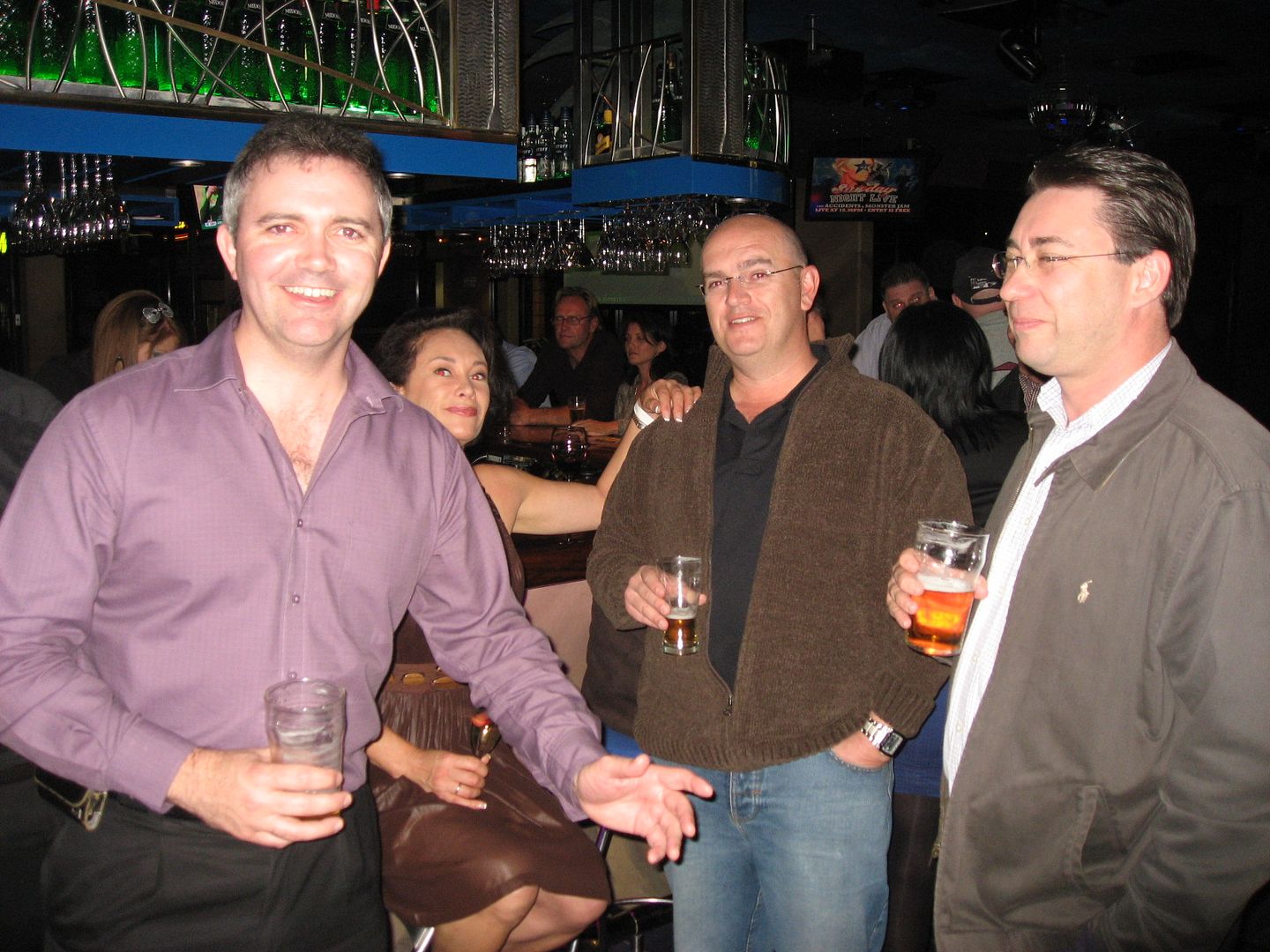 In the photo above is  Rob Swaine with Pippa Pang and George Sakkas?  
Is he an exception?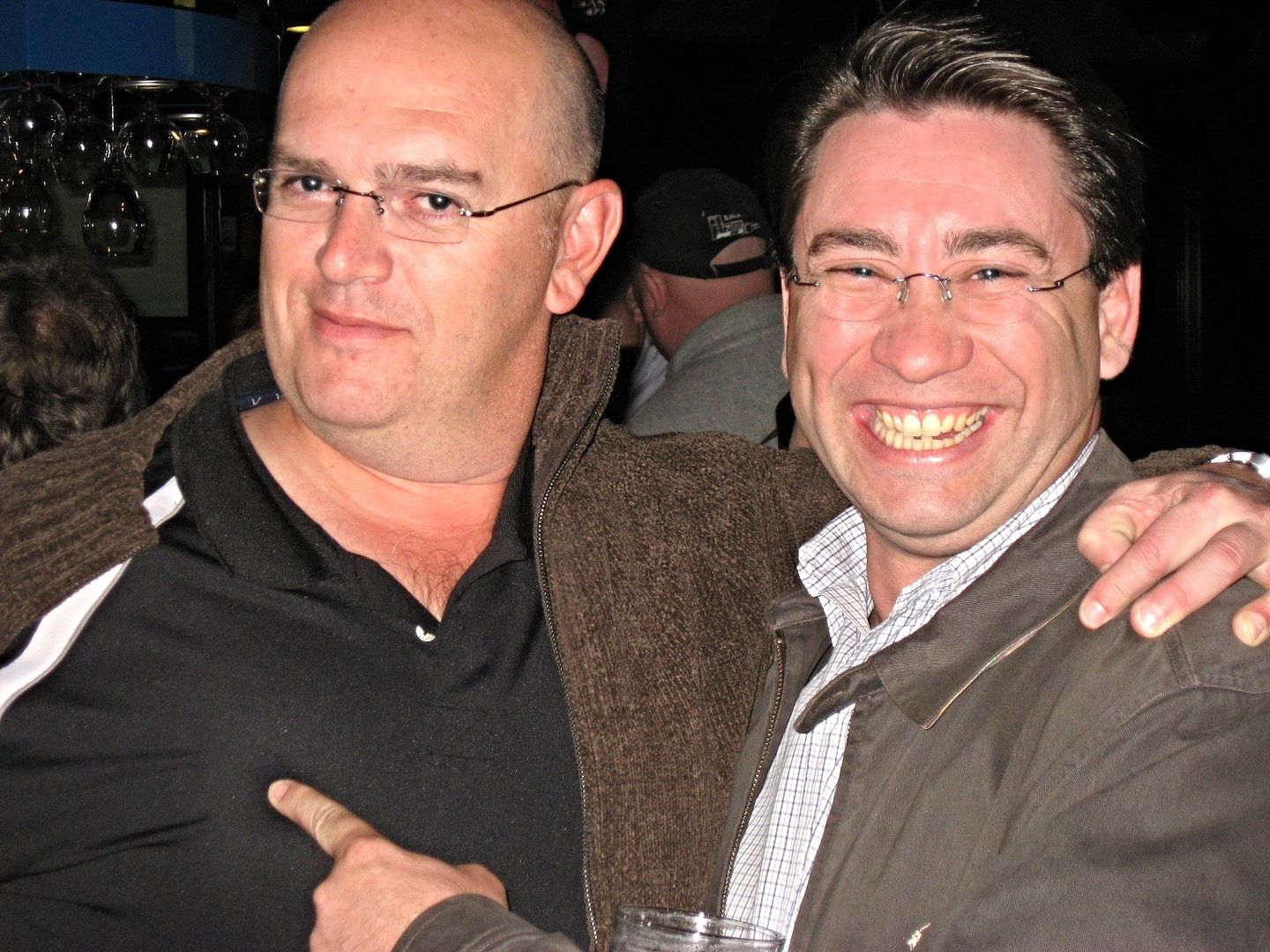 No, George Sakkas is one of the good guys.  
Our new leader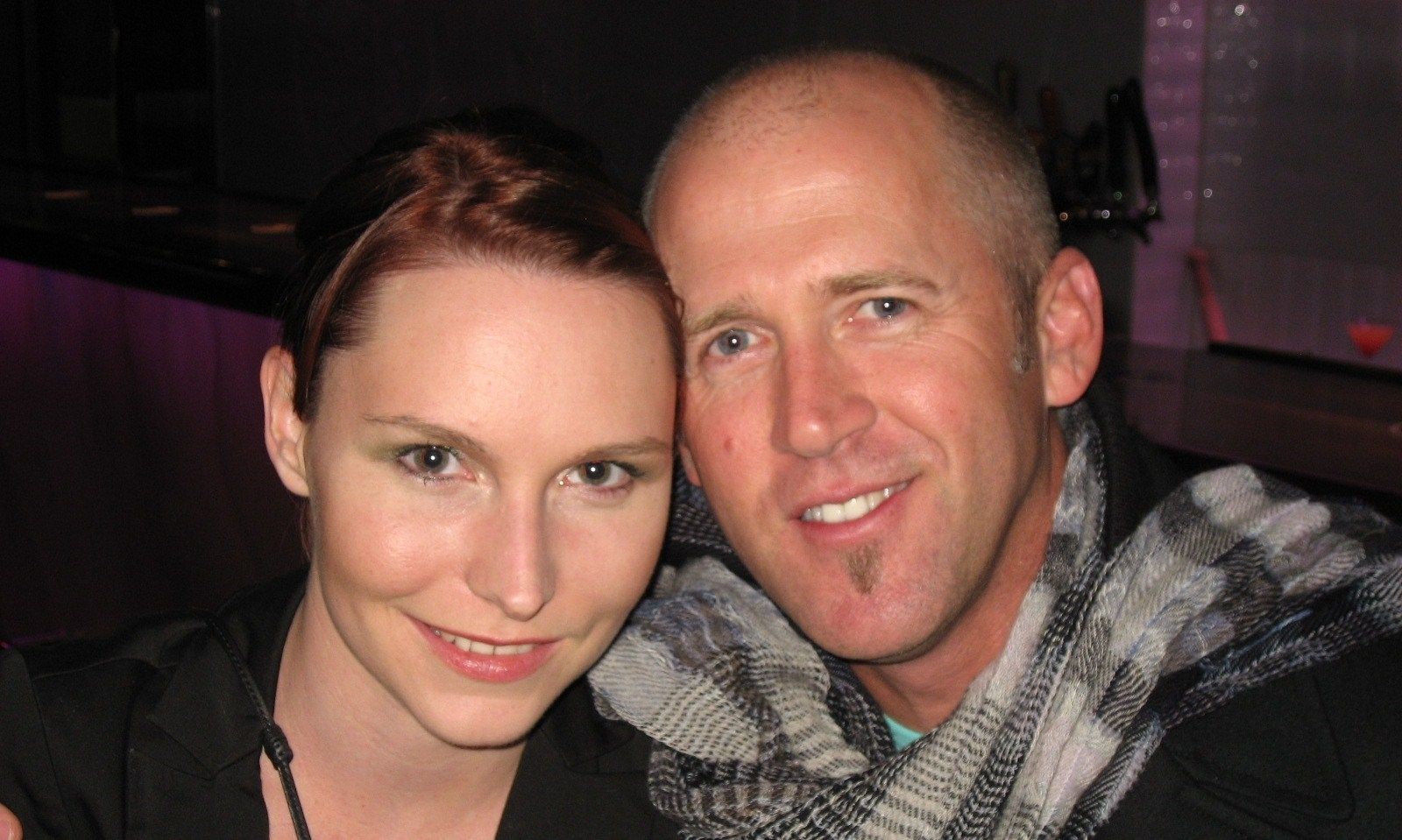 When I moved to Thailand in October 2011 I handed over the reigns to Dennis Perry, the good looking bald guy here with the beautiful girl who's name I can't remember. In fact if any of you lovely lunatics could send me names I will update the post, my apologies for my geriatric memory. 🙂  
Who are these people?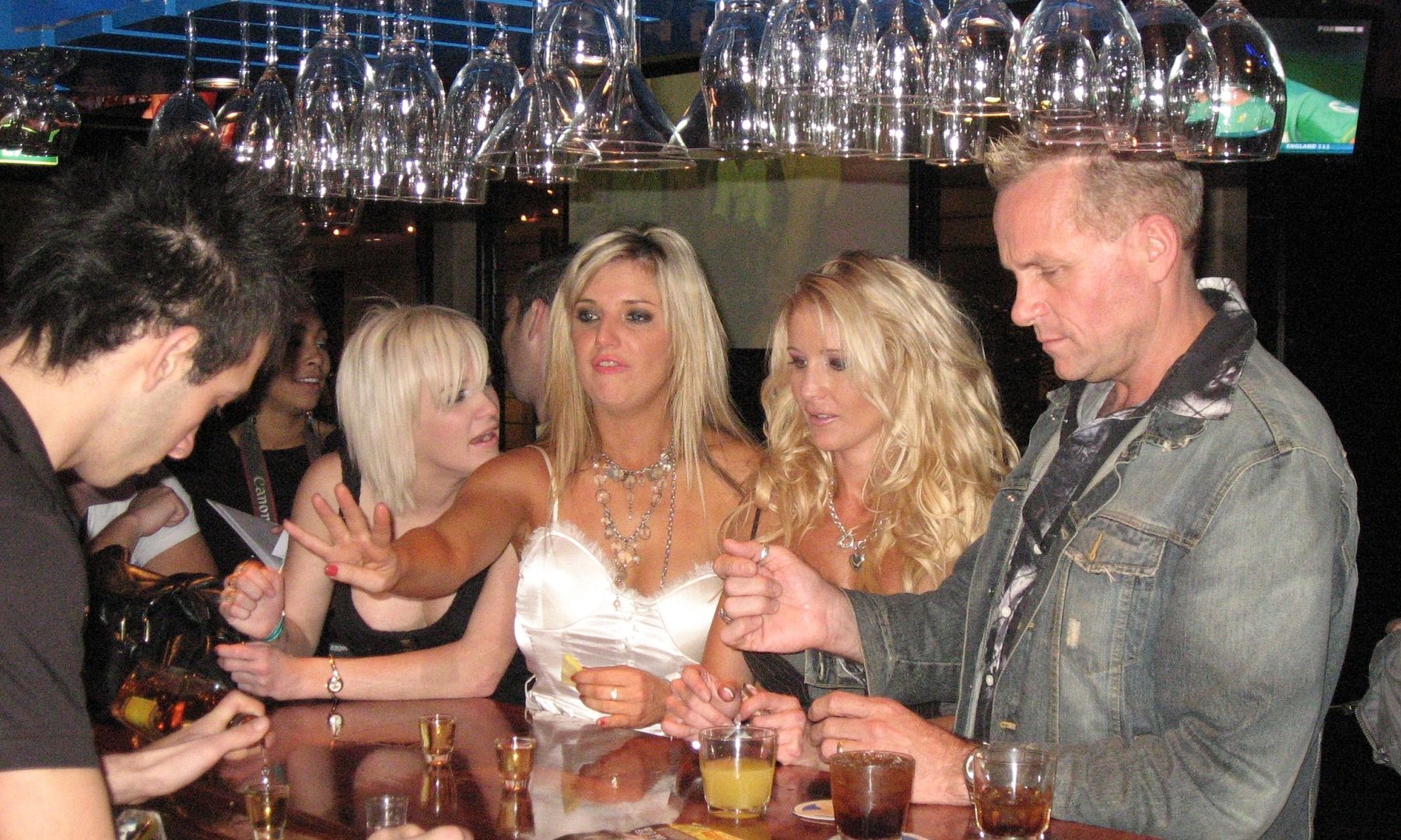 Well they were not in our tipping comp but they should have been. 🙂  
2009 slide show  
2008 winner at the Sharks
 
The winner is Jeff Russ. The big fellow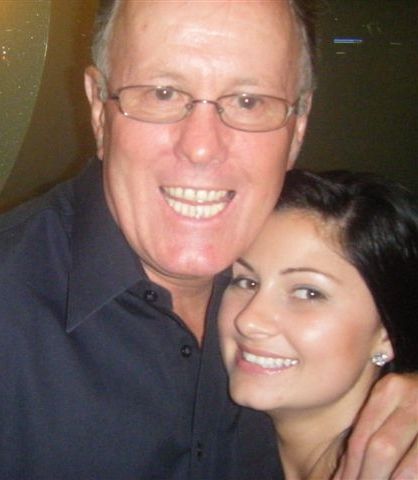 Garry Kinnaird a long suffering Bomber supporter and the lovely Roz once again.  
Enough already!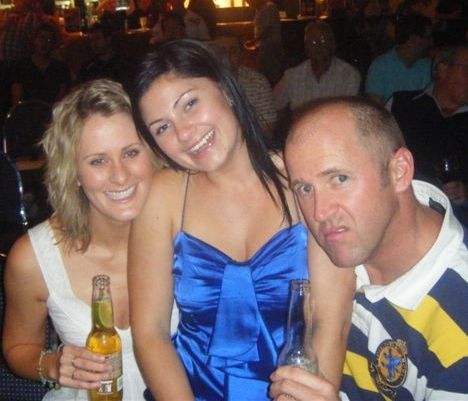 Listen Herdy, Roz is featured in nearly every photo, have you got a crush on her or something? Not at all Dennis, well maybe a little one, I really need her help with identifying people in this post so I need to stay on her good side. 🙂  
Mid year drinks 2008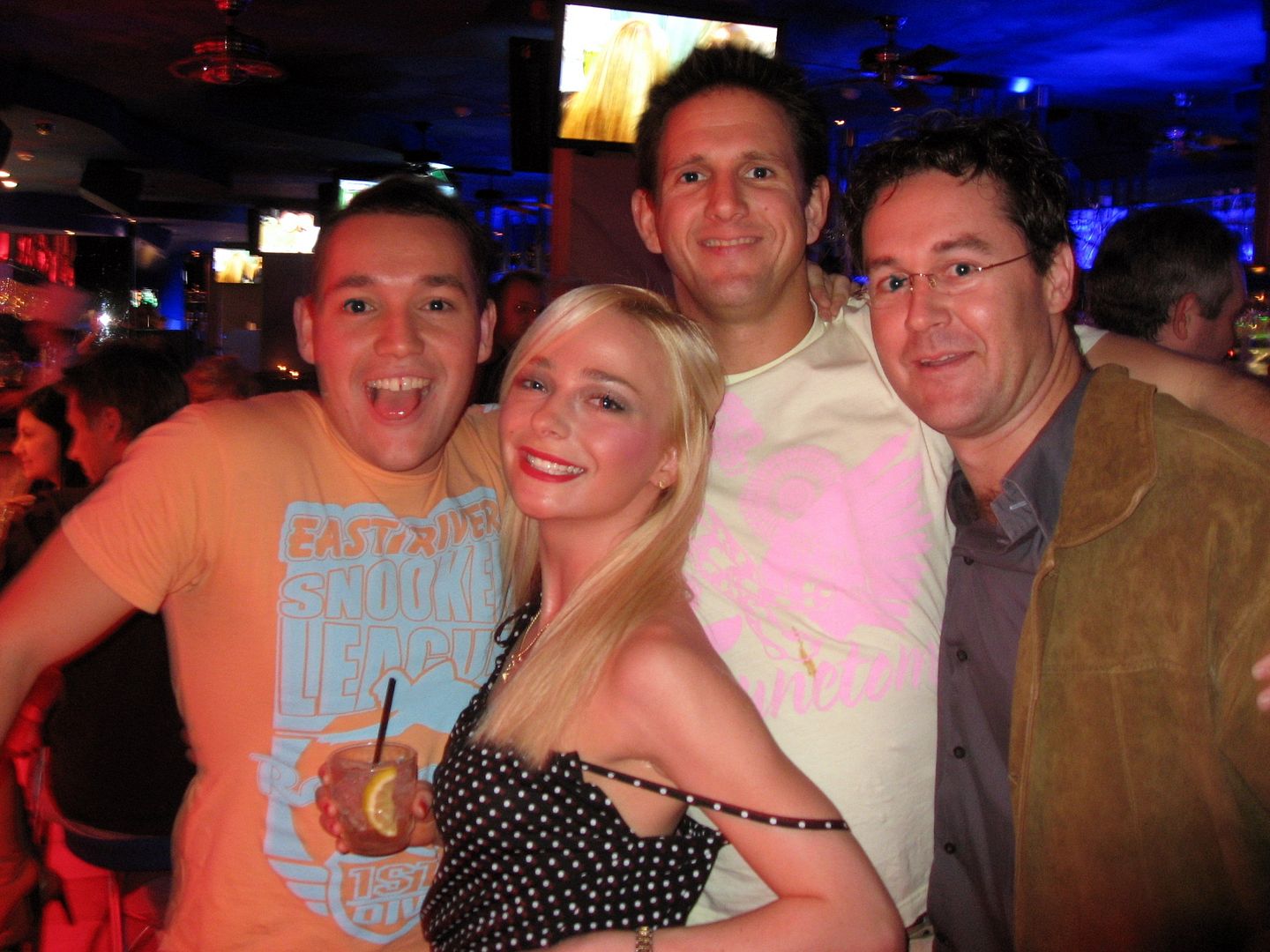 You don't have to be a genius to work out why this is one of my favourite photos. All my life I have had a soft spot, (I use the term loosely) for gorgeous blondes.  
AFL Australian Football Lunatics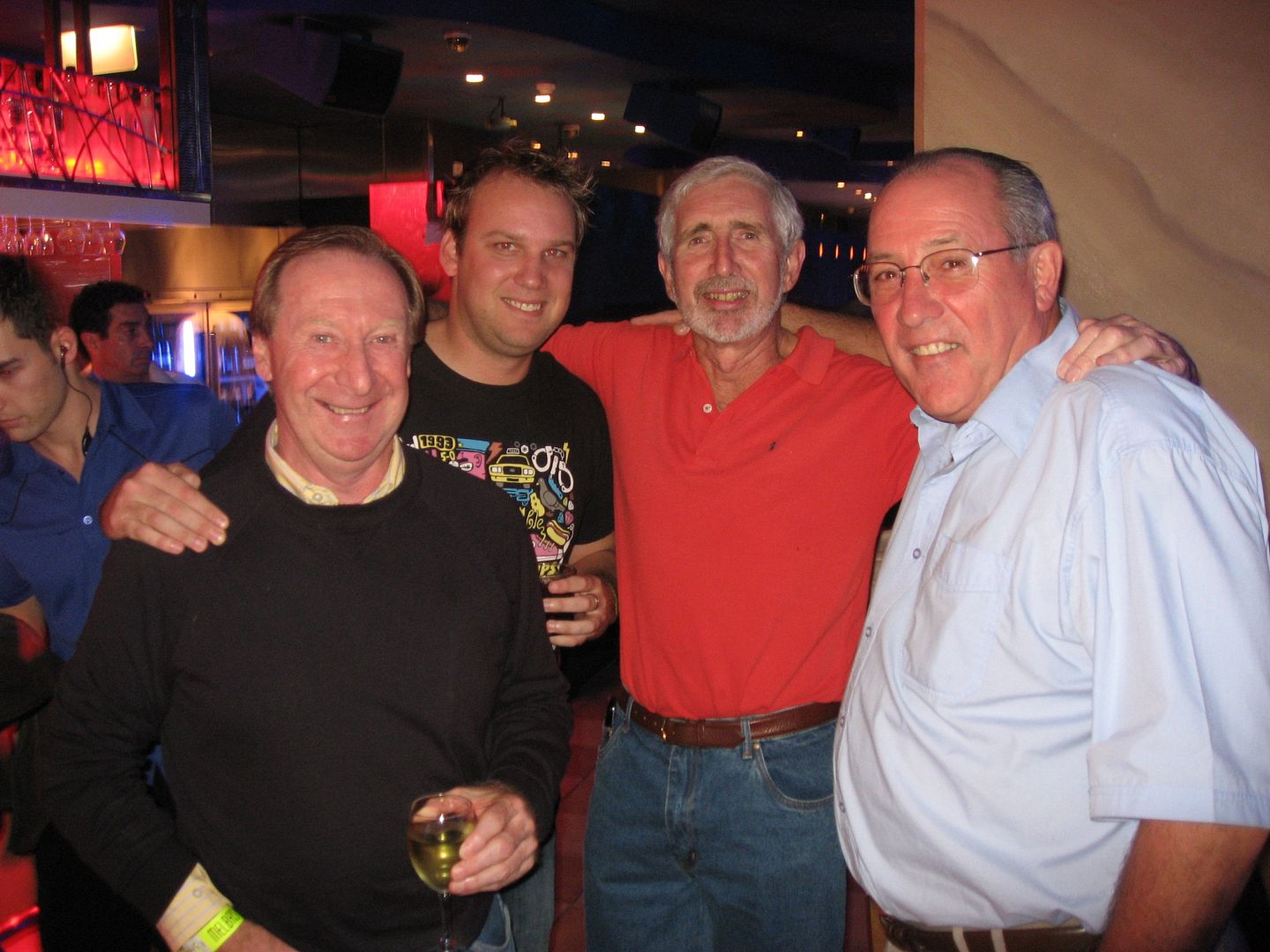 I'm going to have a go at the names, Jeff Russ, Simon Russ, Mike Wallace and of course the inimitable Brian Rowe. It's ok to use big words around a school teacher.
Eat your heart out Mick, I have the ladies covered. 🙂
2oo8 slideshow  
2007 Bluefire restaurant
Here is another one of those beautiful blonds I often dream about.  
Is that David Treacher, chick magnet?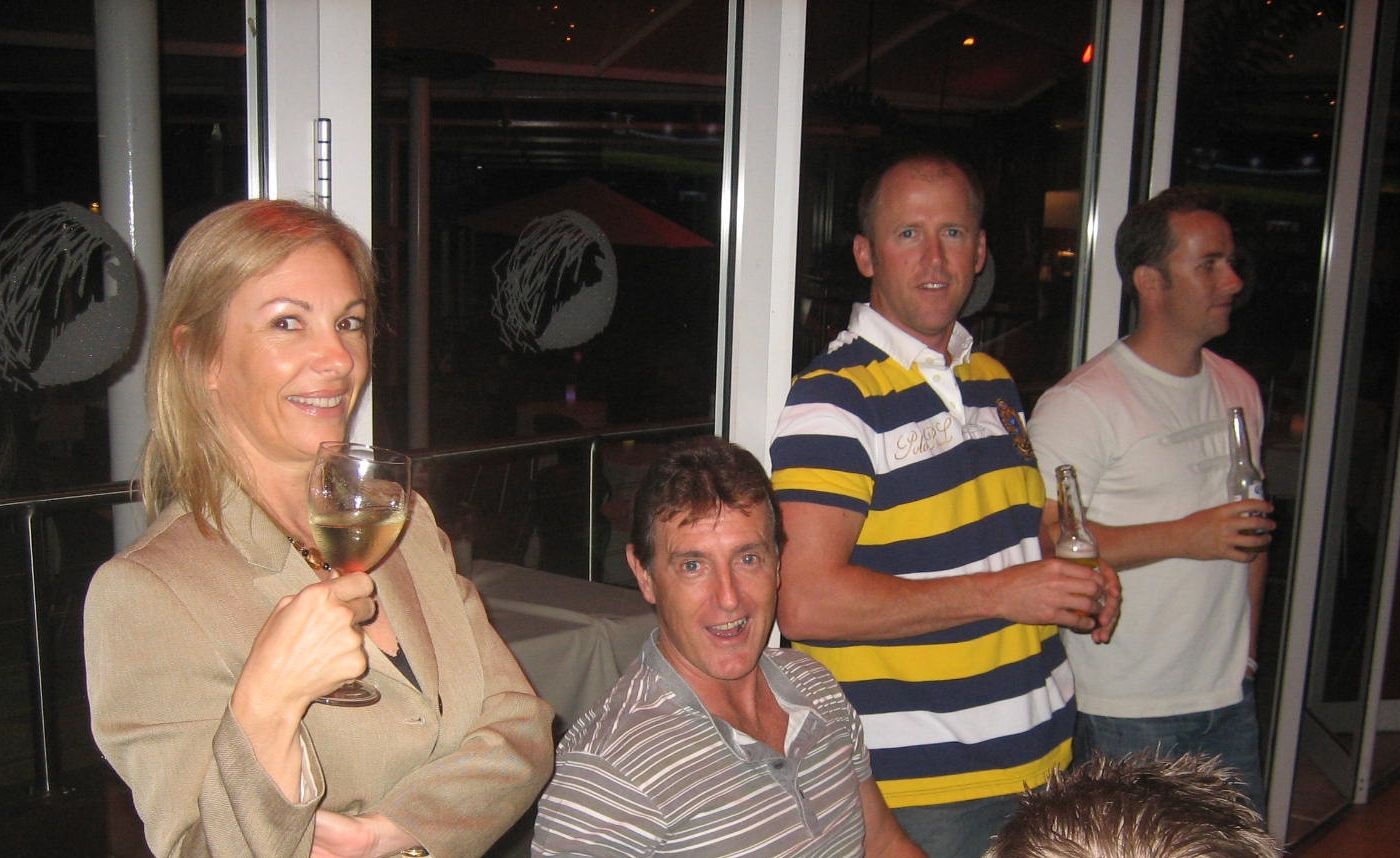 Yes I think it is, & Dipper the Tipper will wear that shirt again next year. 🙂  
We are really looking forward to dinner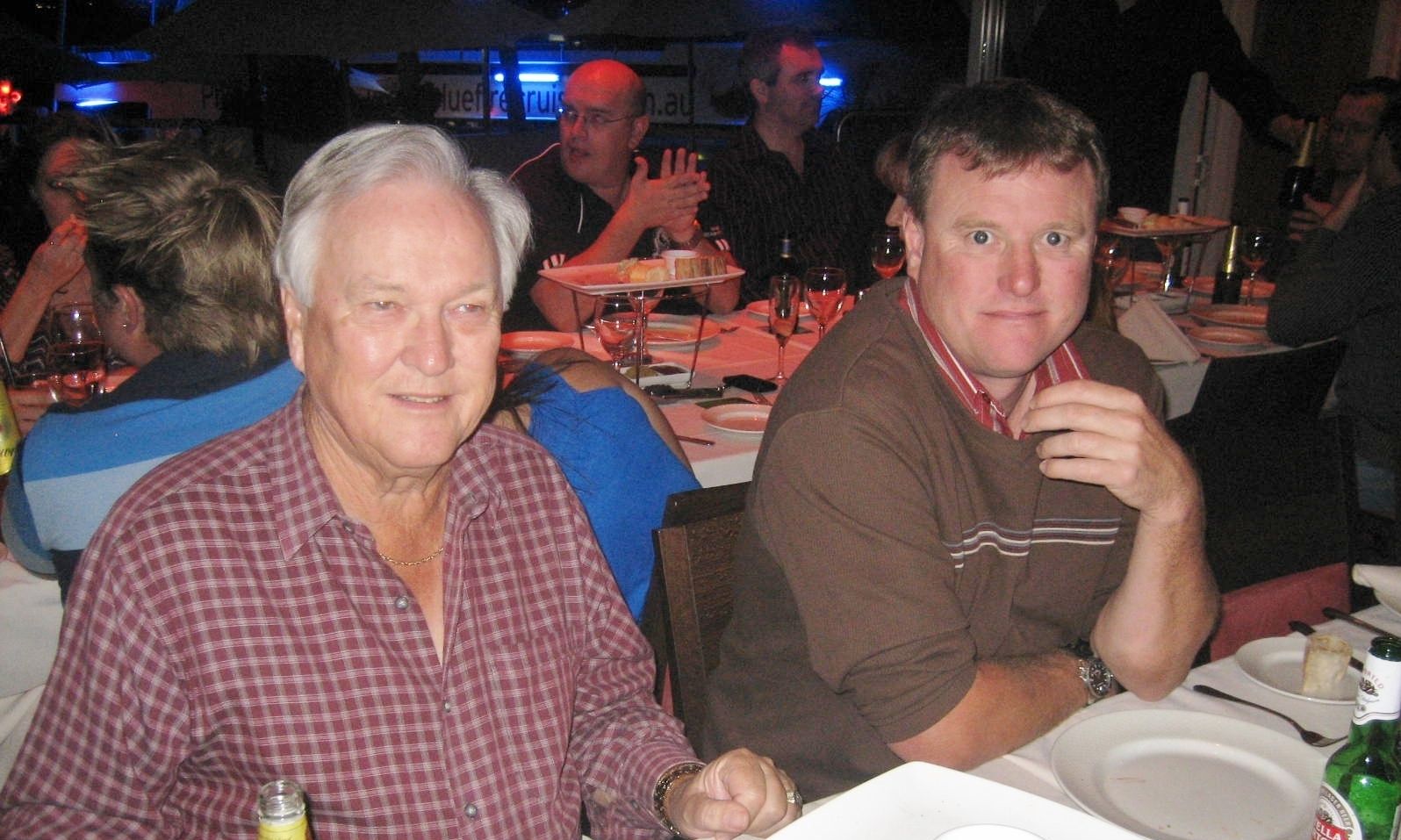 The Lumsdens hate the food.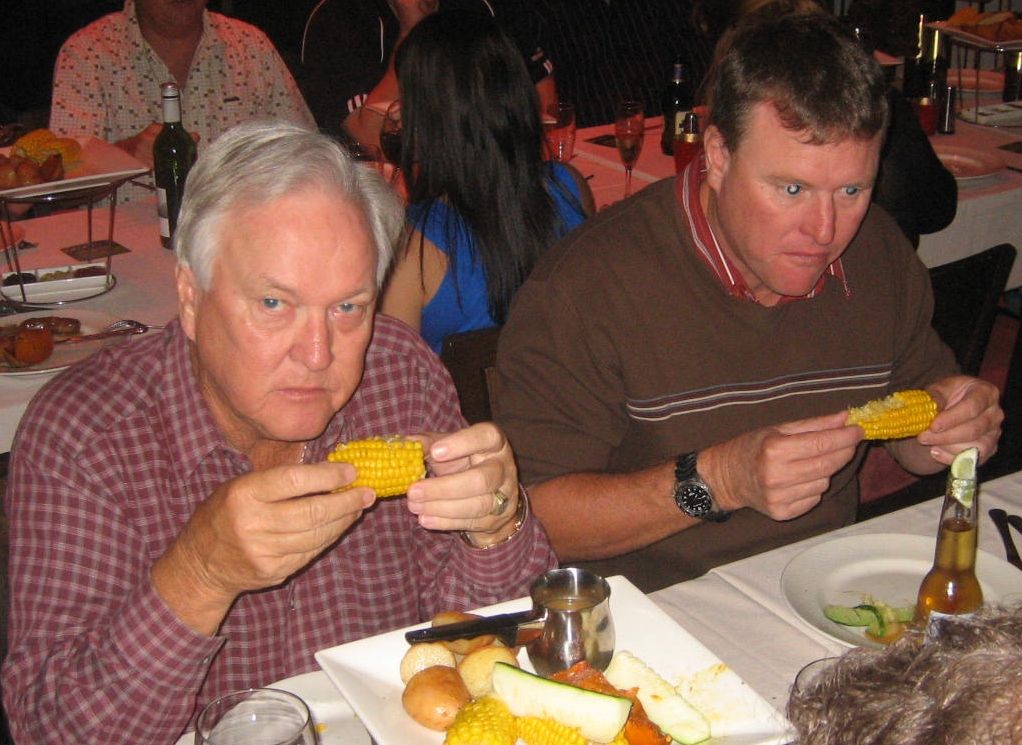 Murry and Michael are obviously not impressed with the food. Put the corn away boys we have some meat coming right up.  
That's more like it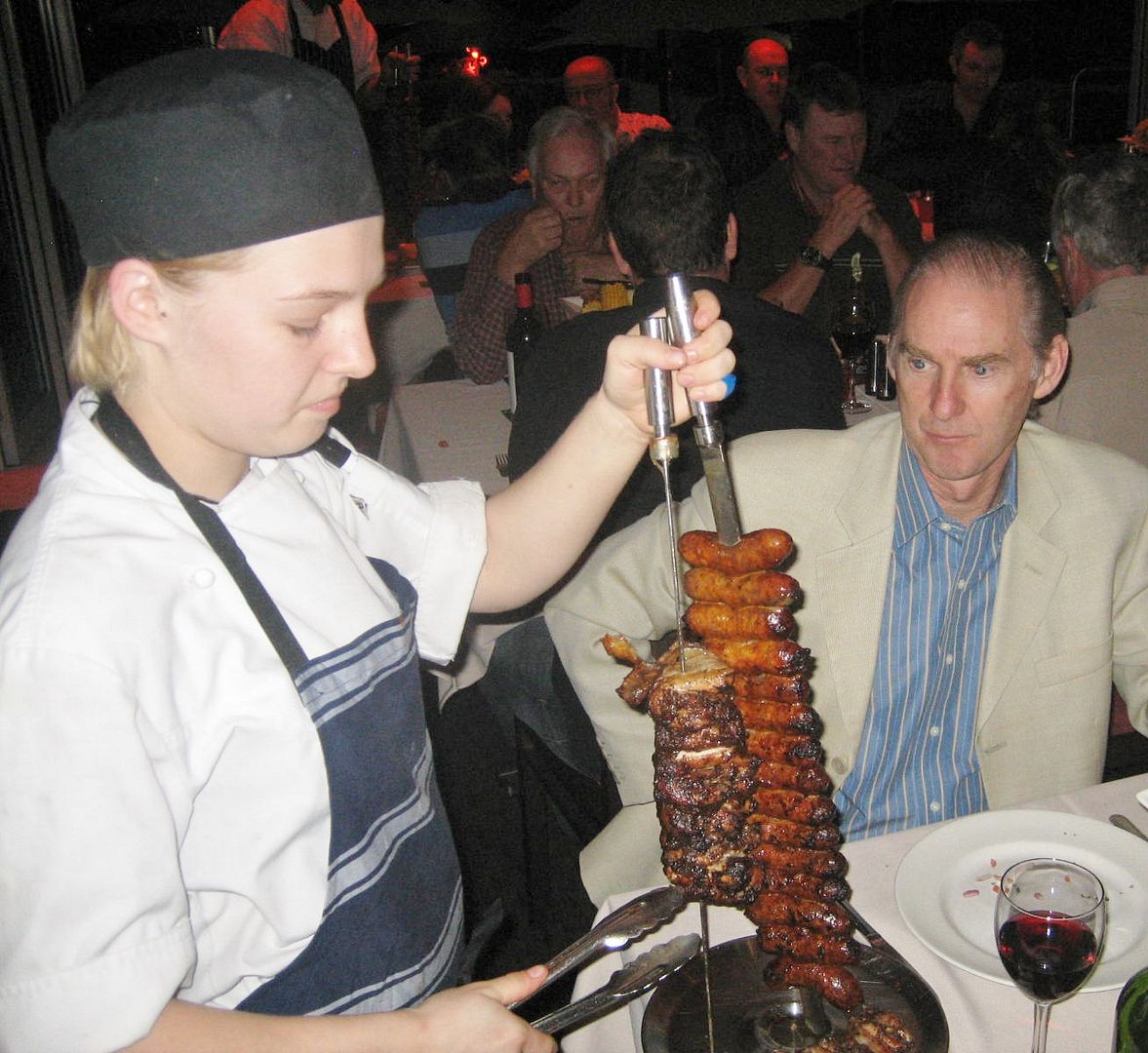 Here is my great buddy Phil Thomson perusing the Churrascaria. Phil and I have broken bread in many exotic locations over the years. Let me name a few, New Orleans, Las Vegas, Los Angeles, Tokyo, Bangkok and beautiful downtown Surfers Paradise.   Please check out my last visit to the coast in November 2014.    
2007 slideshow  
Chick magnet David Treacher drinks at Melbas June 2007.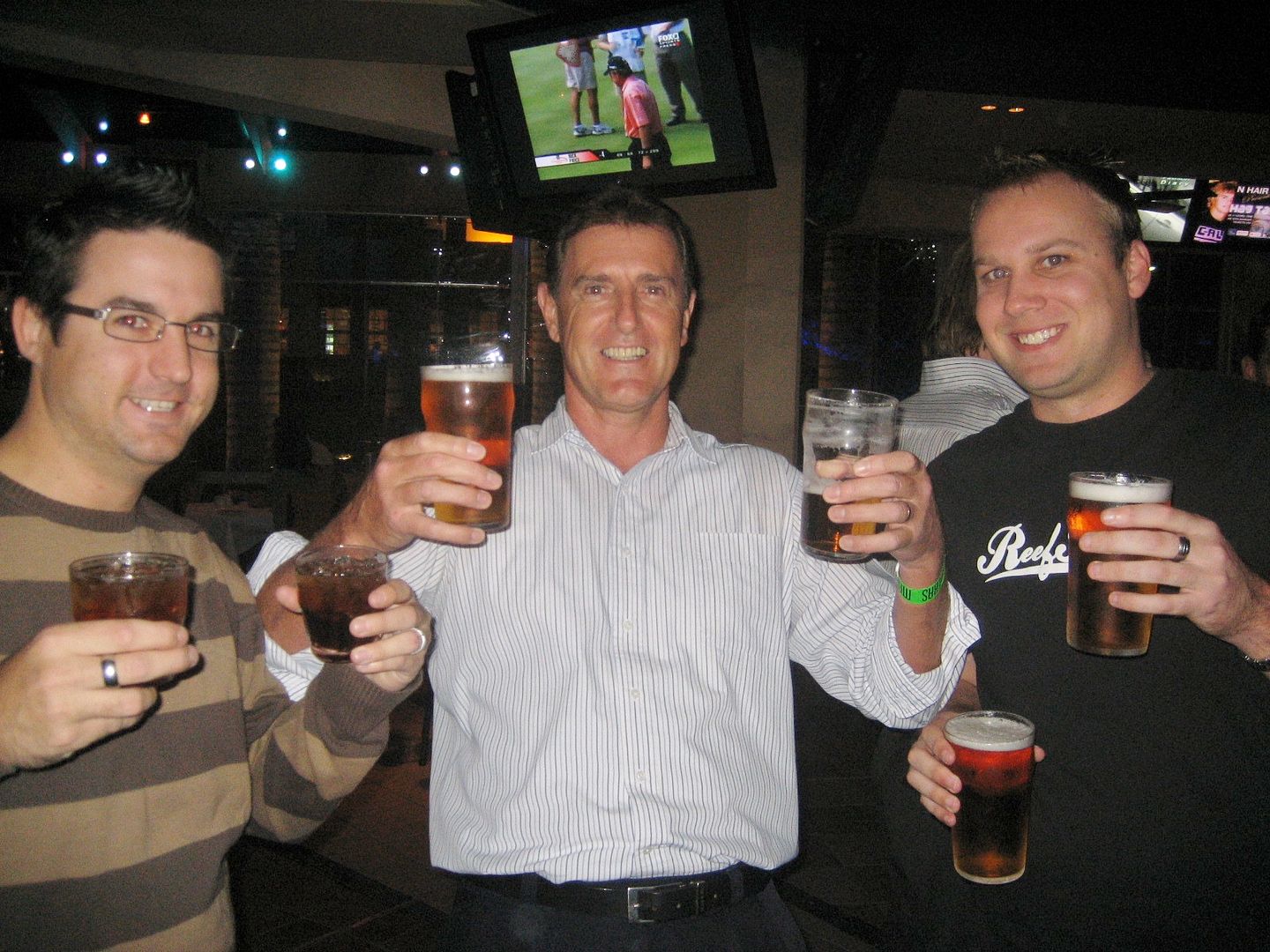 Melbas will always be the venue on the coast for my most vivid memories.  
The usual suspects
Jason Ryan, George Sakkas, Tony Ellis & Vicky.
I walked right into this one.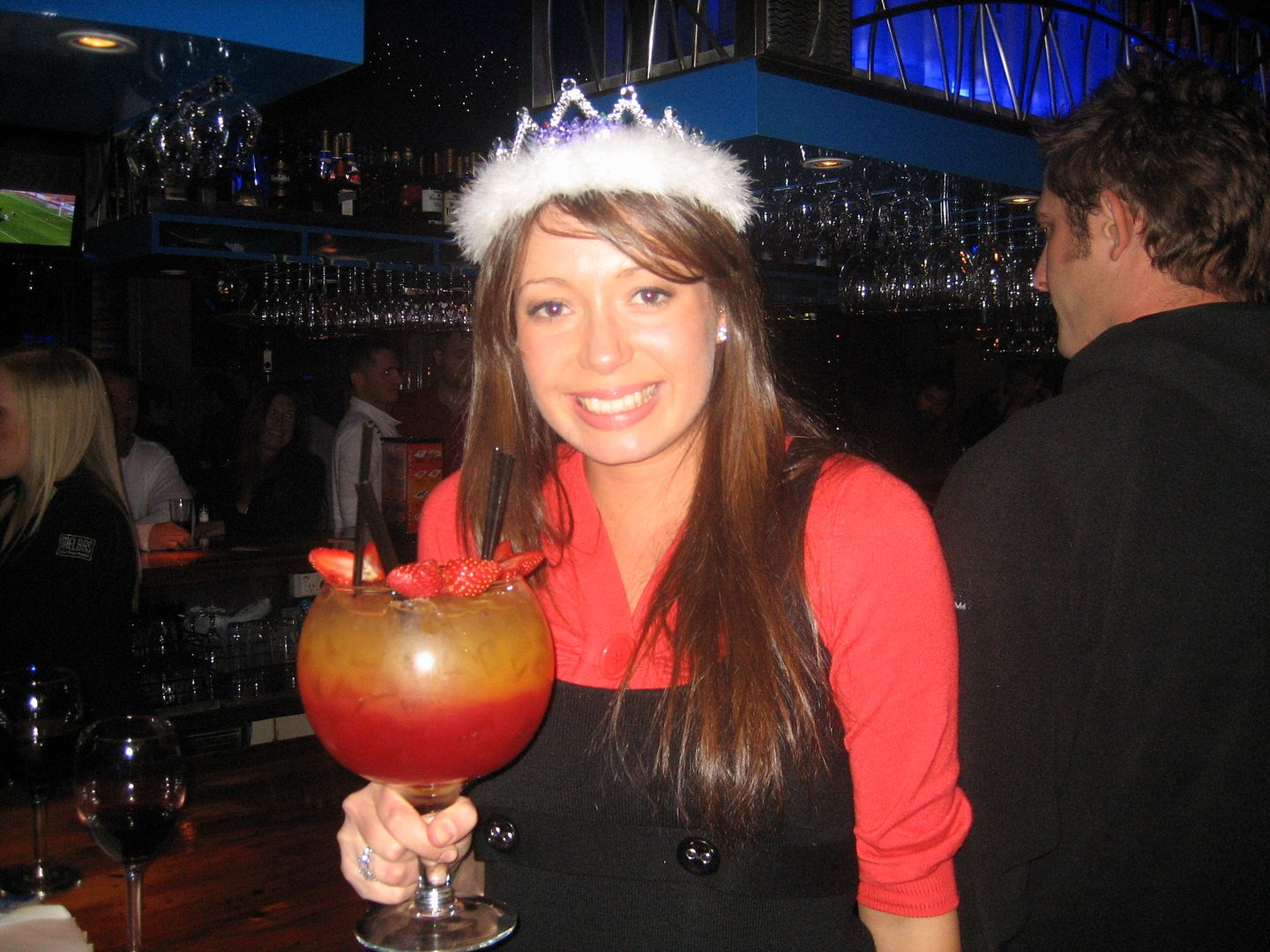 As you can see she is rather gorgeous and I asked her what she was celebrating. "I'm getting married next week" she said. "Ok how about I buy you a drink?" The hero replied, $50 later I was looking for a place to lie down and recover. 🙂 🙂 🙂
Save me Kerry PLEASE!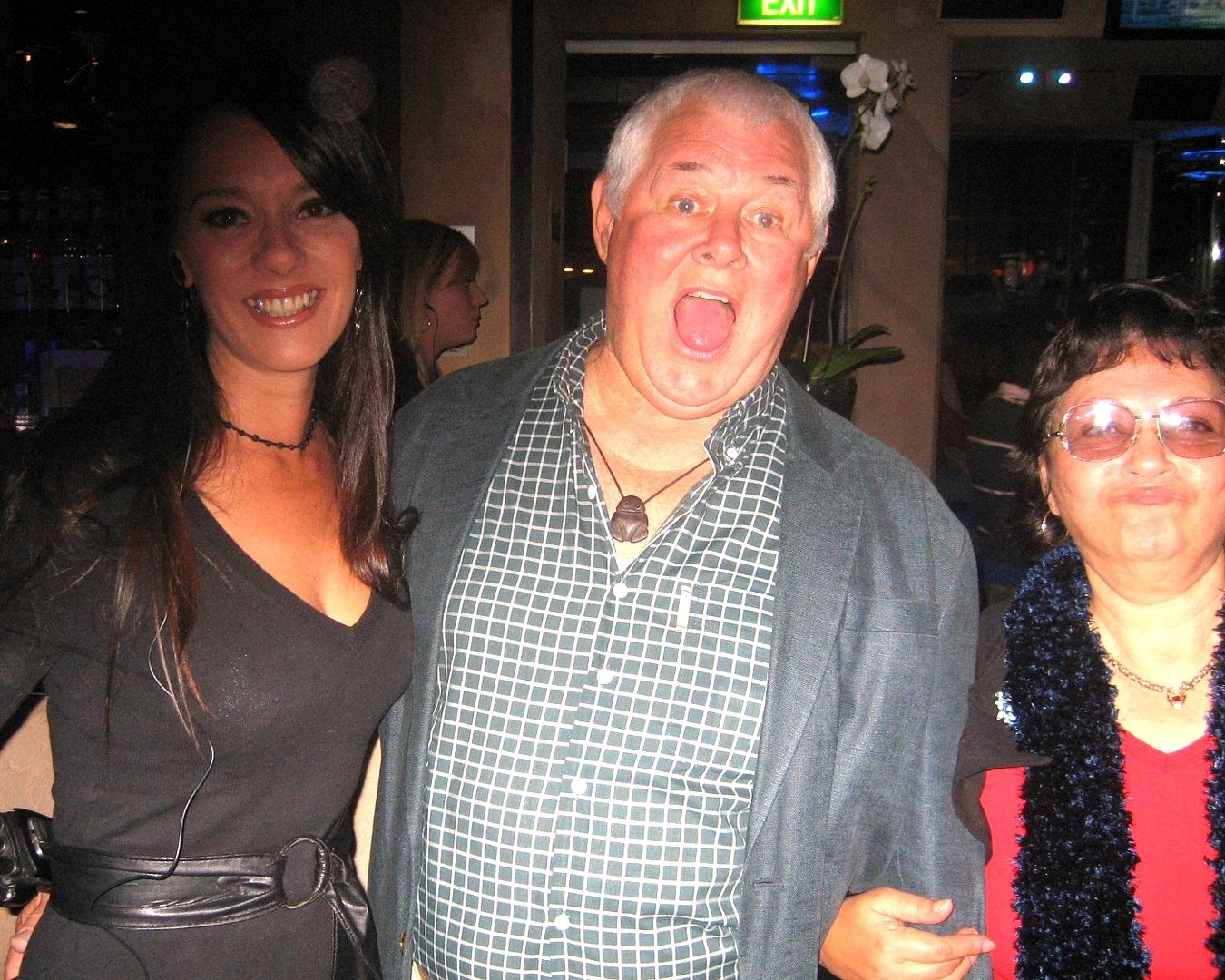 I have just been clipped for a $50 drink mow mother of the bride wants to take me home.  
2007 Melbas drinks slideshow
2006 and I am with my harem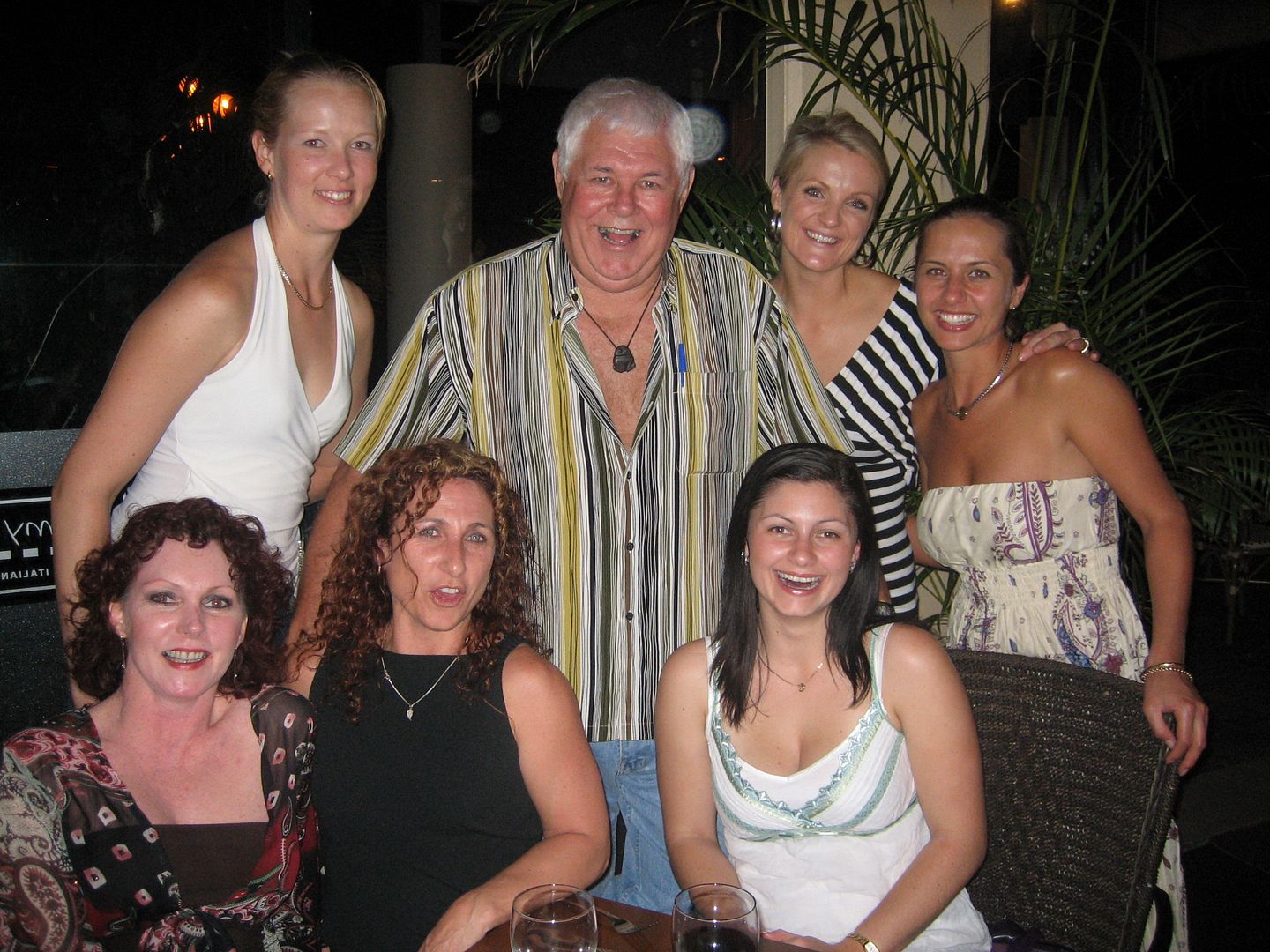 What time can I start having fun?  

Here is Dipper with some hair.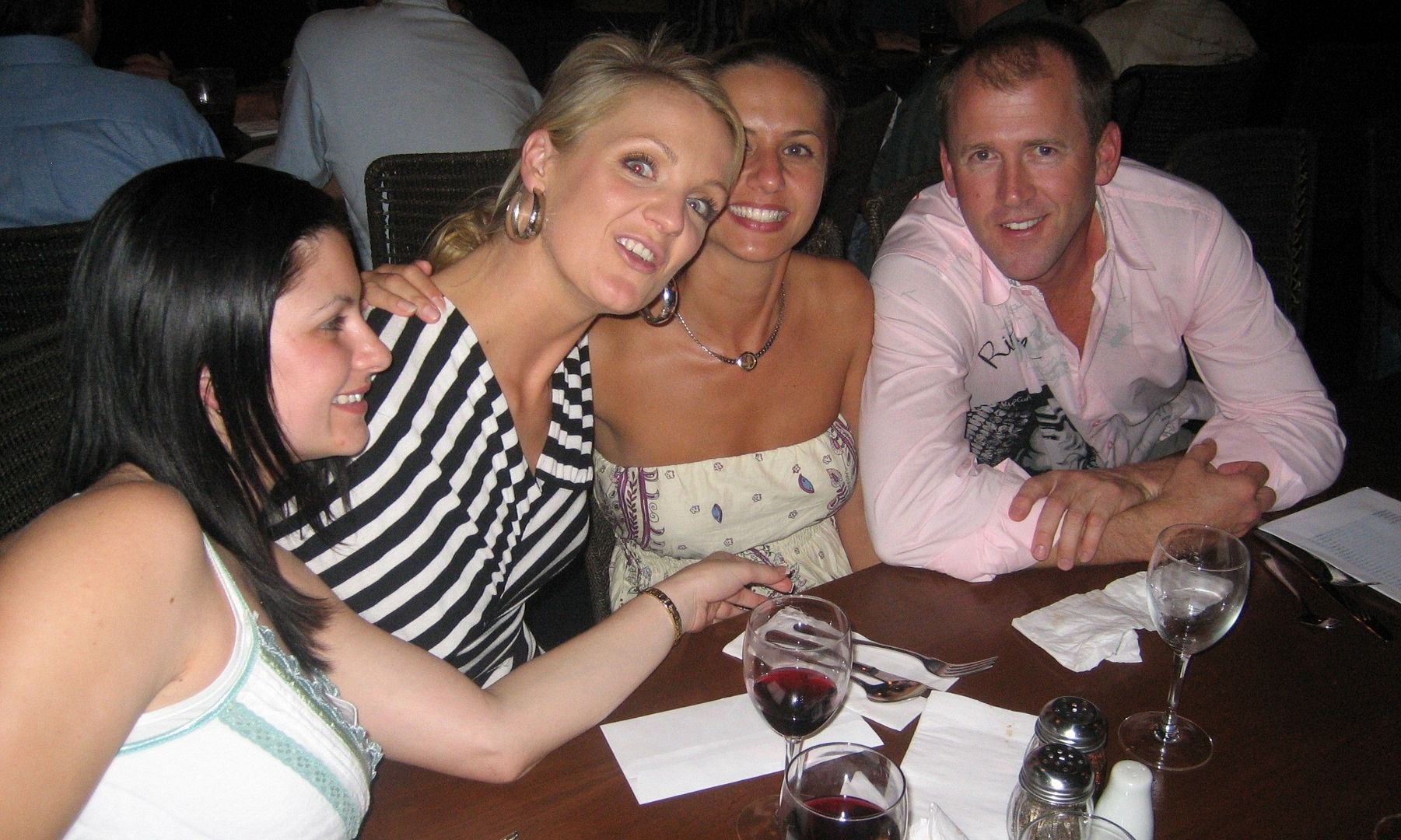 Lots of booze & not much food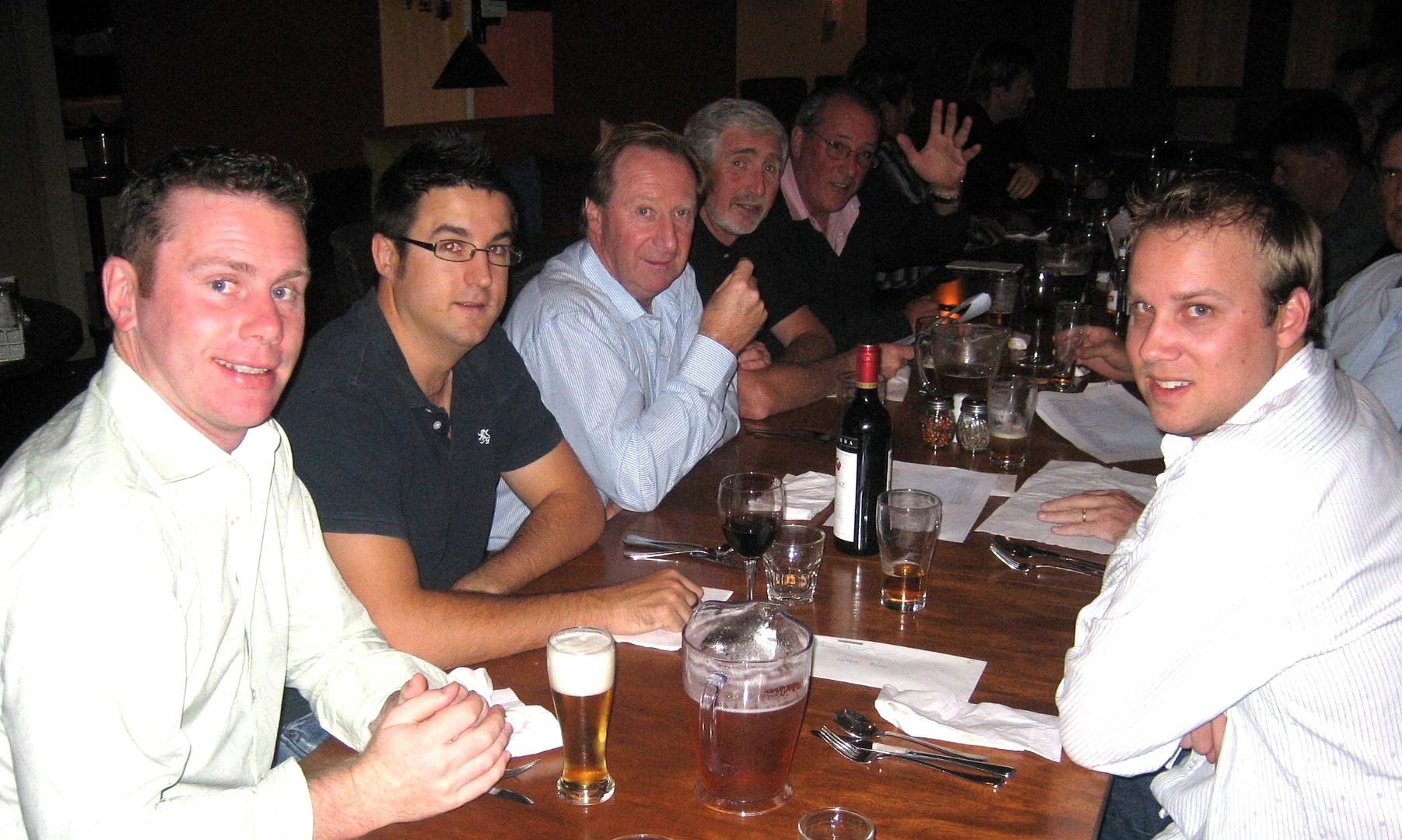 And the winner is?????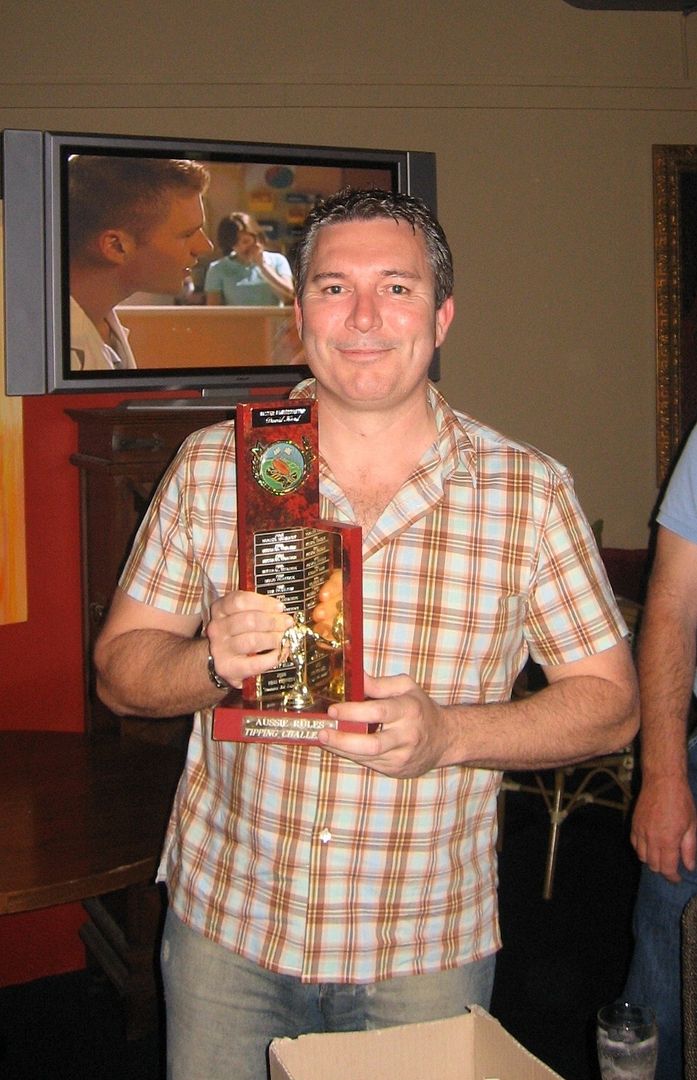 Ross the boss, aka, Shoeless Joe Jackson, aka Ross Kennedy, one of my best mates and a tragic St Kilda supporter. Check out one of my most riveting posts featuring Ross, Big Tim Bristow and Roger Rogerson.  
2006 slideshow
Manos in 2005, a rose between two thorns.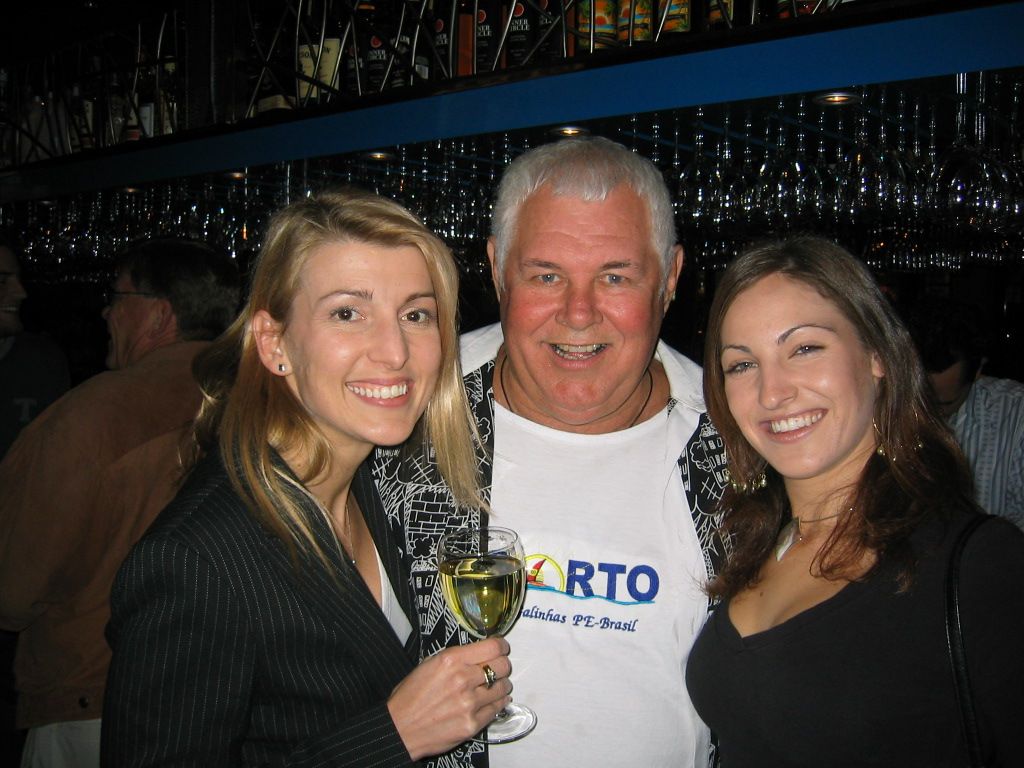 Well not quite I guess, on my left is Emmy from Sydney and not sure of the name of the other beautiful girl.  
Hi there Rob
Rob Gerard  the one waving and is a good guy, Graham Cash on the left is another story. 🙂 
Lets focus on the good guys not the crooks.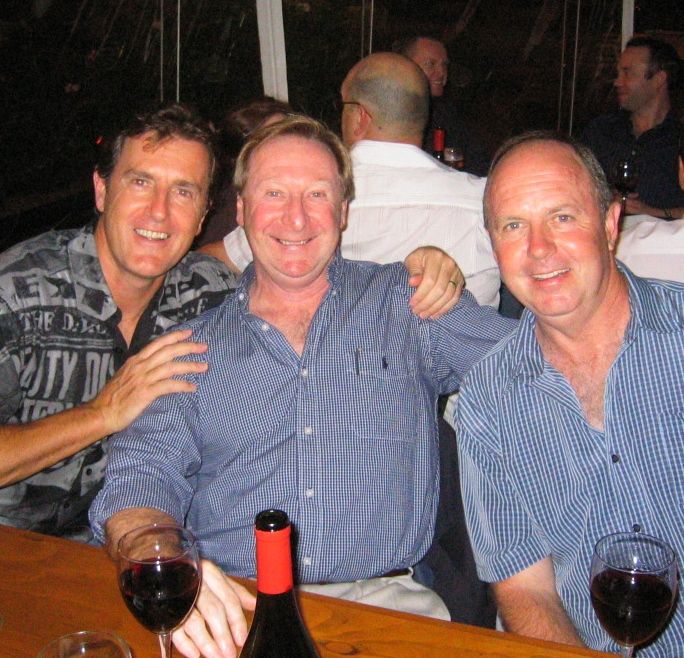 David Treacher, Bernie Delaney and Jeff Russ.  
And the winner is…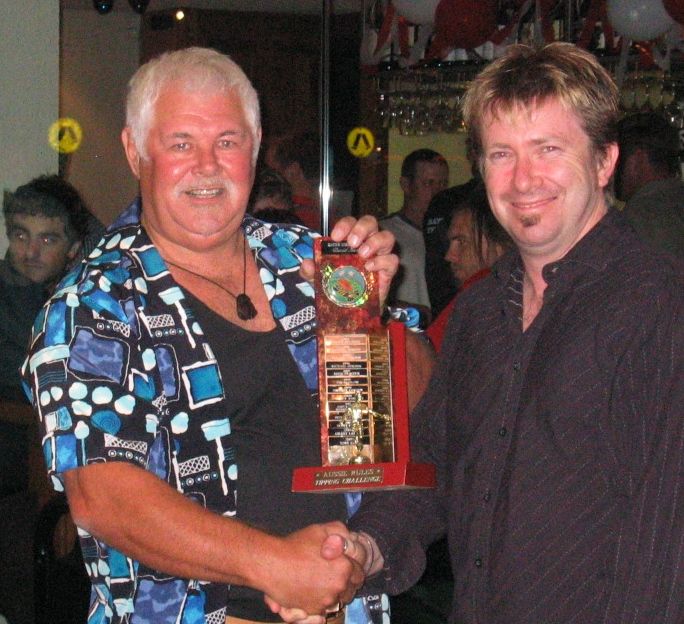 Tony Ellis came first this year, he always seems to be one of the leaders. He most certainly is one of our AFL Australian Football Lunatics.  
2005 slideshow  
Leo Barry you hero
It's no secret I'm a Sydney Swans fanatic, and in all the years of watching football there will never be a moment as dramatic and wonderful as this.
2004 Melbas
Garry Kinnaird , Mick Cotterill and two lovely ladies.  
Bring on the booze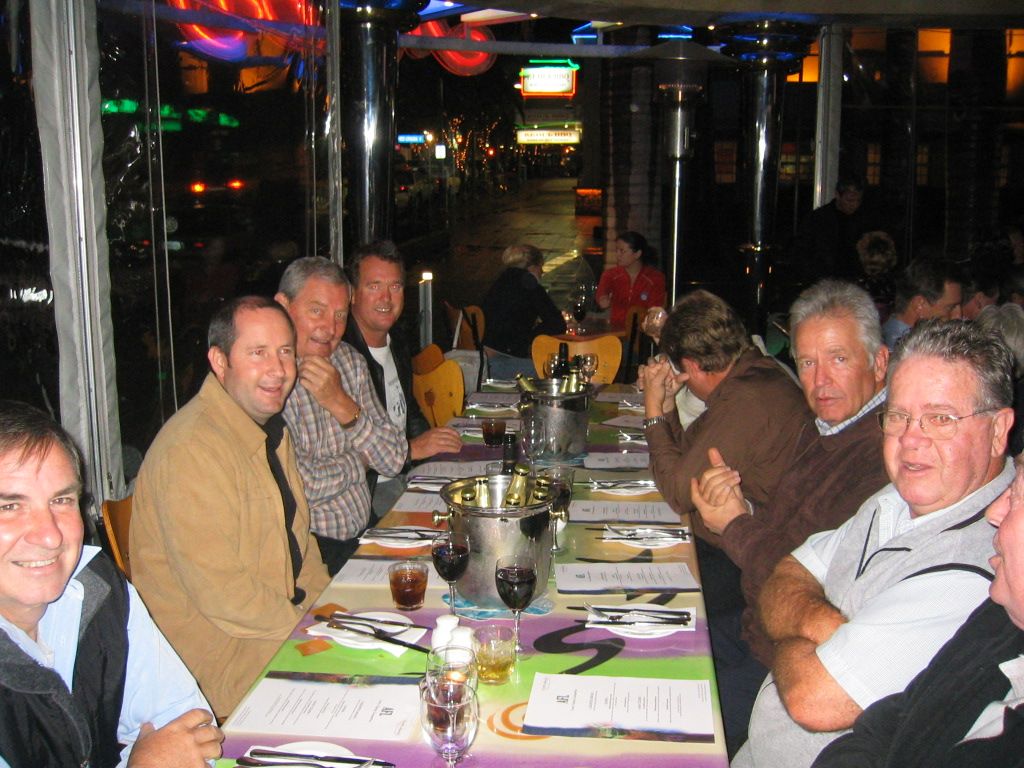 What a fabulous venue Melbas on the Park was.  
OK, so I stuffed up the count. 🙂
Somehow I made a mistake and called the wrong winner, after some heated words we worked it out and focused on the booze.
The top two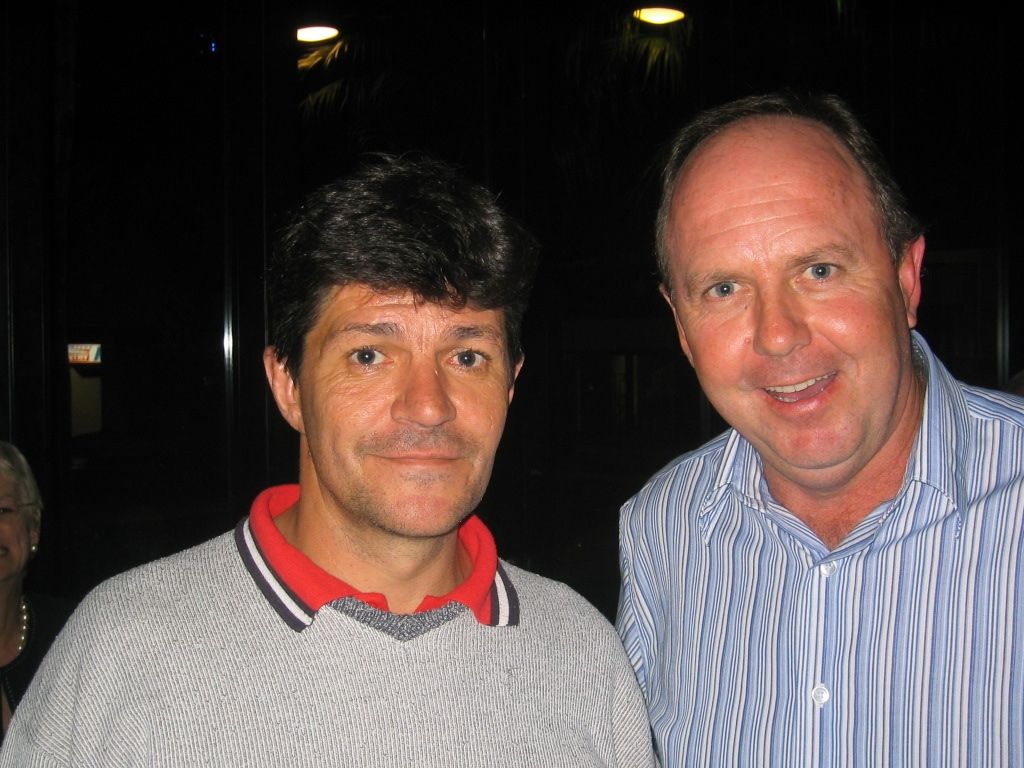 I think deep down I wanted Mick to win but it was the mean looking guy on the left who took 1st prize. 🙂  
2004 Melbas slideshow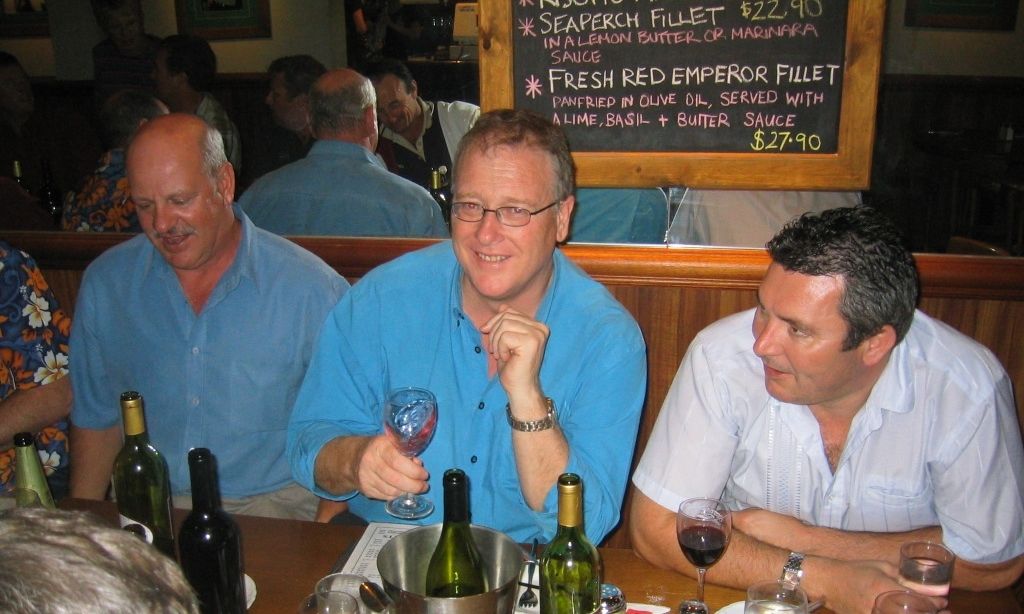 Adrian Rebbeck, Gavin Kernot and Ross Kennedy. In February 2005 Gavin and I caught up with each other for a few days in Paris. It was so bloody cold (-3) and I suffered because I had just left the north coast of Brazil where it was 38 degrees.  
More of the usual suspects
And the winner is????
And the winner is Scott Proud.  

2003 slideshow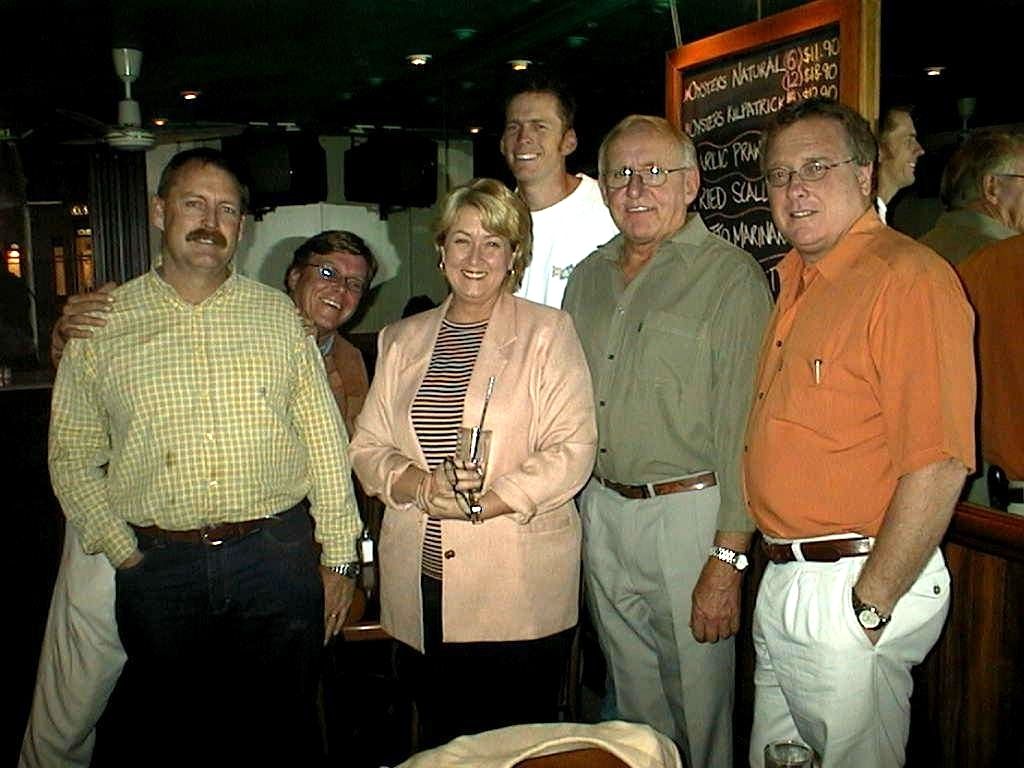 My first year as administrator of the competition that was called AFLPEES, don't ask me what that stood for. The photo shows an unknown guy on the left with Graham Cash peaking at the camera, then we have Cheryl Kernot, super tall Duncan Free, Reg Free & Gavin Kernot.
Feuding families
I think that's Michael Gorden on the left & one of the Lumsden boys (I think Anthony?). We had 3 from each family in the competition in 2002.
Interesting to see Saturdays Bulletin pick up on my story recently on the feud between the Hatfields and McCoys, some of you may remember the uncanny resemblances to the feud between Lumdens and the Gordens in 2002. The Gorden clan were decimated in the tipping comp by the Lumsdens that year, and have never really recovered from the massacre.  The battle however also took its toll on the mighty Lumsden clan who in coming years became mere shadows of their former selves, which is obvious from their position on the ladder this year.
Interestingly enough is seems  my article was also picked up by Kevin Costner which prompted him to release the fabulous mini series 10 years later in 2012, believe it or not. 🙂
2002 slideshow
Apologies for the poor quality photos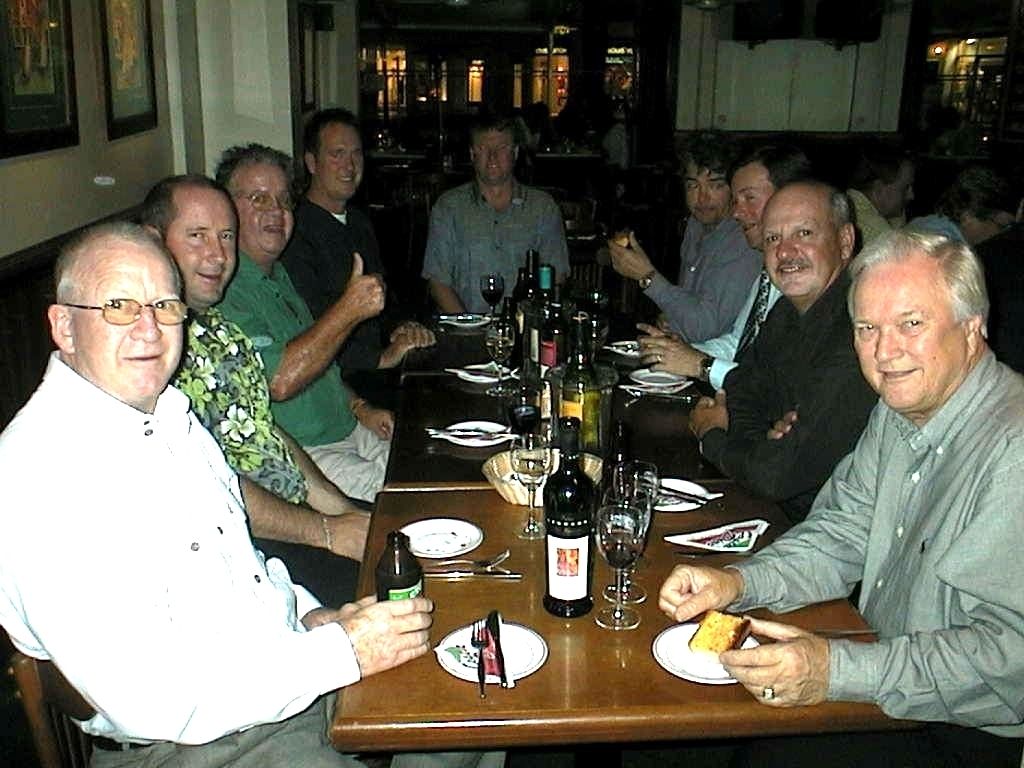 Digital cameras left a lot to be desired in 2002.
AFL Australian Football Lunatics
Guilty as charged.
That's all folks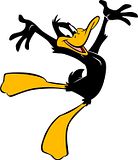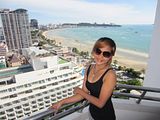 Here are some more posts to check out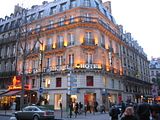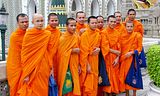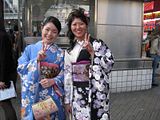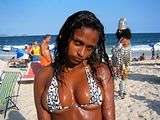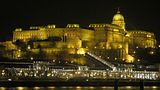 This gallery contains 7 photos