August 20, 2016 by David Herd
This is not a travel blog just my personal photo collection from the Gold Coast in Australia in August 2016.
Sorrento Sam
Surfers Paradise sentimental journey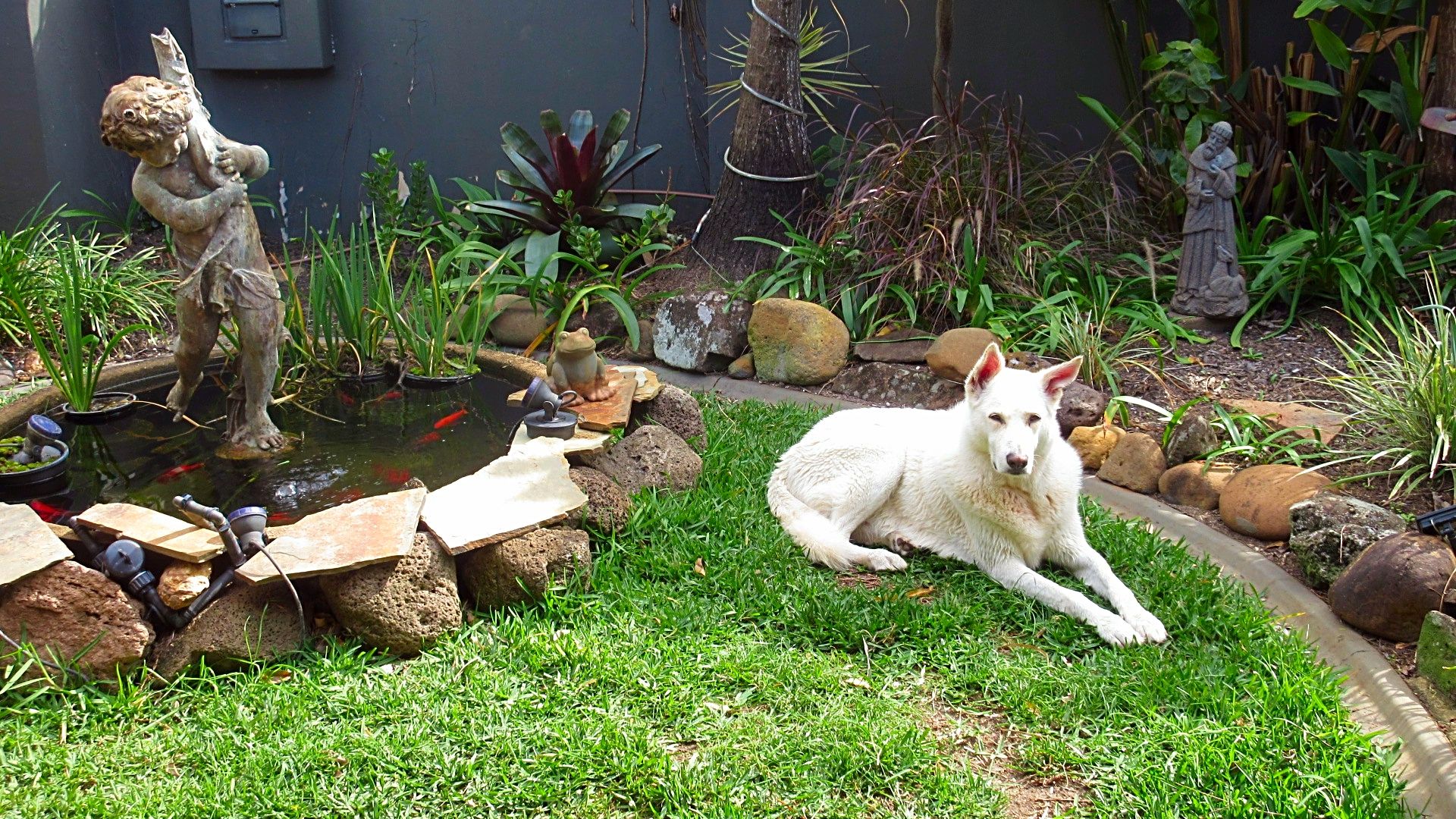 Surfers Paradise sentimental journey took me back to where I lived for 25 years before moving to Thailand in October 2011. I stayed at Sorrento with my old friend Tony Murphy and his lovely wife Nikki, plus Sam the 3rd member of their family.
Morning coffee at The Island cafe is a tradition with this group of friends, and today August 11 2016 just happened to be Tony's 74th birthday.
Dangerous with a knife in his hand. 🙂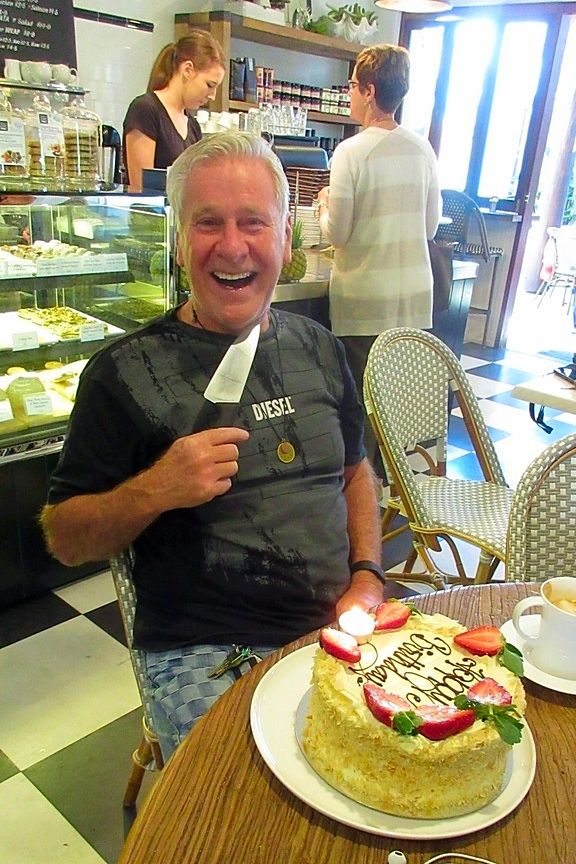 Don't do it Tony, don't do it. 🙂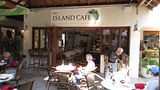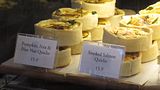 I must say the coffee at the Island Cafe is absolutely fantastic. I couldn't help noticing the price of the small quiche compared to a similar one in Thailand that I regularly buy. Here it is $15.90 and at Big C in Pattaya $1.85.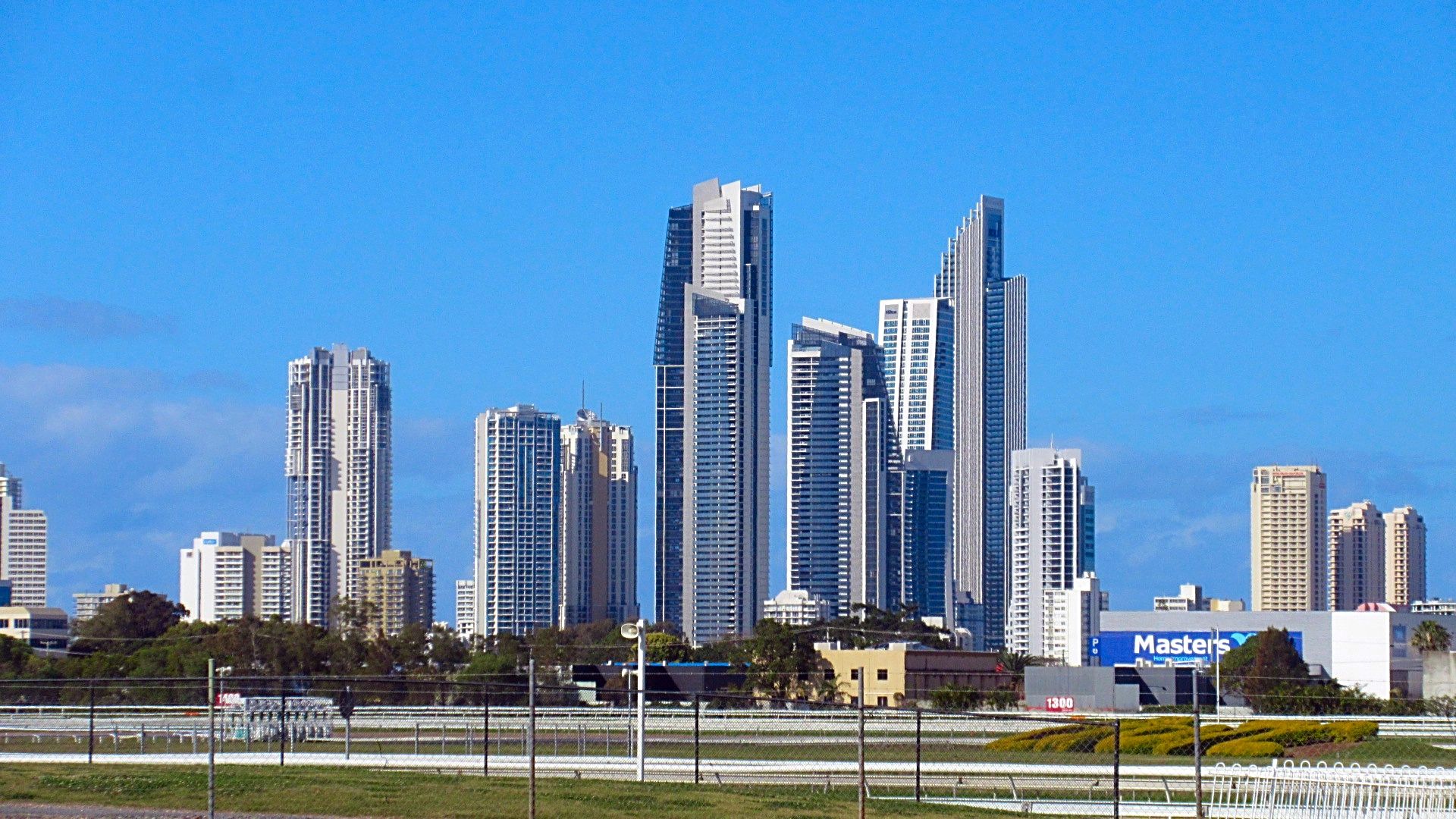 Close to Tony's home in Sorrento is the Gold Coast race track, here is the view of downtown Surfers Paradise.
Two things I miss living in Thailand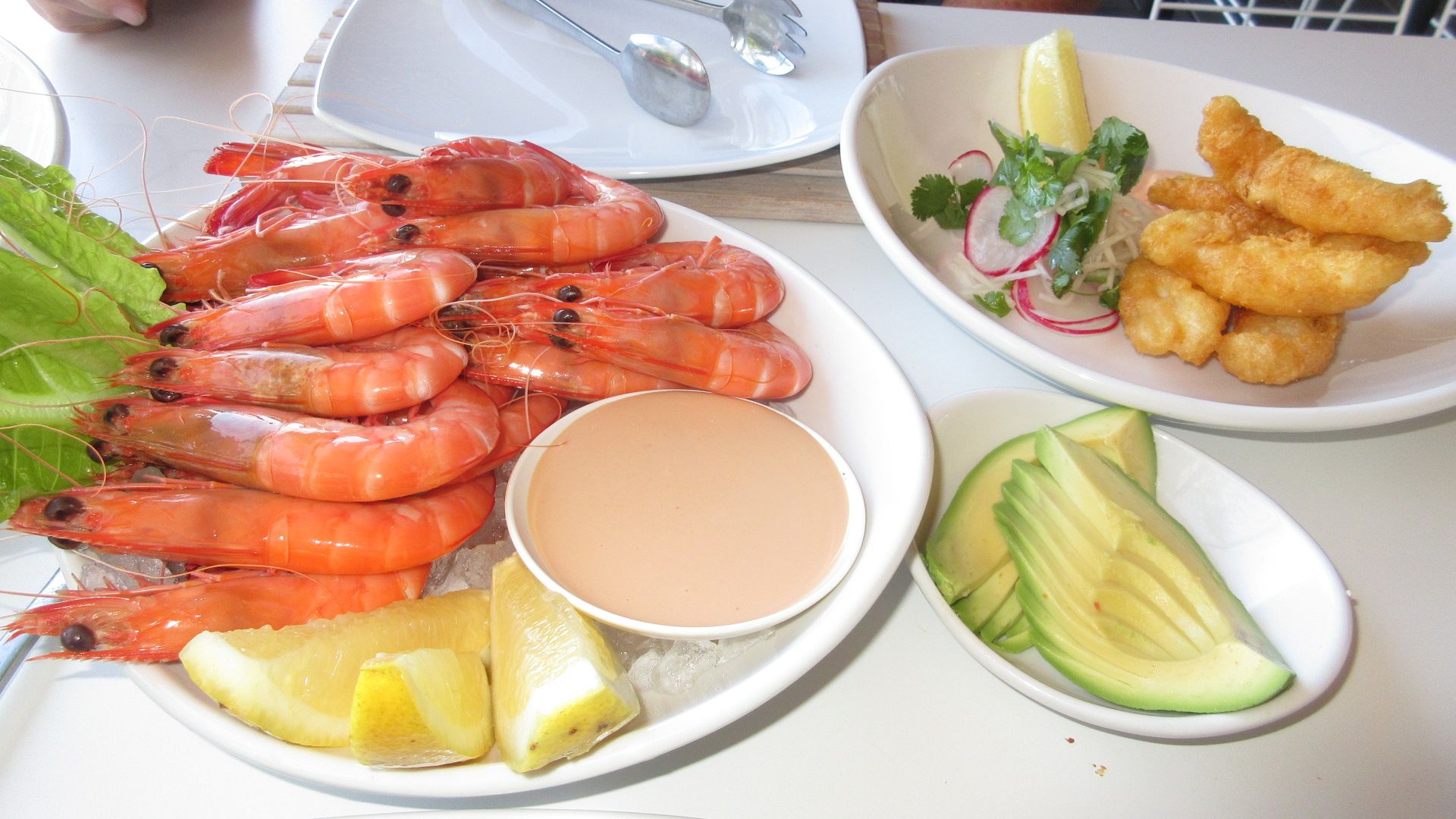 Fresh ocean prawns and avocado at Isle of Capri is a perfect meal for me. Sure you can get both items in Thailand but certainly not is the same class as Queensland.
Other things I miss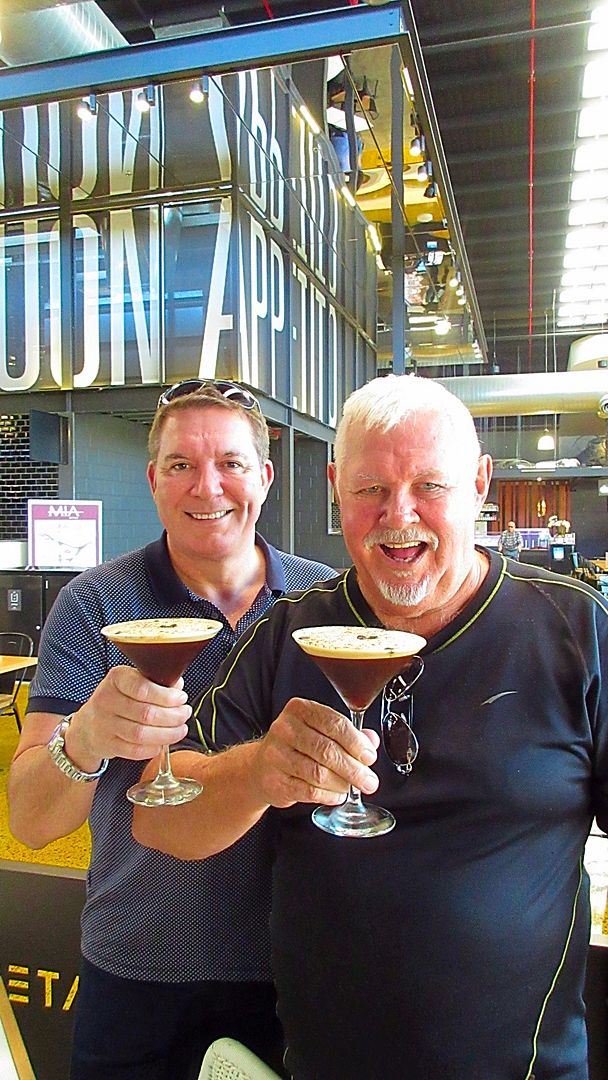 A few good friends who can't be replaced or forgotten. In fact catching up with them was my main reason for this trip. Above is my great mate Ross Kennedy leading me astray once again.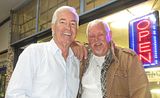 On the left is Bryan Dart, in the middle Phil Thomson & Greg "Noodles" Craig on the right.
Surfers Paradise sentimental journey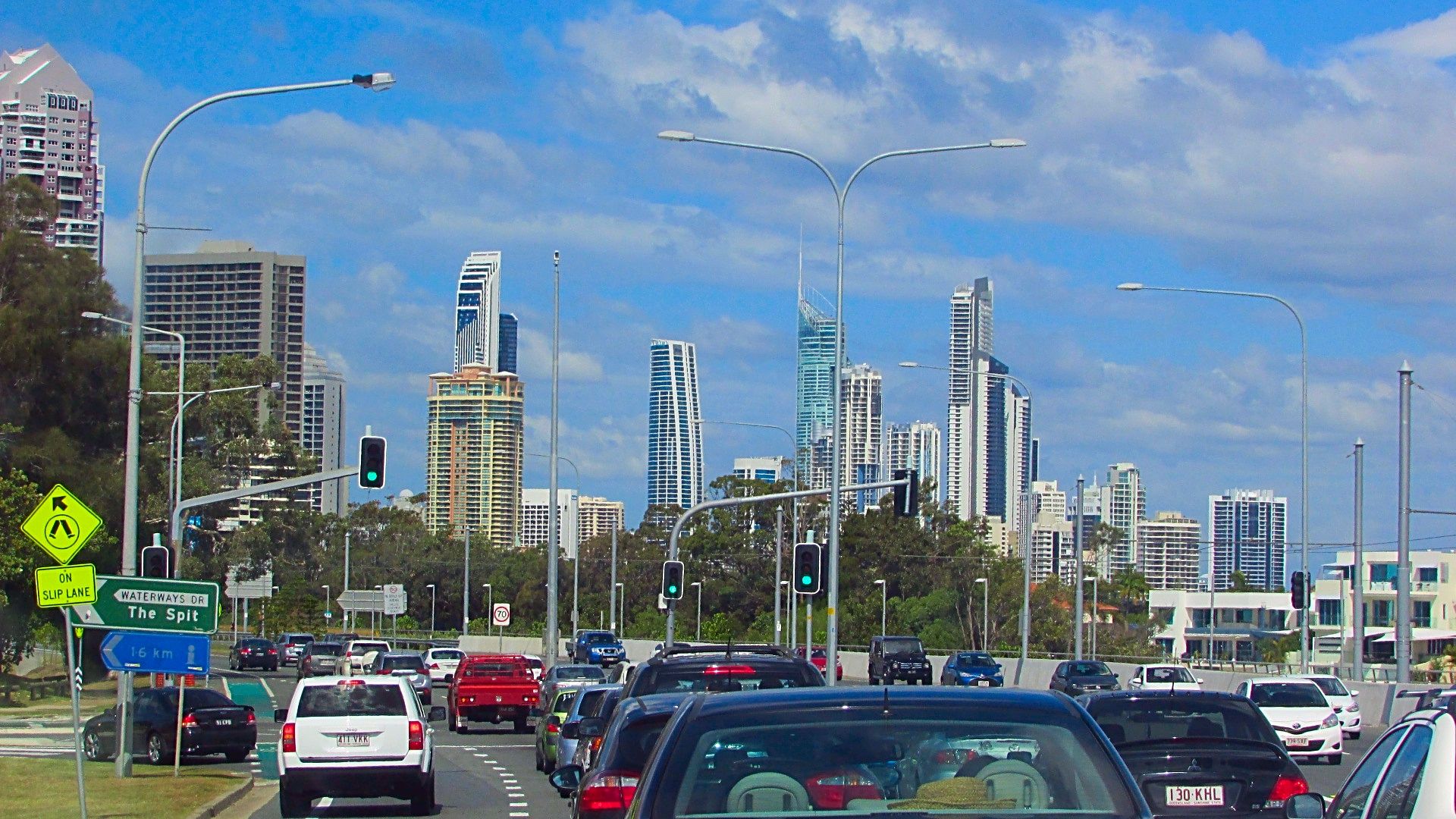 Just crossed the Southport bridge and about to turn left to buy some fresh prawns from the trawlers.
For a discounted rate at the Q1 hotel or any others just book through THIS LINK.
The trawlers at the spit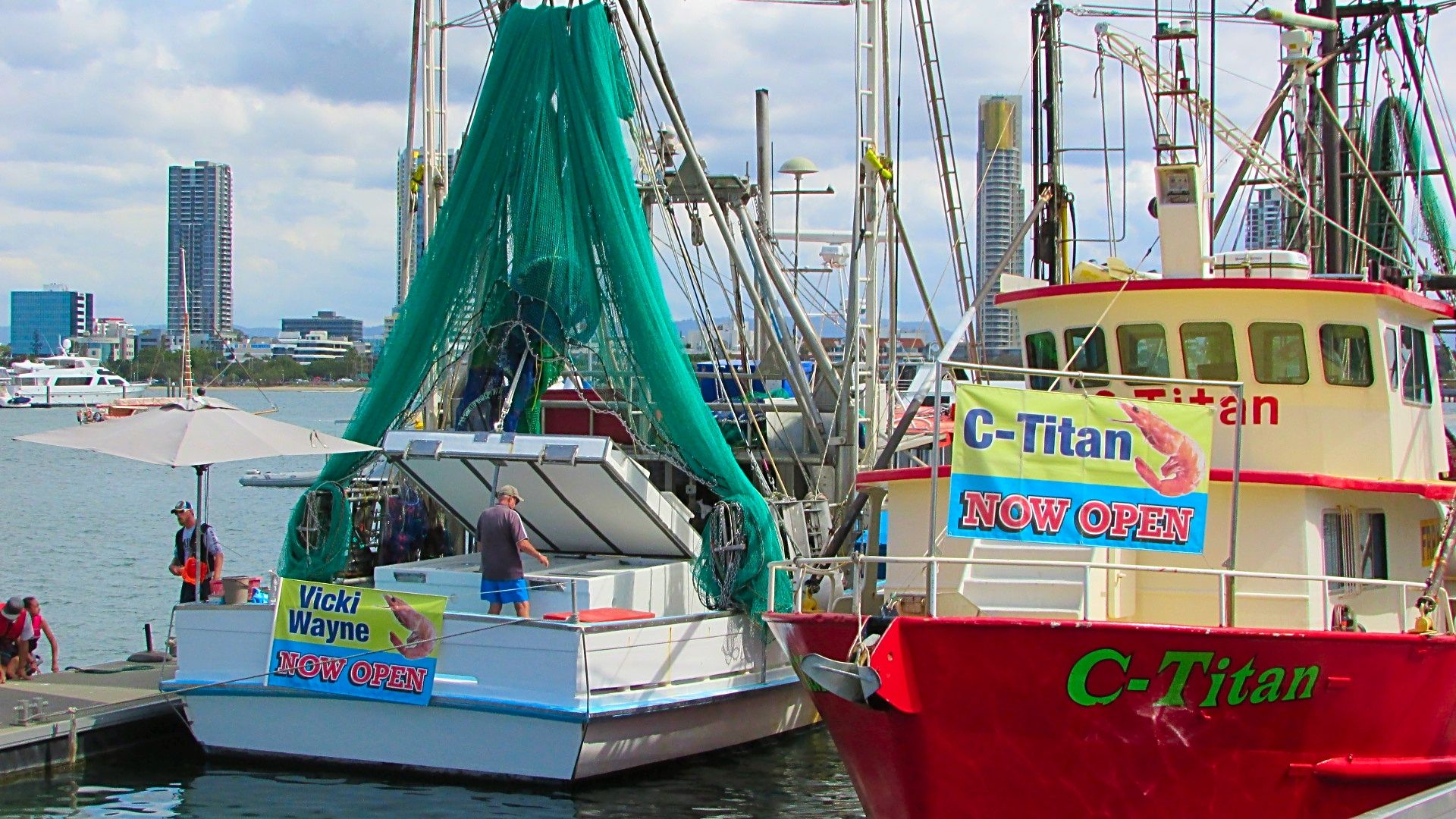 In my opinion they offer the best, freshest, tastiest prawns in the world.
World's best prawns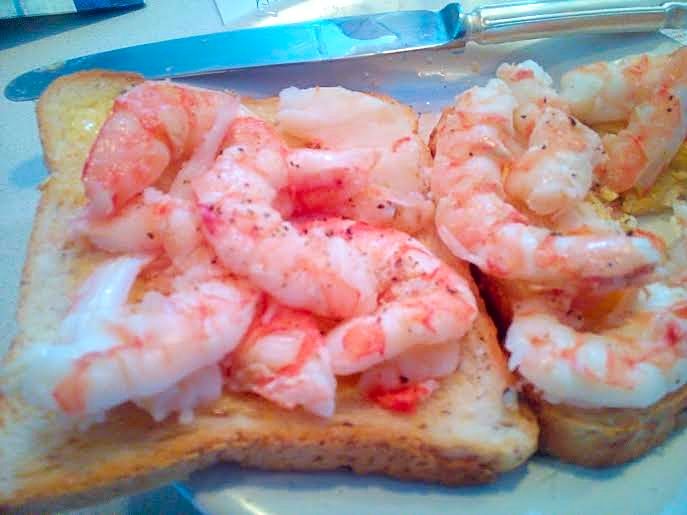 Freshly caught about 25 kms off the Queensland coast.
NZ Lamb shank from Aldi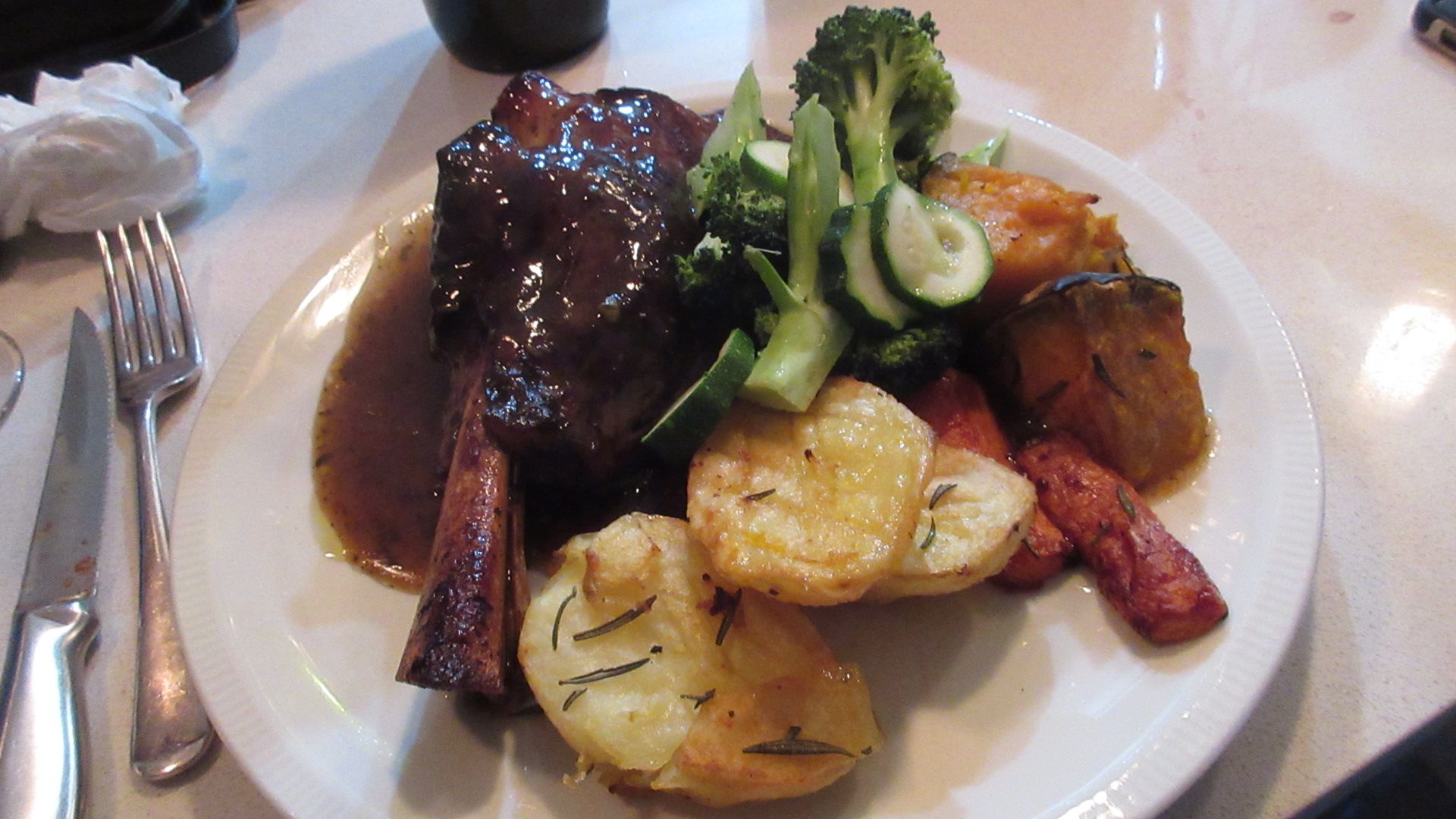 Terrific Lamb shank from Aldi, these were a regular treat for me when I lived on the gold Coast.
Interesting things in the Murphy's garden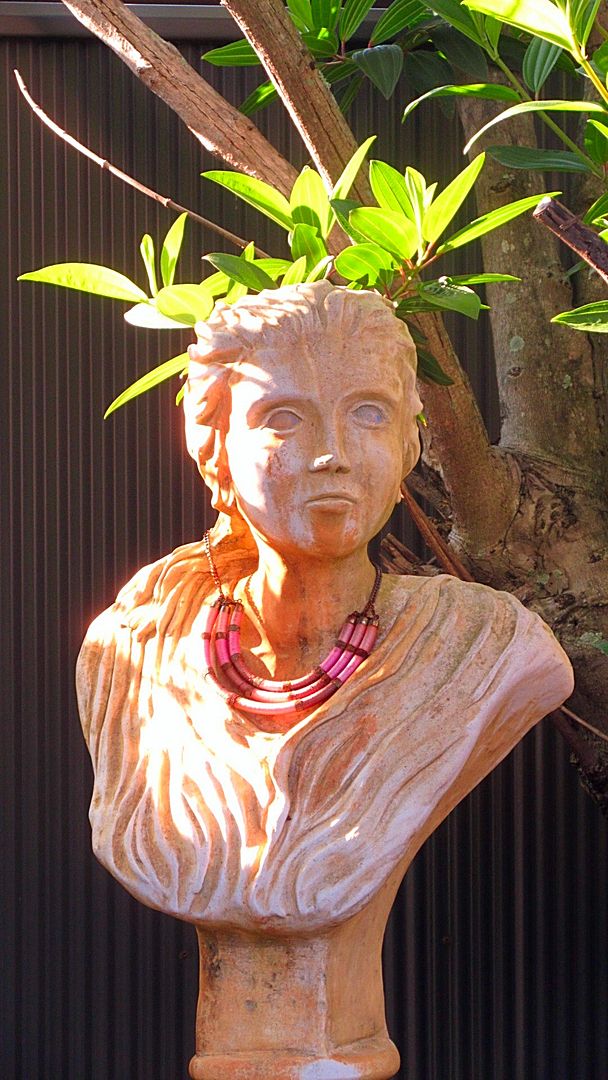 A Roman statue perhaps.
Murphy's huge cock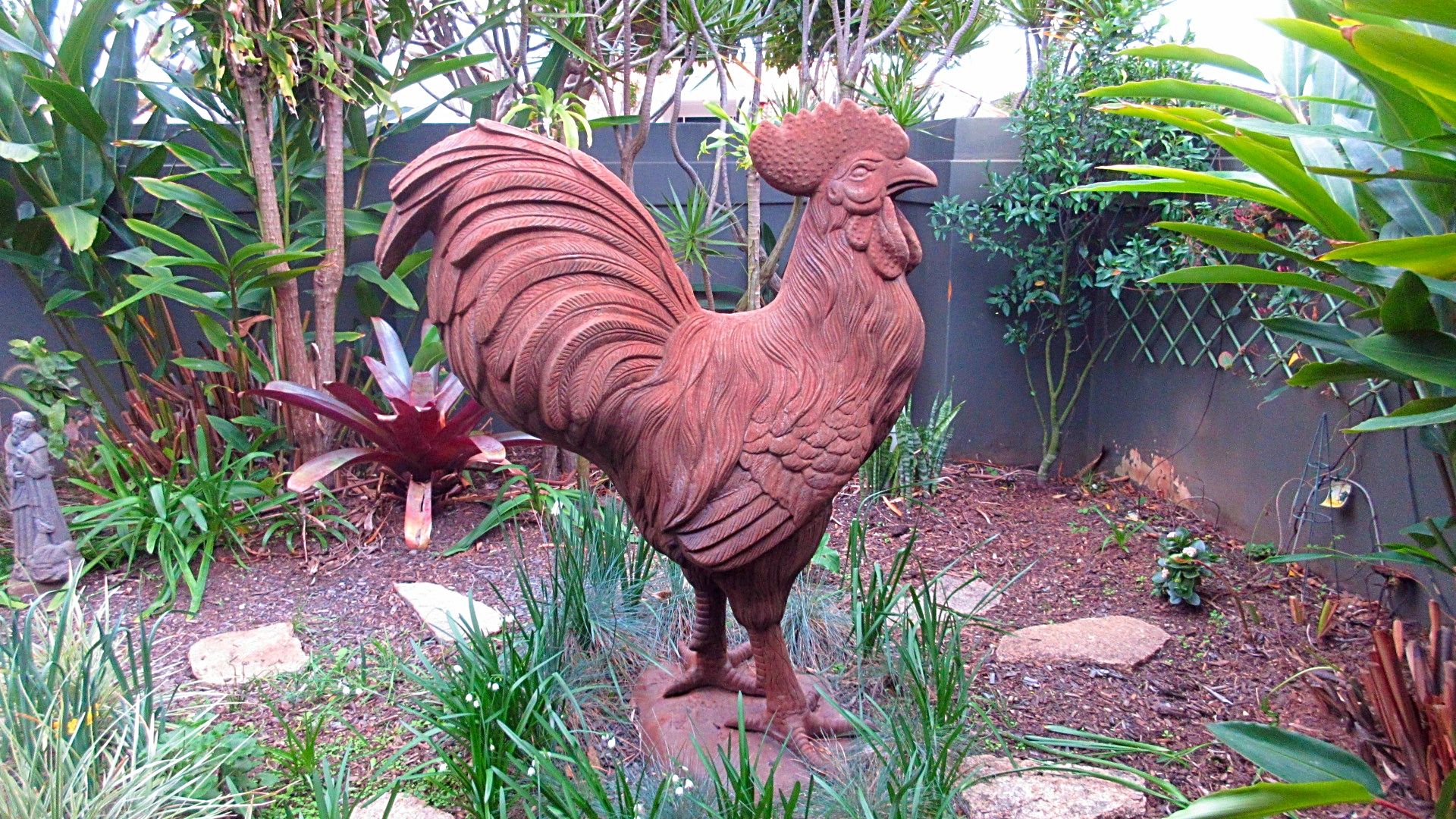 As you can clearly see this is one huge cock. 🙂
Murphy's TV room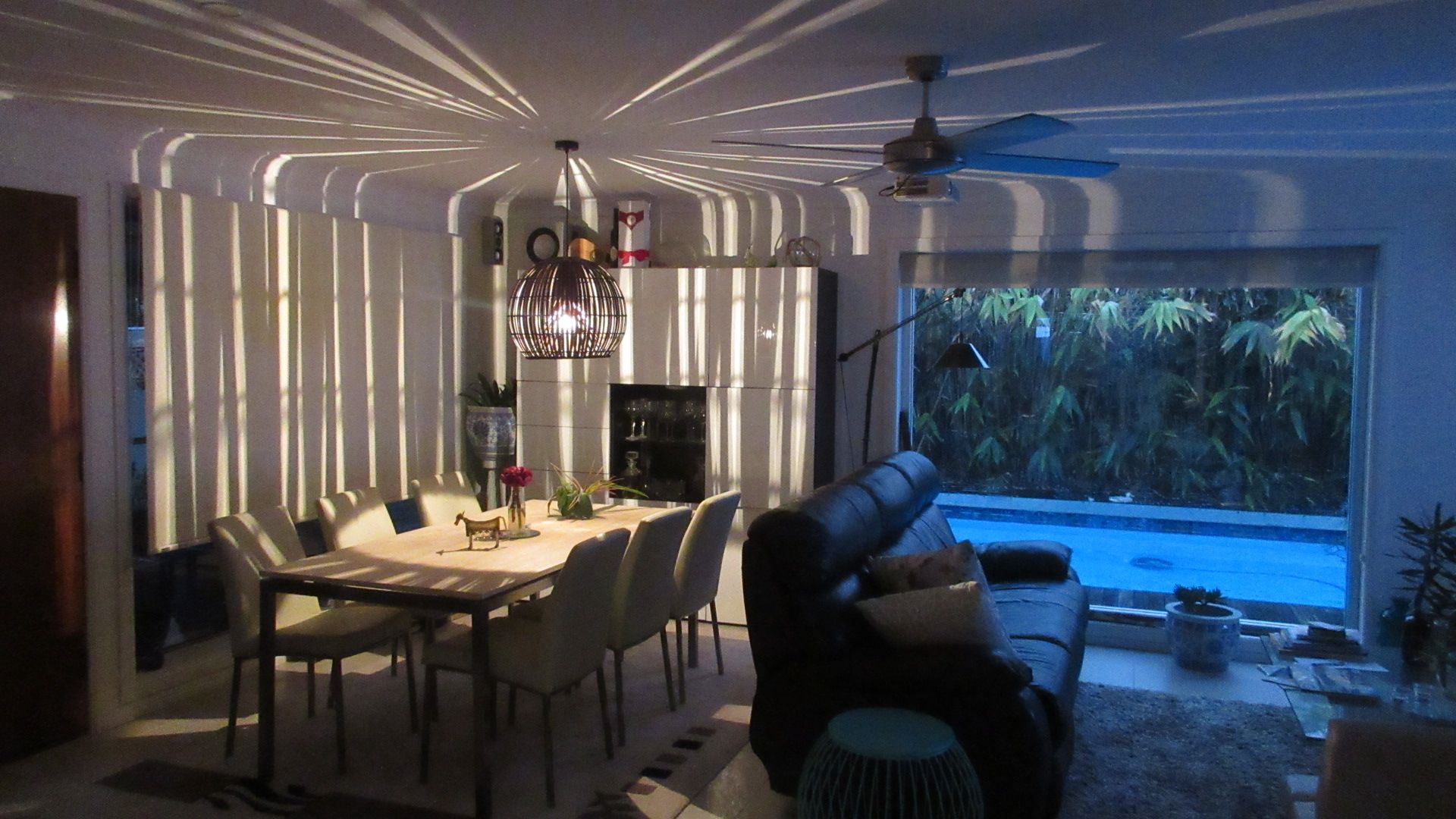 An interesting room at sunset.
Donna Turner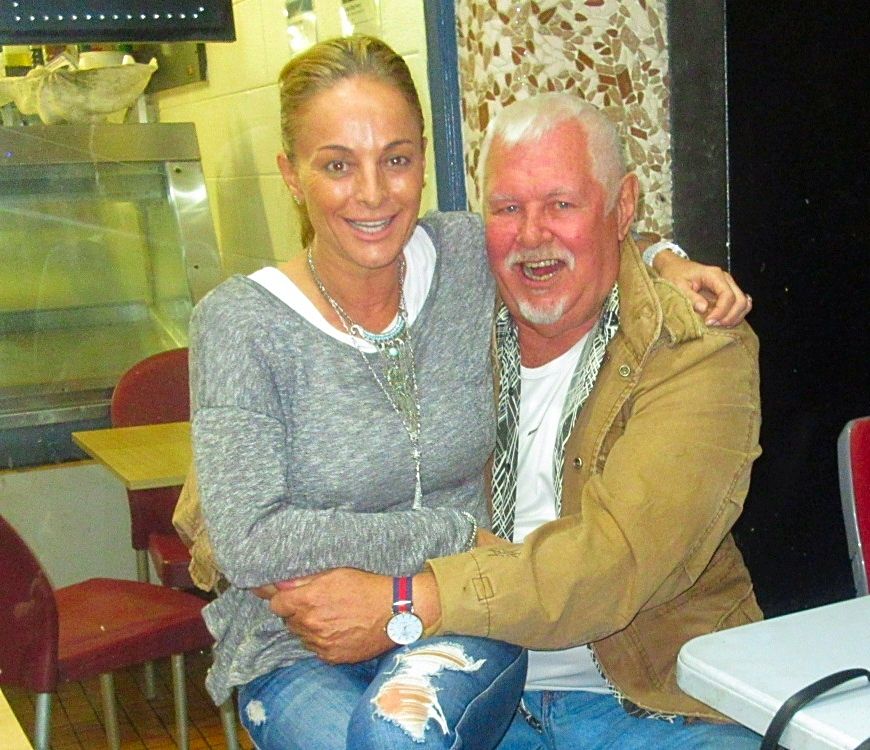 Caught up with an old friend Donna Turner on Chevron Island.
Thanks for visiting my Surfers Paradise sentimental journey photo blog.
Checkout some more of my terrific blogs on the links below.
Menton Pattaya Storms Shibuya Tokyo
Hong Kong Florianopolos Dubrovnik
Great hotel room rates anywhere in the world if you book
through these links below.
That's all folks
This gallery contains 1 photo.