July 25, 2013 by David Herd
The magic of Uluru
Australian Outback Japanese students
Australian Outback Japanese students road trip started in Surfers Paradise & went through Broken Hill NSW to Coober Pedy in South Australia. The next leg took us to Uluru aka Ayers Rock.
Turn left for Uluru
Still a long way to go.
Yukako, Megumi & Noriko
My Japanese student friends were wonderful travel partners, it was so funny to see them happily clapping their hands on seeing the kangaroo warning sign, so you can imagine their joy when they actually saw the first live jumping kangaroo from the window of our car. After that sighting we saw wild camels, tall emus and Outback Brumbies which are Australia's wild horses.
Camel rides
Thousands of feral camels, mostly dromedaries but also some bactrian camels, were imported into Australia, mainly from India, during the 19th century for transport and construction as part of the colonisation of the central and western parts of Australia. Motorised transport replaced the camels' role in the early 20th century and many were released into the wild. As of 2009 the feral population numbered about one million, with a doubling time of about nine years. These camels are being culled because they are degrading the environment and threatening native species.
Magnificent Ayers Rock, also known as Uluru.
Absolutely breathtaking.
How big is it?
This huge monolith in the Australian outback is a large sandstone rock formation in the southern part of the the Northern Territory in central Australia. It lies 335 km (208 mi) south west of the nearest large town, Alice Springs. Uluru is the Aboriginal name for Ayers Rock, it is listed as a UNESCO World Heritage Site. The sandstone formation stands 348 m (1,142 ft) high, rising 863 m (2,831 ft) above sea level, with most of its bulk lying underground, and has a total circumference of 9.4 km (5.8 mi).
Climbing Ayers Rock.
I relaxed & watched while the girls climbed the rock.
It's a long way to the top
Uluru has been climbed by tourists for much of the 20th century. In the early 1960s, a safety chain was installed to accommodate the growing number of visitors. Despite this chain, more than 30 people have lost their lives climbing "the Rock". Many more have been injured. Still, about one-third of visitors choose to climb.
The end of the mighty rock
When you are close you are really overwhelmed by the sheer size of this monster rock.
Australian Outback Japanese students
Totally different to the amazing glow at sunset.
Please click on Google + to help my page ranking.
It can get lonely in the Australian Outback.
There is a lot of empty space out here.
Thanks for visiting my Australian Outback Japanese students photo blog.
For a great hotel deal at Uluru and all over the world just book through link.
Here are some more posts to check out
Great hotel room rates anywhere in the world if you
book through these links below. Book now & pay later.
Plus free cancellation .
That's all folks
An incredible Australian Outback road trip
of 7,300 kilometers.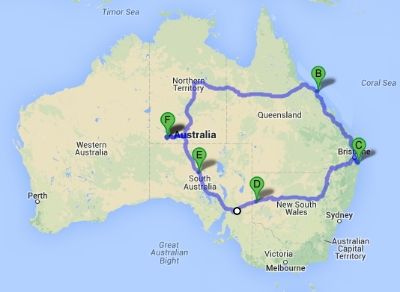 50 Reasons Why Australians Are The Luckiest People On Earth


Click here for some great shots of Sydney Harbour.
This gallery contains 2 photos