September 19, 2013 by David Herd
Songkran April madness.
Songkran madness Pattaya Thailand, the festival is celebrated in Thailand as the traditional New Year's Day from 13 to 15 April. It coincides with the New Year of many calendars of South and Southeast Asia. Songkran has traditionally been celebrated as the New Year for many centuries, and is believed to have been adapted from an Indian festival. It is now observed nationwide, even in the far south. However, the most famous Songkran celebrations are still in the northern city of Chiang Mai, where it continues for six days and even longer. It has also become a party for foreigners and an additional reason for many to visit Thailand for immersion in another culture.
Songkran bazooka.

Songkran is scheduled to last 2 days which would be entertaining, however in Pattaya and some other areas the madness goes on for 8 or 9 days. For us locals that is 5 days too long, so we either stay indoors most of the time or take a holiday away from Thailand. Otherwise every time you step out your door you get soaked.


Are you feeling lucky punk?

I really love the the "don't mess with me" look this guy has on his face. 👿
Dressed for the fight.

Songkran is so much fun for everybody young and old. Often however there is ice in the water which can kind of sting when it hits you.
Songkran madness Pattaya

This is at 2nd road at the top of Soi 6, that bar in the background has since closed.
Resting before the battle.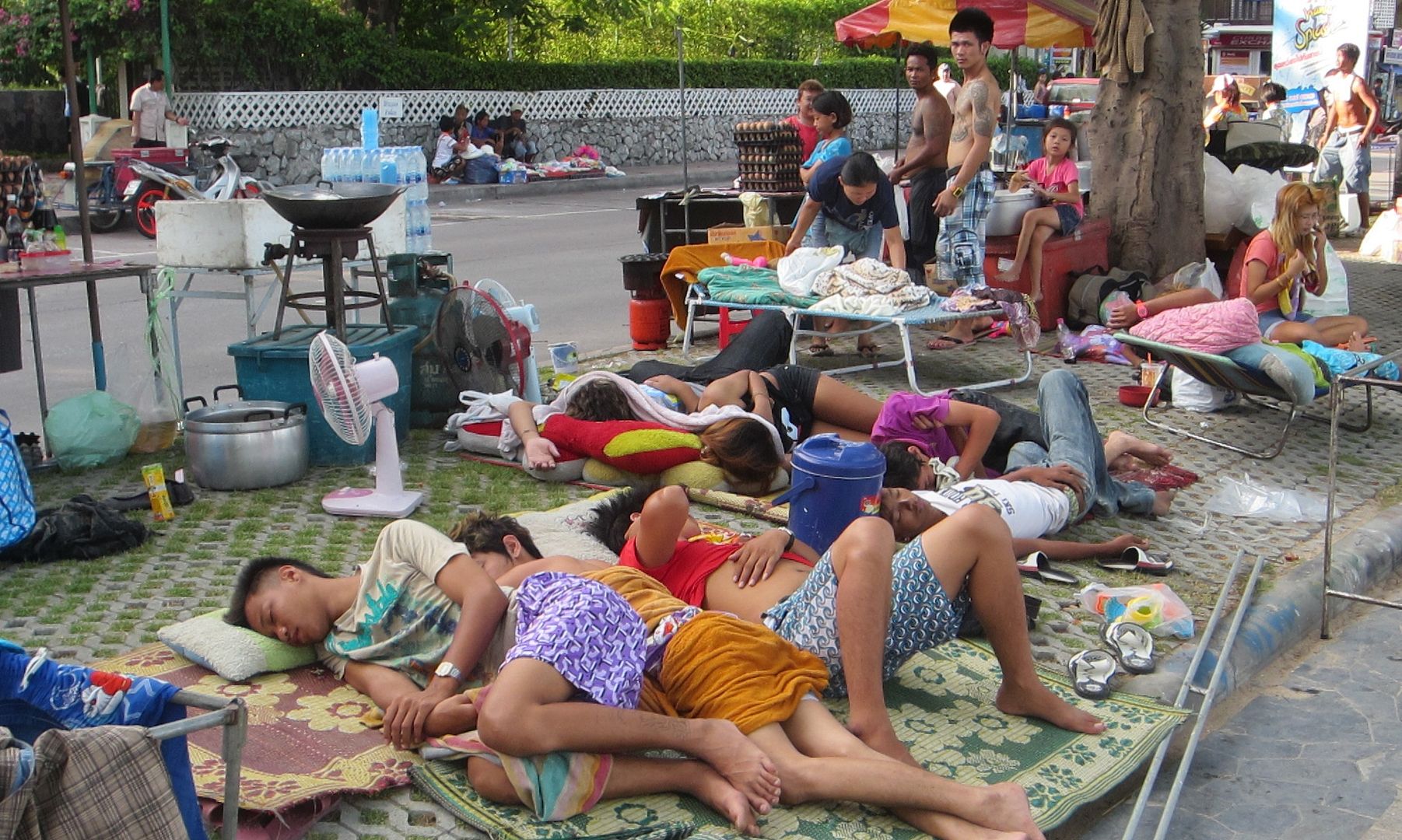 Troops must always try to rest before the battle begins, any footpath will do. Sadly there will be casualties. 😆
On the hunt in Beach Road.

No one is safe, lucky April the the hottest month of the year in Thailand, the best thing you can do is wear some old clothes and prepared to be soaked.


My friends join in the fun.

Here are my friends Justine, Nui & Macca joining in the fun.
Please click on Google + to help my page ranking.


The kids reload.

As you can imagine the kids think it is the greatest time of the year. Here they are reloading their guns.
You can run but you can't hide.

Nowhere are you safe from being soaked, as you can see the main form of transport in Pattaya are the Baht buses, and they have open sides and become prime targets for the predators.
Thai people love Songkran.

For Thai people it is such a happy joyfull time of the year, I feel rather guilty for not being a great supporter, well that's not entirely true, I would love Songkran if it only lasted for 2 or 3 days.
Bacardi Breezer promotion.

Here we have the ultimate wet teeshirt celebration. The Bacardi Breezer promotion always has lots of gorgeous girls getting soaked.
Beautiful Thai girls having fun.

Move baby move, get in the grove now.
Shake it baby shake it!
Well I know I am repeating myself but Thai people really love Songkran, plus thousands of travellers from all parts of the world come here to join the fun, why don't you?
The fun police are here.

Here are the cops making sure nobody goes overboard, I have never seen these uniforms before, I think they are military police from the navel base. If you want to communicate with them I suggest you learn some Thai.
Sabai Wing Soi 1, 3 swimming pools and nice rooms, 100 meters from BigC, great value at only $23 usd per night as of August 15. I live in the high-rise in the background, Markland. For a great room rate book here.
Thanks for visiting my Songkran madness Pattaya post, I'm looking forward to Songkran 2017.
Thanks for visiting my Songkran madness Pattaya Thailand photo blog, check out the road carnage that sadly goes hand in hand with this celebration, just follow THIS LINK.



Checkout some more of my terrific blogs on the links below.
Menton Pattaya Storms Shibuya Tokyo
Hong Kong Florianopolos Dubrovnik
Great hotel room rates anywhere in the world if you book
through these links below. Book now & pay later.
Plus free cancellation .?
That's all folks
Click on the photo to check out the Babushka post.
Great golf courses near Pattaya
This gallery contains 1 photo.