July 16, 2015 by David Herd
Dolphin roundabout Naklua Rd
North Pattaya restaurants
North Pattaya restaurants I'm referring to are all in Naklua Rd. Starting at the Dolphin roundabout & up and over the hill until you reach the fish market.
Best Seat restaurant
Best Seat restaurant overlooking Dolphin roundabout opened in 2014 and serves Thai food and very good Australian steaks.
On the opposite side of the road is the upmarket five star Dusit Hotel which has quite a choice of good restaurants. I regularly visit the Peak restaurant for Yum Cha which I believe is the best in Pattaya.
For a great hotel room rate at the Dusit just book through THIS LINK.
Peak restaurant at theDusit Thani
The restaurant his hidden away on the 9th floor, best to take the elevator at the swimming pool end of the hotel.
La Ferme
La Ferme is an interesting restaurant which is Part of the Woodlands hotel in Naklua Rd near the Dolphin roundabout in North Pattaya. Upmarket decor and reasonably priced food, they specialize in Chicken which the name suggests. My favourite is the Honey Glazed Chicken with pepper sauce, only 400 Baht or $15. My only criticism is they overcharge for a glass of house wine, 150 Baht for a half measure. It's a shame they are so mean with the wine because the food prices are good value. You used to be better off buying a bottle of Chile wine for 1100 Baht, but that was 2013, now the cheapest bottle is 1600 Baht and the average price is 2000, pour it yourself because they will try to push you to finish hoping they can sell you another bottle.
164/3 Moo 5 Pattaya-Naklua Road, phone
+66 38 426 825 .
Honey Glazed Chicken at La Ferme.
Best chicken in Pattaya.
Bill Austin & I at La Femme
My friend Bill Austin from Wiltshire.
North Pattaya restaurants La Baguette
Definitely a favourite spot, the best ham croissants in Pattaya. This ajoins La Femme and in part of Woodlands as well.
La Baguette
I am here three times each week, ham croissant & coffee for around $5.50. Their Latte is quite disappointing, no where near as nice as Coffee World or Starbucks, plus they have just replaced their cups with a smaller size yet still charge 110 Baht for it.
Siamese Cuisine
Hamish Elton at Siamese Cuisine. Straight across the road from La Baguette is this delightful new restaurant which opened late 2015. The Lobster Bisque is often on the special board and I think it is the best in Pattaya, or at the very least equal to Mata Hari.
Siamese Cuisine
Excellent Australian steak at reasonable prices. Out of all the North Pattaya restaurants this was my favourite until I discovered Leckerle around the corner in Soi 33.
This night we had excellent Thai food, I guess it helps when a local orders.
Siamese Cuisine
The Thai & western food here is excellent.
Bon Cafe
One of the best vale breakfasts in Pattaya, all this including a very good latte for only 145 Baht or $6 aud.
North Pattaya restaurants Bon Cafe Naklua Rd
They also sell a large range of coffee machines if you want to enjoy a better coffee at home.
Mai Thai restaurant
Right opposite Bon Cafe is this very popular upmarket Thai restaurant.
Excellent deco at Mai Thai
TripAdvisor rate it #13 of 903 Restaurants in Pattaya.
Mai Thai food is excellent.
Always busy so book before you go, +66 38 412 164.
A great variety of fresh fish at the Naklua rd fish market, choose live fish and have them cleaned while you wait.
A great place to buy seafood.
A 10 minute Baht bus ride from Dolphin roundabout.
Thanks for visiting folks.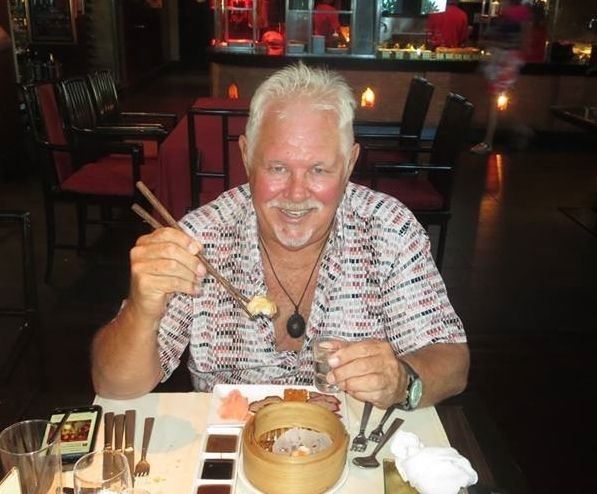 Hope you enjoyed my North Pattaya restaurants photo blog, check out more of my posts below if you have time.

Fabulous views, excellent restaurants & a very good room rate if you book through THIS LINK.
The building in the middle is the Holiday Inn, on the left is the Amari Hotel which is another very good five star hotel. Use THIS LINK to book for a very good room rate.
The best Pattaya budget hotel, 3 pools & opposite Central Marina shopping mall. For a great room rate just book through THIS LINK.
This is the view from Horizons the amazing rooftop bar. A great five star hotel located opposte the beach & above the Central Festival shopping mall. Just book through THIS LINK for an excellent room rate.
Please check out these fabulous posts
Great hotel room rates anywhere in the world if you book
through these links below. Book now & pay later.
Free Cancellation.
This gallery contains 1 photo.