September 3, 2015 by David Herd
Mean machine
Pattaya interesting transport options
Pattaya interesting transport options are many and varied, here are some of the many alternatives (fast & slow) available to you when you next visit this exciting city. I'm guessing the beast above is a DUCATI MONSTER 821, my apologies if I have it wrong.
The other side of the Ducati Diavel
Two models will be available when the new 2015 Diavels arrive in May. The standard Diavel—if there is such a thing as a standard Diavel—is the Dark Stealth model, which retails for $17,995 and features a black body, a black trellis frame, black wheels, and black mufflers. Then there's the $20,995 Diavel Carbon, which is outfitted with unpainted stainless-steel silencers and black Marchesini wheels that are machined just enough to reveal that they are made from forged, lightweight aluminium. Buyers have a choice of two Diavel Carbon colors: Ducati Red with Matte Carbon and a red frame, or Star White with Matte Carbon and a white frame.
I notice the 2015 Goldwing comes with an airbag and weighs 933 pounds, how would you ever pick it up if you had to?
Beautiful Harley Davidson
They certainly are a classic machine.
This is more my style
Sadly I feel Pattaya is too dangerous to ride a motorbike, it's not a question of if you may have an accidents, it's when you will have an accident.
Now for something completely different
This old clunker must be at least 40 or 50 years old and still floating. 🙂
675 HP perhaps
Three huge outboard motors is total overkill for this 30 foot plywood boat.
Upgraded to 750 Horsepower
Grossly overpowered, they are obviously making too much money.
Something with a little more character
Now this would suit me foe a day on the water. 🙂
I wonder if its for sale?
May need a little work. 🙂
Prefer something little more refined perhaps?
A very nice looking catamaran.
How about a Maverick?
What a wild looking road rocket.
Or a yellow one perhaps?
Yellow or green, either one will do.
This is a very cool jigger
These previous 3 vehicles were on display at Central Festival in August 2015.
Pattaya transport options
This has got to be the most fantastic bus I have ever seen.
What a great bus
It certainly is an eye catcher.
Great paint job
Another fantastic paint job.
The iconic Baht bus
Pattaya's fantastic bus system, there are hundreds of them, 10 Baht or 70 cents and just ring the bell to jump off anywhere you want.
Pattaya interesting transport options you must have fat tyres
Not sure what the advantage is but it looks good.
Yellow Ferrari 458 Italia
If you are going to visit the Hard Rock cafe you really need a Ferrari. 🙂
I prefer the Orange Lamborghini Gallardo SV
However for lunch at the mantra an Orange one is far more suitable.
My reality
This is my popular choice of propulsion in Pattaya, Skechers are the best walking shoes I have ever had. 🙂
Jet Ski scammers
Along the Beach Road in Pattaya, often between Soi 10 and Soi 13/4 (entrance to Walking Street), Thai Jet Ski touts will approach the tourist. Most likely time to witness the scam unfolding would be between 5pm – 5:30pm as it is getting dark. Particularly outside Mike Shopping Mall, Royal Garden Plaza, and Soi 13/2 to Soi 13/4. The tourist is required to sign a contract with the Jet Ski operators before they board the Jet Ski and have their fun. Cost is around 700 baht ($20) for thirty minutes. When the tourist returns to the beach the Thai Jet Ski operator will board the Jet Ski and bring it up on to the beach. Here is where the scam starts, as they (theatrically and dramatically) point out the damage and demand that the tourist pay for it, typically ranging anywhere from 30,000 baht ($950) to 70,000 baht ($2,200), but it can be 100,000 baht ($3,180) and up. Of course this damage (deep scrapes on the underside of the Jet Ski, scratches to the paintwork, or a broken plastic bumper) has been there all the time. Often, if not most times, it is a group of tourists that are scammed. More people, more money.
If they use the version of the scam where the tourist boards the Jet Ski when it is already submerged in the water, thus hiding the damage that is already on the underside, the scammers don't need to cover the damaged areas. The damage is revealed once they bring it on to the shore after the tourist has rented it. More government warnings etc here.
Be careful, you have been warned.
Hi ho, hi ho, its off to work we go.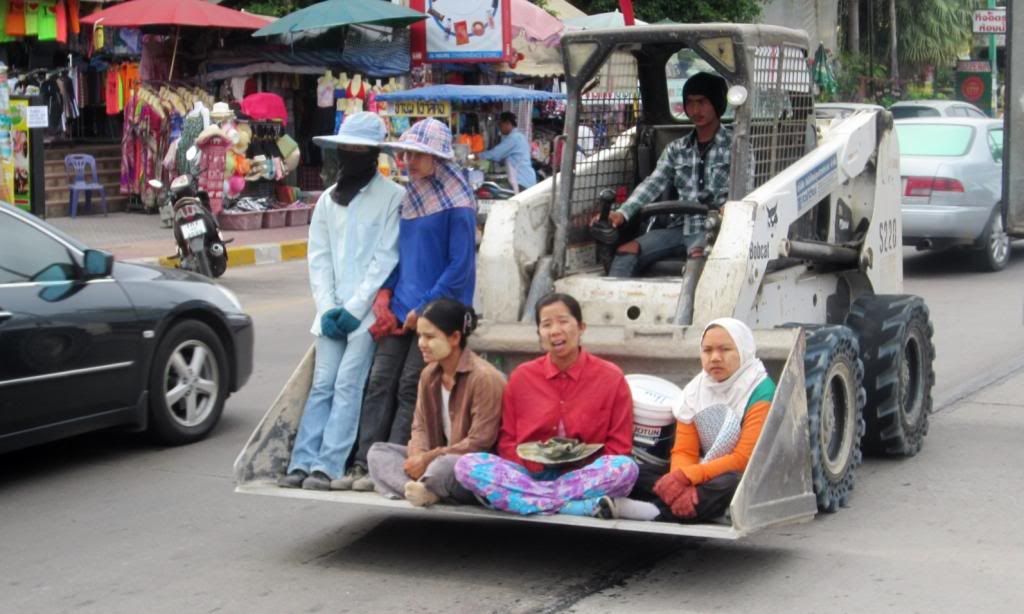 I love this one, it really doesn't matter they are travelling the wrong way in a one way street, after all this is one of the many Pattaya transport options. 🙂
Beach Road boom box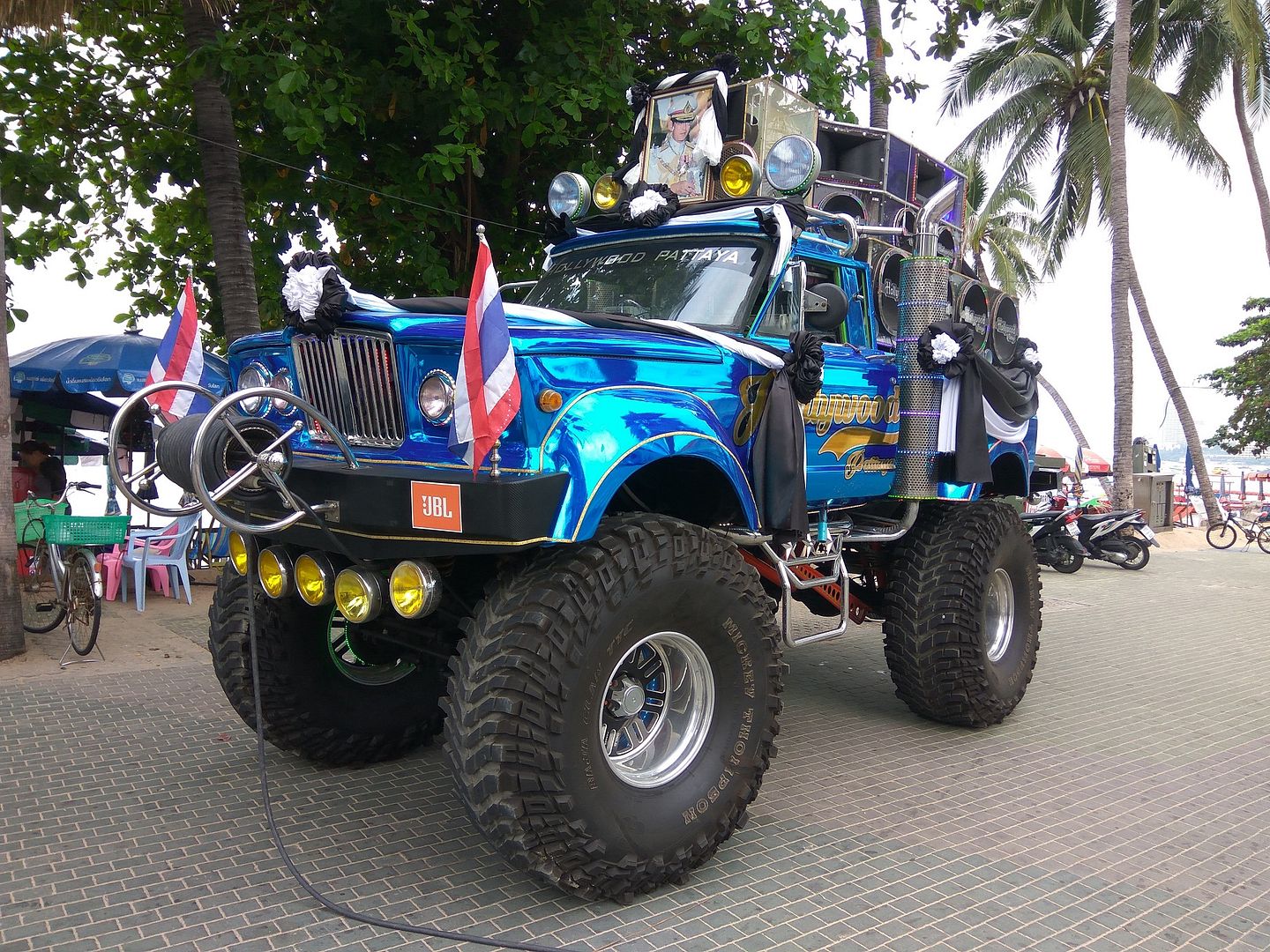 Want to make some noise?
Thanks for visiting my post on Pattaya transport options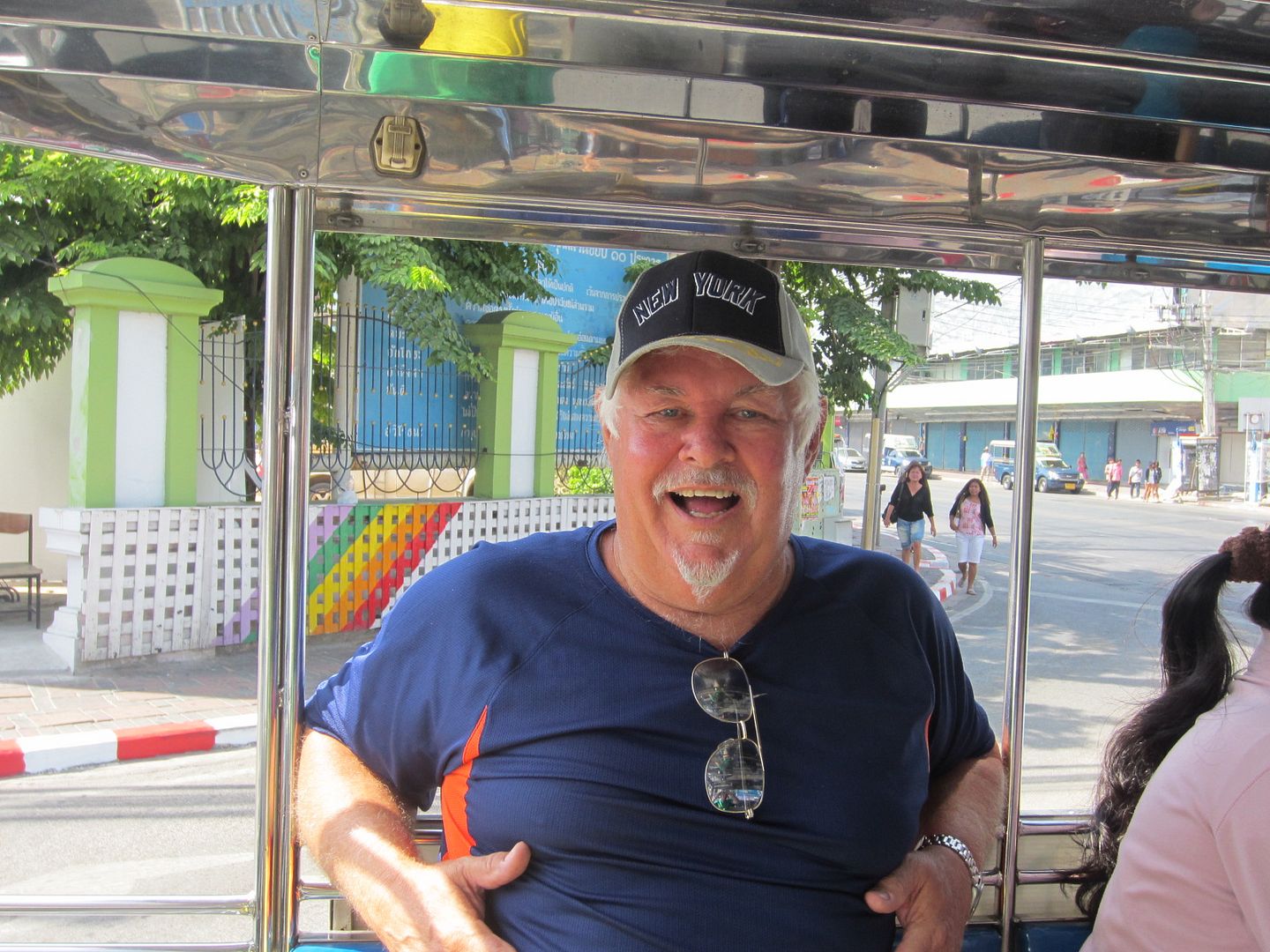 This is my 2nd favourite mode of transport, the Baht bus.
Thanks for visiting my Pattaya interesting transport options photo blog.
Fabulous views, excellent restaurants & a very good room rate if you book through THIS LINK.
The building in the middle is the Holiday Inn, on the left is the Amari Hotel which is another very good five star hotel. Use THIS LINK to book for a very good room rate.
The best Pattaya budget hotel, 3 pools & opposite Central Marina shopping mall. For a great room rate just book through THIS LINK.
Sutus Court is a great budget hotel right i the heart of one of Pattaya's main bar areas, just use THIS LINK for a terrific room rate. 420/100 Moo 9 Soi Buakhao.
This is the view from Horizons the amazing rooftop bar. A great five star hotel located opposte the beach & above the Central Festival shopping mall. Just book through THIS LINK for an excellent room rate.
Please check out these fabulous posts
Great hotel room rates anywhere in the world if you book
through these links below. Book now & pay later.
Free Cancellation.
This gallery contains 1 photo.