December 12, 2016 by David Herd
Bangkok's number 1 attraction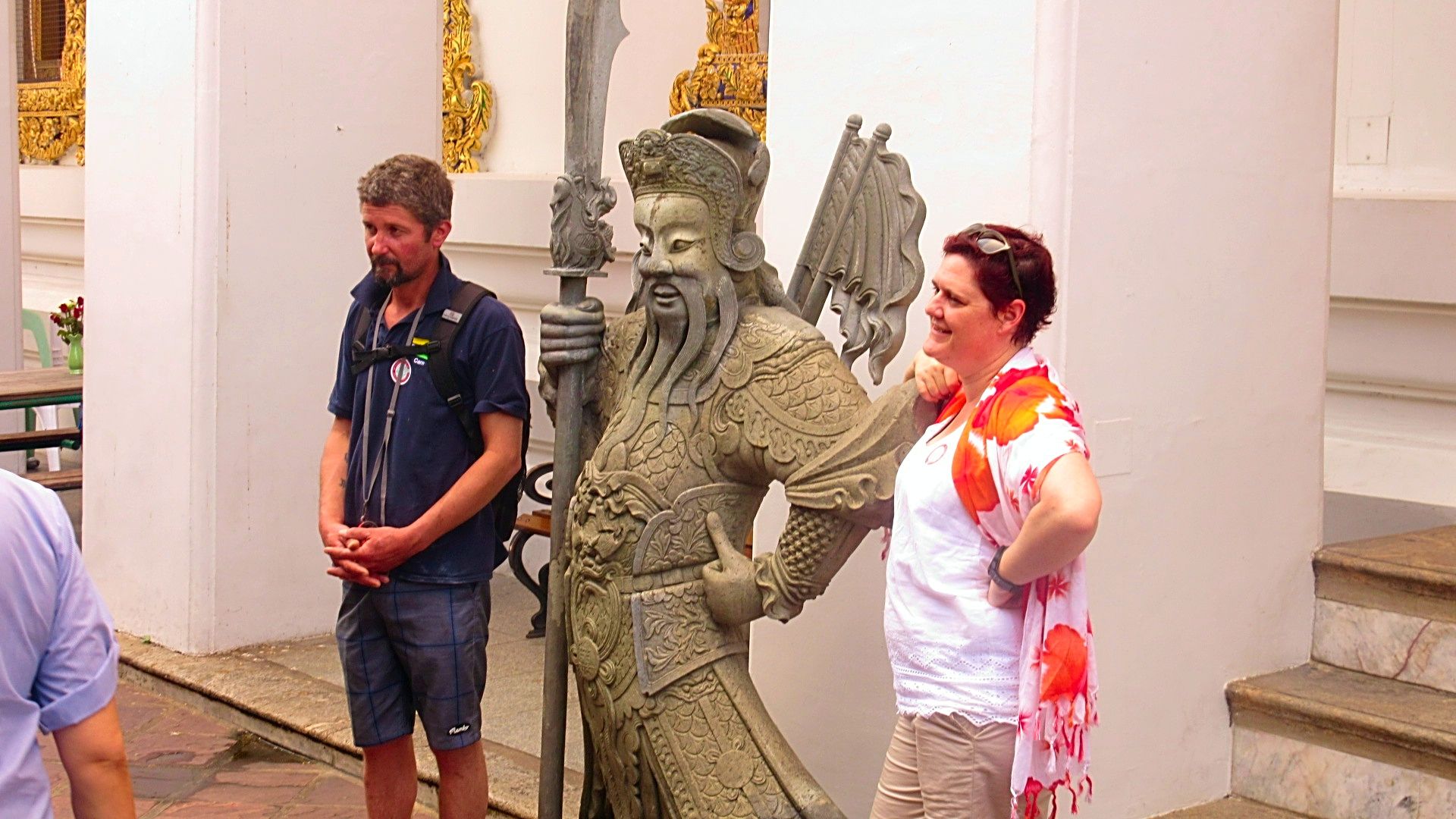 Bangkok Reclining Buddha Wat Pho is rated number 1 out of 517 things to do in Bangkok by TripAdvisor. Not sure how they come to this decision, however it certainly is very impressive, as is The Grand Palace & Wat Arun. Above is a couple of tourists posing with a Thai Guardian Statue.
Chinese stone sculpture
There are many different statues & sculpture at Wat Pho including these imposing Chinese stone sculptures.
Symbolic offereings to Buddha
Candles, lowers & insence are some of the items used to honour Buddha.
Beautiful buildings
The blue sky enhances the beauty of the buildings.
Ashes of the Royal family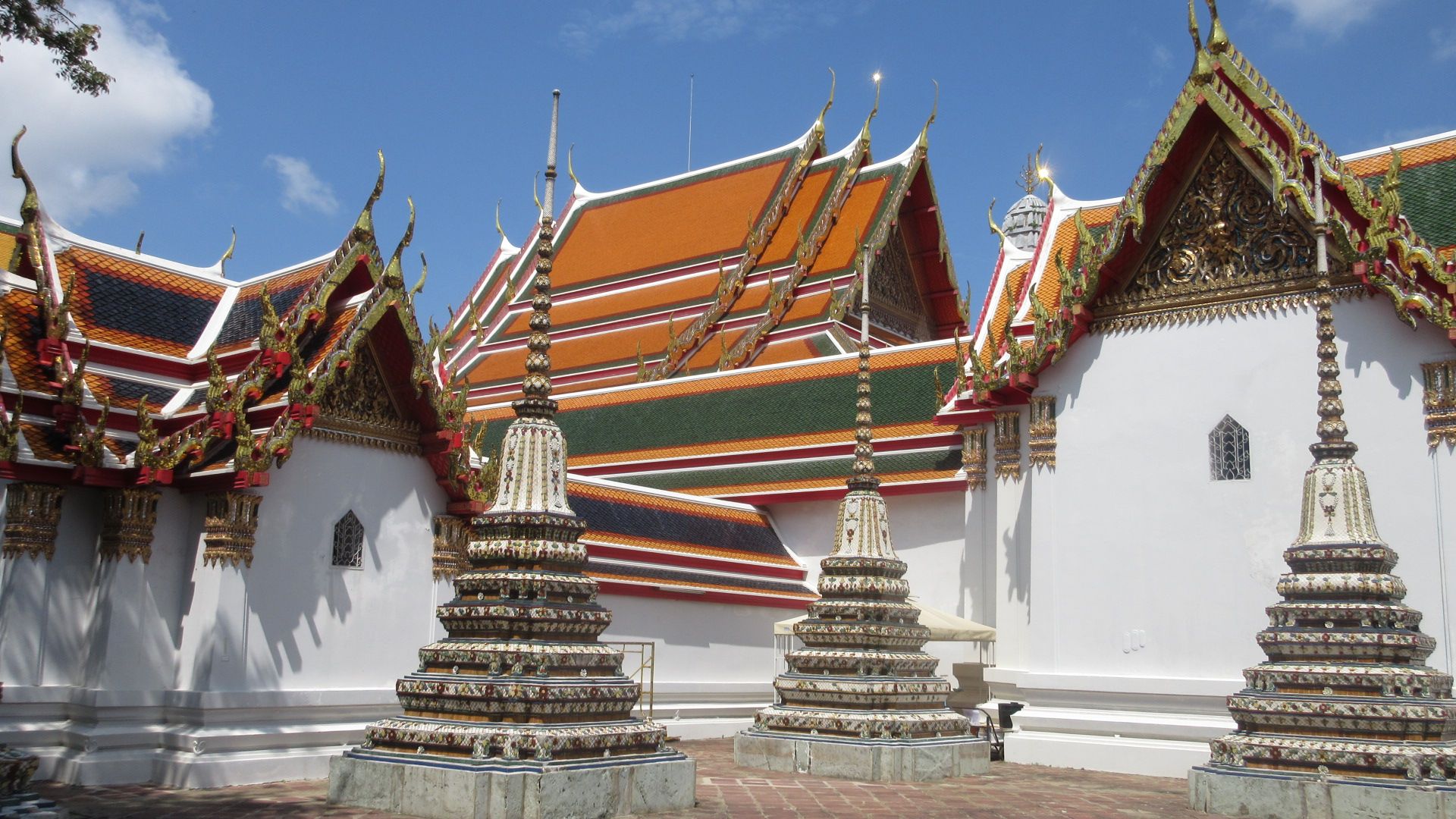 According to Wikipedia many of these structures contain the ashes of the Royal family in years gone by.
Location

As you can see it's an 18 minute taxi ride from MBK or Siam Center, will only cost about B80 in a taxi.
Too many Buddhas is never enough
Wonderful ornate Golden Buddhas.
Open from 8.00 to 17.00
Entrance fee B100 which is far better value than B500 at the Grand Palace.
The wonderful reclining Buddha
At forty six meters long and 15 meters high it is one of the largest Buddha statues in Thailand.
Beautiful from any angle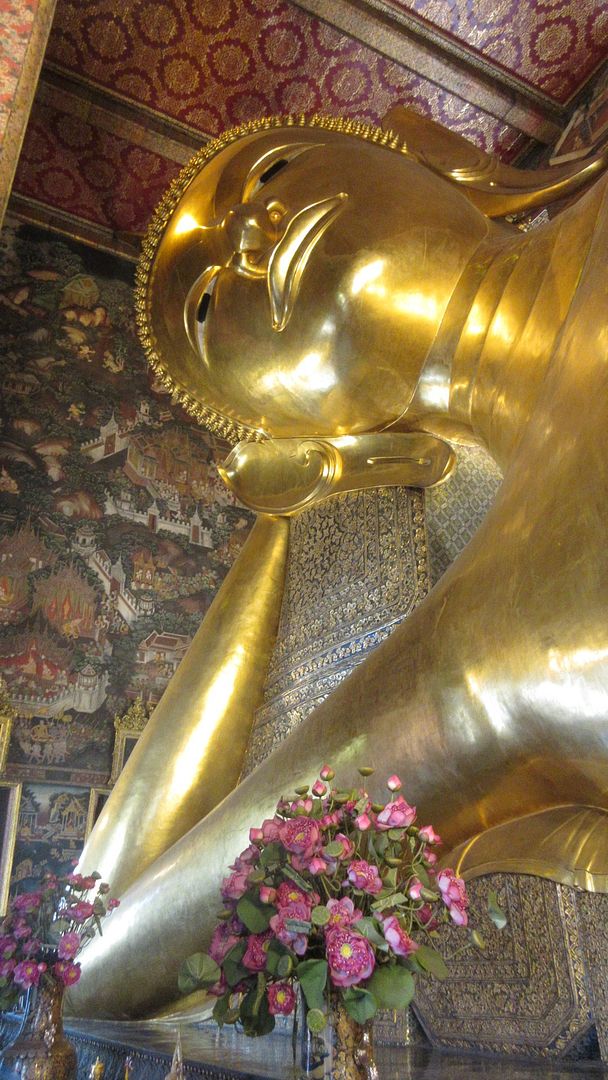 In 2013 I visited the Reclining Buddha in Yangon, it is in fact larger than Wat Pho, 66 meters long & 17 meters high.
Bangkok Reclining Buddha Wat Pho
In my opinion however this one at Wat Pho is the most beautiful.
The Bell Tower
Installed to call the monks to prayer.
Lots of tourists
Is it any wonder with such a beautiful blue sky to enhance our photos. 🙂
Another wonderful statue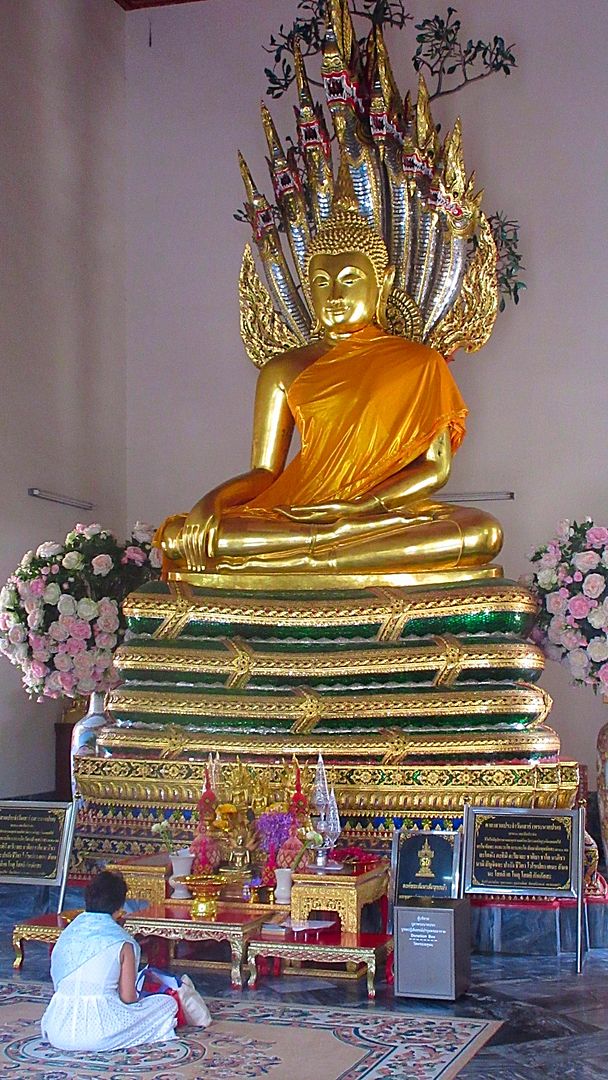 Around every corner awaits another surprise.
Ancient golden statues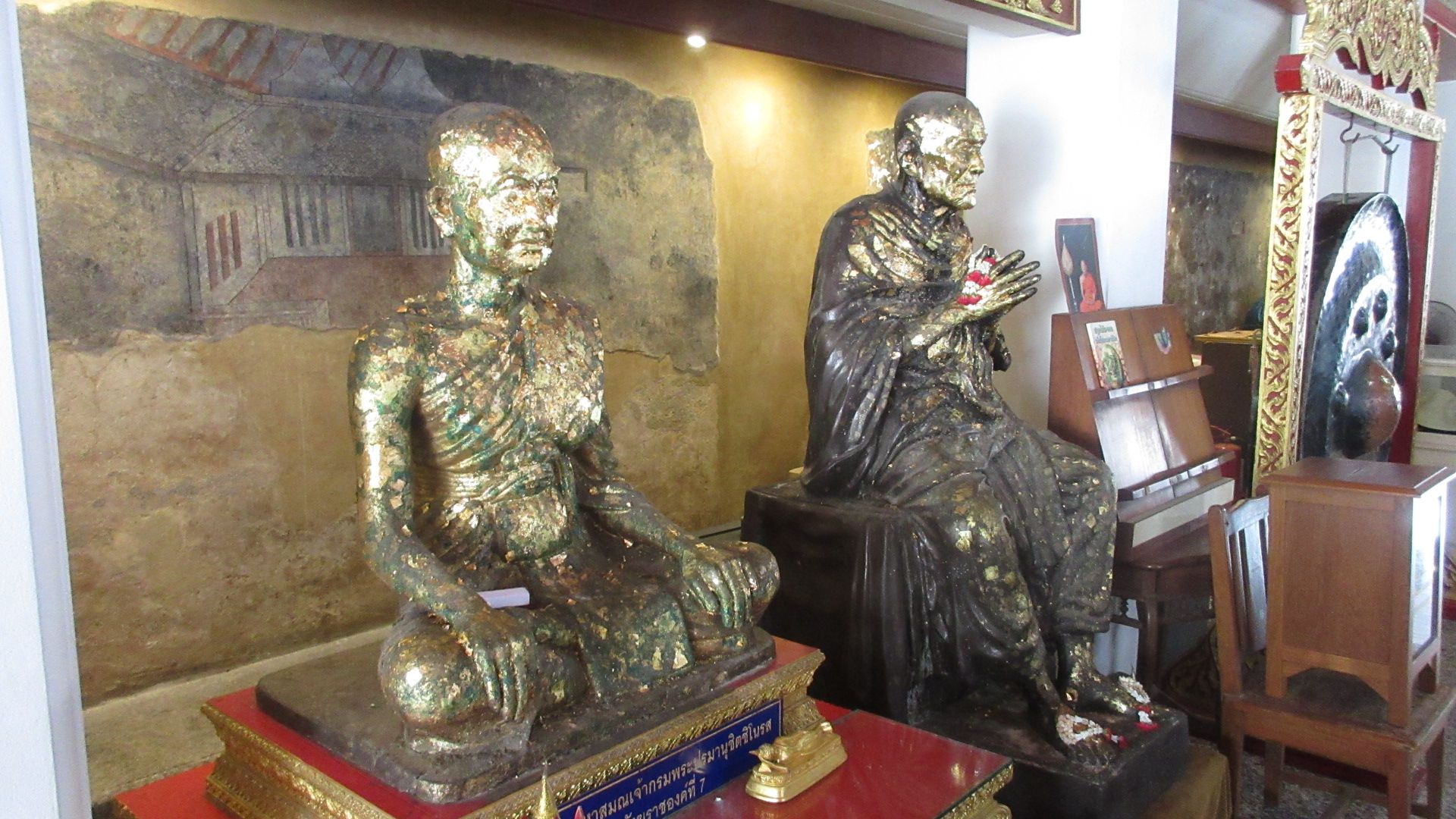 There are multi linguel guides you can hire to explain the meaning of all the statues, paintings & symbols.
More symbols
Here is an INTERESTING LINK to explain some of the statues & paintings etc.
A new coat of paint
I'm guessing the maintanence here never stops.
Farewell from Wat Pho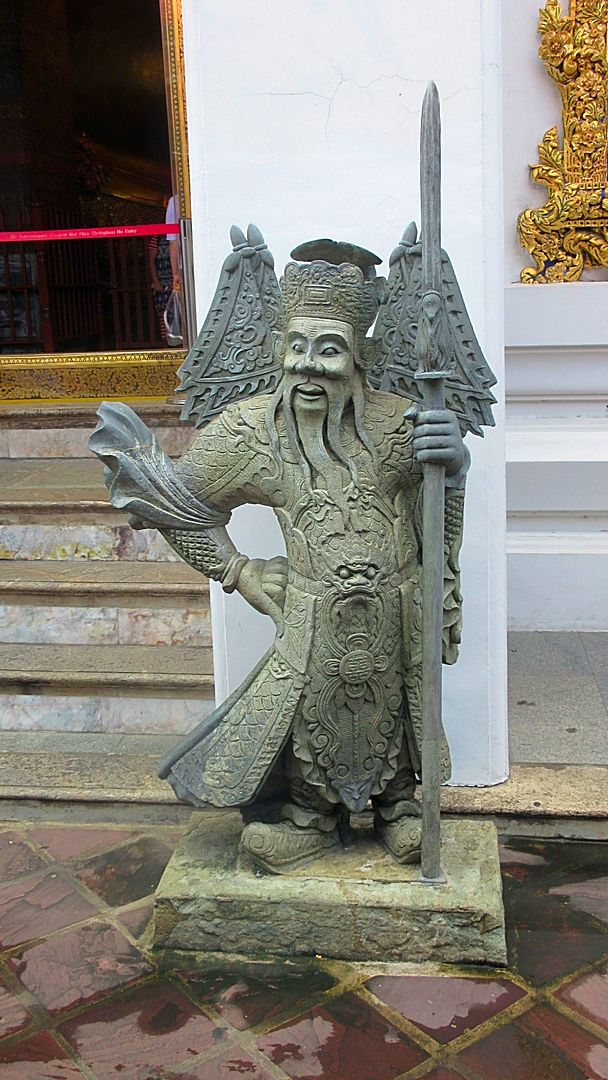 Thanks for visiting my Bangkok Reclining Buddha Wat Pho photo blog.
When I'm in Bangkok I like to stay in Sukhumvit Soi 11, here is an excellent budget hotel, if you USE THIS LINK you will get a great rate of around B1100 per night, or $30 USD.
The best Bangkok budget hotel I have ever stayed in.
Here are some more posts to check out
Great hotel room rates anywhere in the world if you book
through these links below. Book now & pay later. ?
That's all folks
This gallery contains 1 photo.