Great value at LK.
Best Pattaya breakfast coffee service
Best Pattaya breakfast coffee service? Allow me to make some suggestions, it is a daily routine for me, I like to walk along the beach for 30 minutes first, then enjoy a nice breakfast while reading the Bangkok Post. I also like the places that provide the post for free. LK Empress on the corner of Beach Rd & Soi 12 used to offer a great value buffet for 190 Baht or $5.40 USD, for me it is one of the best Pattaya breakfasts.
NB, price has just gone up to 230 Baht or $6.60 USD so I now think the best value is Bon Cafe in Naklua Rd. 🙂
I eat out 7 days a week & I won't go anywhere who is not open at 8.30. or does not provide the Bangkok Post.
French Bakery 3rd Rd
Terrific breakfast here and cheap, however I must recommend you order a couple of ham & salad rolls to take home for lunch, without a doubt they are the best in Pattaya.
Ham & Salad roll at French bakery
The best baguette outside of Paris or Vietnam.
Sportsmans Pub
Just around the corner from LK in Soi 13 is the Sportsmans Pub, don't be fooled by the fruit dish, they do one of the best Pattaya breakfasts there for under 200 Baht ($5.70 USD). I'm sure if I had a photo of bacon & eggs for every venue you would switch off fairly quickly. 😆
Oh well, here is one of their small choices
I really don't like the huge breakfast where they pile on stuff I don't want such as grilled tomato, hash browns, or heaven forbid, black pudding. Here is a LINK to their price list.
Happy faces at Au Bon Pain
I used to go here 4 or 5 times a week as it is the perfect walking distance, 25 minutes.
Sadly in January 2017 it is closed, I really miss the smiling faces.
Queen Victoria pub
Soi 6 is one of the seediest streets in Pattaya, and does not look the best in the early morning. If you can get past this image they offer an excellent English breakfast for 200 Baht.
Big breakfast at Queen Vic
My only criticism beside the rather smelly Soi 6, is they only give you one piece of toast, I wish they would keep the sausage & throw in an extra piece of toast.

Best Pattaya breakfast coffee service at Foodland
A huge supermarket chain throughout Thailand, always busy for breakfast due to the great value. About $2.80 for bacon & eggs with a tea or coffee. This branch is in Pattaya Klang or Centre Rd. Best Pattaya breakfast? Probably not but certainly the best value.
New branch at Royal Gardens
Located in the basement off Beach Rd & open 24/7.
Great value for all the Pattaya Cheap Charlies. 🙂
Of course I have to include myself in that group.
A new branch has just opened at Terminal 21, the new shopping mall at the Dolphin roundabout.
Same good low price quality, more photos of the new Foodland on THIS LINK.
Bon Cafe is a very good breakfast spot. Just under $8 AUD or 185 Baht you get this excellent meal including coffee & orange juice. 668/17-21, Moo 5 Soi 29.
La Baguette
Definitely a favourite spot, the best ham croissants in Pattaya. Sadly the coffee is not so good.
La Baguette
I am here three times each week, ham croissant & coffee for around $5.50. Their Latte is quite disappointing, no where near as nice as Coffee World or Starbucks, plus they have just replaced their cups with a smaller size yet still charge 110 Baht for it.
Retox Game on in Soi Honey
Here is the small breakfast, only B95 or $2.80 usd. This is the new kid on the block, the 2nd one to open under the Retox brand by well known Pattaya character Simon Peatfield.
Retox healthy breakfast
This is the one I usually order, great value at B95.
Cafe Pitini
Here is the location, 18 420/18 Soi Buakhao
Cafe Pitini
Breakfast including Latte 149 Baht or $4.25 USD but if you are looking for the best value Pattaya breakfast, I would suggest LK Soi 12, Retox Soi Honey or Bon Cafe in Naklua Rd.
Coffee Club
I'm the first to admit I'm a creature of habit, I walk for around 30 minutes every morning, have breakfast at one of three or four regular restaurants and catch up on all the news in the Bangkok Post.
Well today I thought I would try a new place so I went to the Coffee Club at Royal Garden shopping Mall. I am so glad I did because the breakfast was one of the best I have ever had in Pattaya.
Eggs Benedict
A classic breakfast enjoyed all over the world, in fact here at the Coffee Club it was world class. To clarify the food and coffee was exceptional however the price is rather high compared to what is considered normal in Pattaya. On September 1 2018 they opened a branch in my condo building Markland Beach Rd Pattaya, check out THIS LINK.
For a discounted hotel rate in Pattaya or anywhere in the world, just book through THIS LINK
There is a new Coffee Club at Markland the corner of Beach Road & Soi 1.
This happens to be on the 1st floor of the condo where I live. More photos on THIS LINK.
Cafe Taste
Located in Pattaya Klang just before 3rd Rd heading East this cafe offers an American breakfast for B69 or $2 USD, plus they also provide the Bangkok Post. 🙂
Pig & Whistle
Located in Soi 8, a very popular English Pub.
Breakfast at the Pig
The small breakfast costs B135 without coffee or tea. This suits me as I always head to Starbucks afterwards. 🙂
Starbucks
I regularly visit two branches, one is at Big C in 2nd Rd the other at the Bay on Beach Rd near Soi 6. Coffee & staff are always great as is the ham & cheese croissant.
Birthday at Starbucks
The girls at the Bay gave me a candle. 🙂 Three of my breakfast preferences are friendly staff, good coffee & the Bangkok Post, Starbucks provides all 3. 🙂
Jasmines on Pattaya Klang
Between Beach Rd & 2nd Rd a very friendly cafe with nice food.
Jasmin's is certainly worth a try.
Nice decor.
A very good croissant
I usually order this or the omelette at B99.
Thanks for visiting my Best Pattaya breakfast coffee service photo blog.
Click bottom right hand corner for full screen.

Here are some more posts to check out
Great hotel room rates anywhere in the world if you
book through these links below. Book now & pay later.
Plus free cancellation .
That's all folks
Click here for some Russian babes in Pattaya.
Soi 6 is a famous Pattaya street
Thailand have taken street food to an art form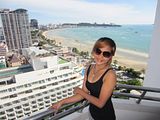 That's all folks